Guide to Expedia's One Key Loyalty Program • The Blonde Abroad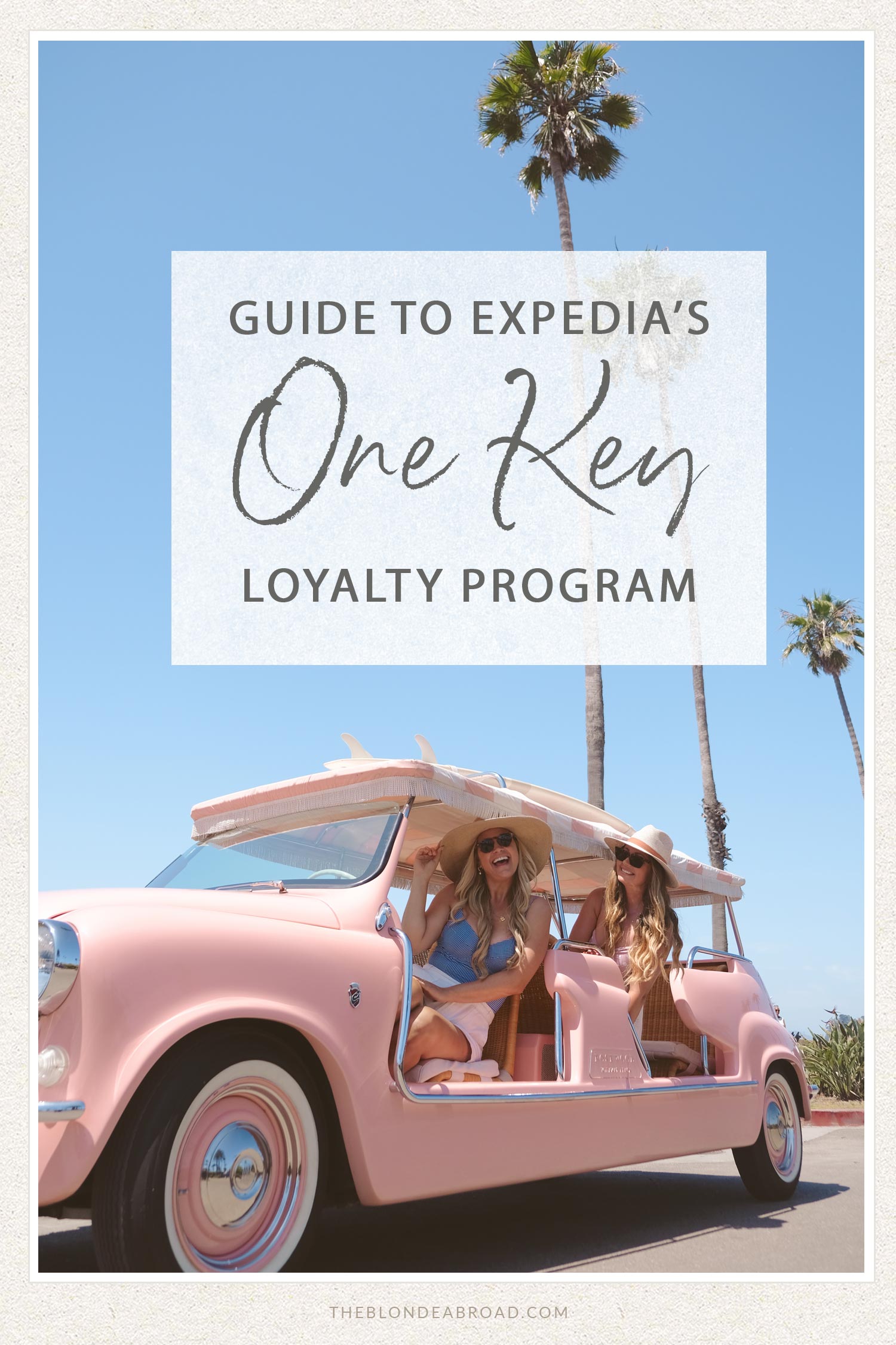 Exciting news – Expedia Group brought the family closer with a unified and expanded loyalty program, and it's not just for Expedia. Hotels.com and the vacation rental site, Vrbo, are all part of the fun!
Here's a breakdown of the Expedia One Key travel loyalty program and how to maximize the benefits!

Expedia's One Key Loyalty Program
One Key is all about bringing the perks to YOU. And guess what? Joining is completely free! Plus, the more you dive into the program, the deeper the rewards get.
It's like peeling back layers of excitement—so let's dig in!
You can rack up points and tier credits on eligible bookings for pretty much everything related to your travel escapades. We're talking hotel stays, car rentals, activities that make your heart race, cozy home rentals, and yes, even those flights that take you to new horizons.
But that's not all!
One Key is a master of bringing families together. It's merging two existing loyalty programs – Expedia Rewards and Hotels.com Rewards – and for the very first time, it's sprinkling rewards fairy dust over Vrbo, which didn't have a loyalty program before.
You'll be able to earn and spend 'OneKeyCash' (their rewards currency) on cozy Hotels.com stays, awesome Vrbo vacation rentals, and a whole lot more on Expedia.
Now, here's the lowdown – if you've been rolling with Expedia, Hotels.com, or Vrbo, most of you will automatically make the jump to One Key. Vrbo buddies, be sure to give those new terms and conditions a nod.
Otherwise, you can sign up for free to start earning and saving for that next trip!
Note
Vrbo is the first major vacation rental platform with a loyalty program!

How to Earn Rewards with One Key
It's pretty straightforward!
When you're a One Key member, you get OneKeyCash for every dollar you spend on eligible hotels, vacation rentals, activities, dreamy packages, car rentals, and even those epic cruise adventures.
Regarding flights, you'll also get OneKeyCash for every dollar spent. This OneKeyCash bonus is on top of any airline loyalty program rewards and credit card perks you're already racking up.
And here's the cherry on top – OneKeyCash goes to the account holder who does the booking, regardless of who's jet-setting.
Planning a family trip or girlfriend getaway?
Opt for paying the tab! I always throw my card down first at dinner out with friends (because I want those travel reward points).
Now the same goes for booking group travel! You can personally book for everyone in your group and you'll get ALL the OneKeyCash for the entire trip!
It's such an easy way to supercharge your rewards and status-earning potential!
Triple Dip!
Let's say you book a flight through Expedia earning you One Key rewards, add your airline loyalty info for points on miles you fly, and pay using a travel rewards credit card (some offering 5x points on flight purchases) … that's a triple dip on rewards!


Status Tiers with One Key
It's all about achieving certain "trip elements" in a year to level up.
The more elements you collect, the higher your status soars. These trip elements are the building blocks of your journey, and each one needs to be worth at least $25 to join the party.
Now, what are these magical One Key trip elements? Well, here's the list:
One air ticket (whether it's a one-way or round-trip adventure)
One night of pure bliss in a hotel room (every night counts as an element)
One enchanting evening in a vacation rental
One night of starry skies on a cruise ship
A day of cruising in a rental car
A round-trip ticket for ground transportation (think airport shuttles, transfers, and more)
One ticket to an exciting activity (like a private tour or a theme park adventure)
We kick things off with the Blue status, which is entry-level and doesn't require any specific account activity.
To reach Silver status, you must have at least five trip elements under your belt.
Now, if you're aiming for the glamorous Gold status, you'll need to notch up 15 trip elements.
(I earned Gold status in a SINGLE trip—and share the details in the next section!)
And for the crème de la crème Platinum status, you'll want to aim for a dazzling 30 trip elements.
To give you an idea, let's say you book a dreamy weekend away that includes a two-night hotel stay and a 3-day car rental – that's five trip elements right there, enough to elevate you to Silver tier status in one fell swoop.

How I Earned One Key Gold Status
(in a single trip!)
On our recent trip to Europe, I got upgraded to Gold status without even trying! Trip elements are easier to achieve than you think.
3 trip elements for a 3-night stay in an apartment in Florence through Vrbo
5 trip elements for a 5-night stay in a Tuscan Farmhouse through Vrbo
7 trip elements for a 7-day car rental in Florence through Expedia
1 trip element for a 1-night stay in an airport hotel in Florence through Expedia
3 trip elements for a 3-night stay in a hotel in Mallorca through Expedia
That's 18 trip elements and One Key Gold status in a single trip!
If you want to really hack the program, an activity booking of just $25 counts as a trip element, so you can book anything from a walking tour to a car transfer to help you quickly get to that next status tier.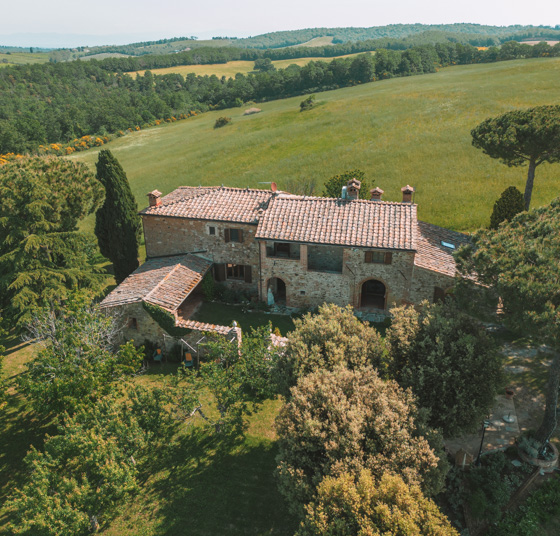 We recently spent 5 nights at the enchanting Casanova dei Boschi, an 18th-century farmhouse in the heart of the Val d'Orcia in Tuscany.

VIP Properties + One Key Perks
Exedia's VIP Access is a collection of properties consistently receiving the highest guest reviews and meeting stringent quality standards.
If you're a Silver or higher One Key member, book a VIP Access Hotel on Expedia, and you can receive all kinds of perks!
You can use the Expedia app to filter VIP Access properties easily.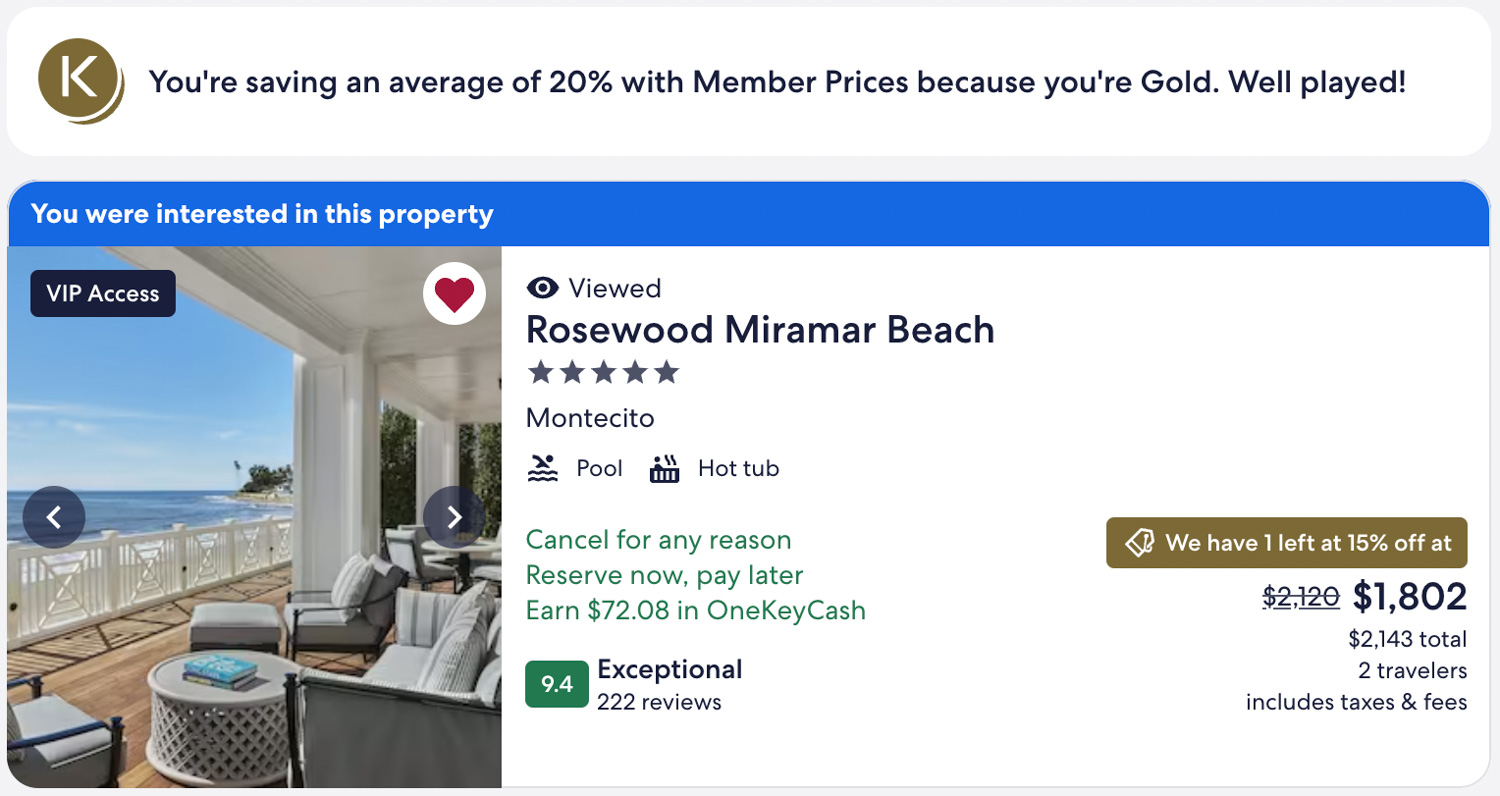 I recently took an incredible girls' getaway to Rosewood Miramar Beach for three nights in Montecito, California.
As a One Key Gold member, I got 15% off our stay, a free room upgrade, late check-out, AND a $157 credit for spa services.
(Note that VIP Access perks may change, and room upgrades are subject to availability.)
I applied my OneKeyCash rewards from previous trips for a discount on our stay. And I earned $126 OneKeyCash for our 3-night stay to use towards future trips!
Rosewood Miramar Beach is the perfect destination for a girlfriend getaway—with gorgeous bungalow guest rooms, incredible restaurants, an adults-only pool, and Forbes 5 Star Spa.

Spending Your OneKeyCash
I saved up over $1500 in OneKeyCash from my trips this year, mostly from our summer adventure in Europe (as outlined above — Vrbo vacation rental and Expedia car rental in Tuscany, hotel booking in Mallorca, etc.).
(Note that Vrbo stays must be booked in USD to earn OneKeyCash).
We're planning Oliver's first DISNEYLAND® vacation and using my OneKeyCash for our hotel booking!