Beep Beep Burrow: Horse raising funds for Rob Burrow and Motor Neurone Disease Association set for Doncaster debut | Racing News
Beep Beep Burrow will make his track debut on Sky Sports Racing at Doncaster on Tuesday for his namesake, former rugby league star Rob Burrow.
The gelding, who is trained by Jedd O'Keeffe, is owned by the Good Racing Company Ltd and will be campaigned to raise funds for the Motor Neurone Disease Association, a condition Burrow was diagnosed with in 2019.
Burrow earned himself the nickname 'Beep Beep Burrow' during his time at Leeds Rhinos and it has been transferred to the horse, who will continue the work started by former O'Keeffe inmate Burrow Seven – retired due to injury in November after a handful of promising runs.
Beep Beep Burrow, by Malinas and out of Ballygambon Girl, will contest the Good Luck "Beep Beep Burrow" Open Maiden National Hunt Flat Race on Town Moor as Burrow and his family head to South Yorkshire to cheer him on.
"Beep Beep Burrow is such an exciting horse and we're all hoping he lives up to his name," said Burrow.
"We're very much looking forward to his debut in Doncaster where he'll get his chance to show people just what he can do on the racecourse."
Good Racing Company Ltd ambassador and leading jockey Paul Hanagan is a close friend of Burrow, who discussed the project and the exceptional work being done.
"We're really looking forward to his debut tomorrow at Doncaster," Hanagan said.
"Rob is going to be there with all of his family and if people can go up and wish them all luck, it would be very kind.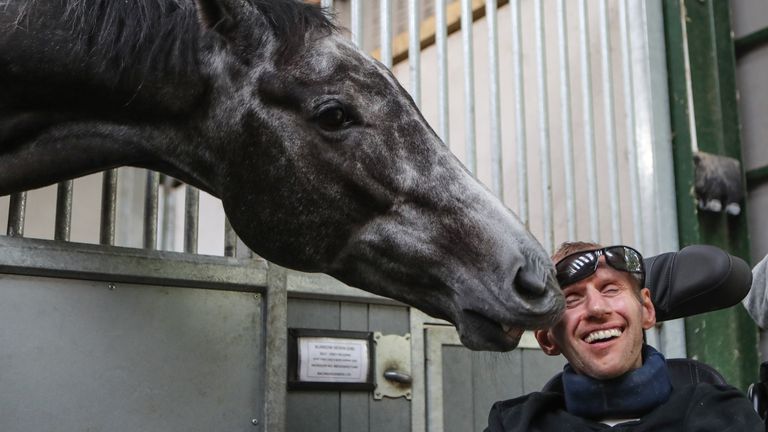 "He's an absolute legend of his profession in rugby league – I actually thought he was another jockey coming for a chat!
"His fascination with horse racing was just second to none."
For more information on the Good Racing Company Ltd, click HERE.