Woman Details How Sister Was Publicly Executed for Speaking Against Russia
A Ukrainian woman detailed how pro-Moscow authorities allegedly executed her twin sister in public for speaking out against Russia.
Natalia Chorna said they hanged her 56-year-old sister Tetiana Mudrenko, who worked as a nurse, in the streets of Skadovsk, the Financial Times reported on Friday.
Chorna previously warned her sister about being outspoken about Russia's war in Ukraine, however she would repeatedly confront Russian troops. Last month, Mudrenko condemned Ukrainian police officers for cooperating with the Russians and cried out that "Skadovsk is Ukraine!"
Prior to her sister's execution, Chorna tried to contact Mudrenko on October 7 to check on her following that confrontation, but the call dropped. A while later, Ukrainian police officers collaborating with Russia allegedly kidnapped Mudrenko and her husband, 60-year-old Anatoliy Oryekhov, from the front yard of their home, according to Chorna and local eyewitnesses.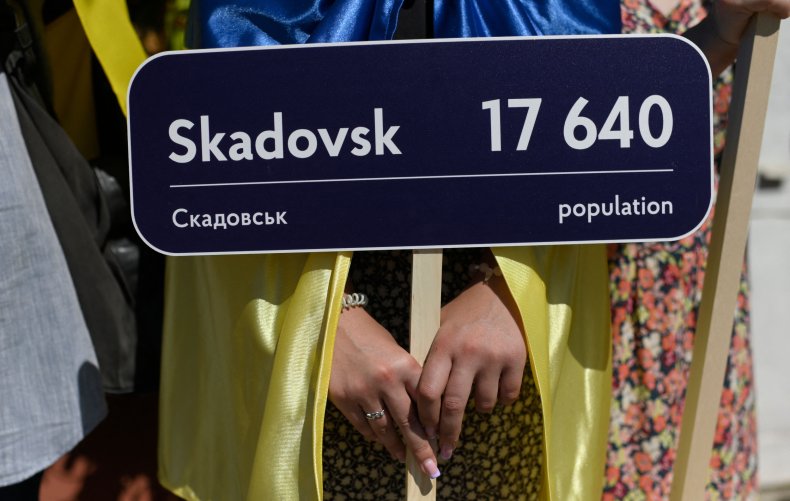 Chorna then received a disturbing call on October 15 from a woman who said that Mudrenko died after being dragged into the street and publicly executed.
"She told me that 'Tanya' was hanged," said Chorna, using her sister's nickname, according to the newspaper. "They poured something into her mouth and then hanged her in front of the courthouse."
Meanwhile, Oryekhov was held in captivity, but was later released, according to the woman who called Chorna. However, he was left with a broken arm and signs of beatings. He disappeared again and nobody has seen him or heard from him since.
A local morgue told Chorna that her sister died from "mechanical asphyxiation" according to her death certificate. The Media Initiative for Human Rights (MIHR), a Ukrainian nonprofit, confirmed Mudrenko's cause of death in an October 19 post. The group also wrote last month on Telegram that it "had established numerous instances of murder and torture of local residents during the temporary occupation" of the Kherson region, according to the Financial Times.
Newsweek reached out to the Ukrainian foreign affairs ministry for comment.
Massacres in Bucha
Ukraine's civilians have been experiencing similar harrowing moments in different parts of the country since Russia's invasion began in late February. Bucha, a town near the Ukrainian capital Kyiv, saw alleged atrocities committed by Russian soldiers in April.
Hundreds of bodies were found on the streets, prompting Ukrainian authorities to launch an investigation looking into potential war crimes committed by Russian forces after they withdrew from the town.
Ukrainian authorities filed criminal charges in April against 10 Russian soldiers accused of participating in the alleged crimes. Meanwhile, the Institute for the Study of War (ISW), citing a report by Radio Free Europe/Radio Liberty (RFE/FL), assessed that Russia's 64th Separate Guards Motor Rifle Brigade, who were linked to the alleged crimes, were likely destroyed, possibly as "part of an intentional Kremlin effort to conceal the war crimes it committed in Kyiv Oblast."
Meanwhile, Ukrainian President Volodymyr Zelensky said on April 5, during a speech to the United Nations Security Council, that his country had "conclusive evidence" that Russia committed a massacre in Bucha.