'What We Do in the Shadows' Showrunner Gives Update on Season 5
What We Do in the Shadows may be hurtling towards its Season 4 finale, but the show's creative team is already thinking about Season 5.
FX's vampire comedy hit was given an early renewal, with the network commissioning Seasons 5 and 6 on June 6.
The show stars Kayvan Novak, Matt Berry, Natasia Demetriou and Mark Proksch as vampires Nandor, Laszlo, Nadja and Colin Robinson, and Harvey Guillén as their human familiar-turned-bodyguard Guillermo, and it follows their lives together on Staten Island.
Showrunner Paul Simms spoke to Newsweek ahead of the Season 4 finale, and gave an update on Season 5.
'What We Do in the Shadows' Showrunner Paul Simms Gives Update on Season 5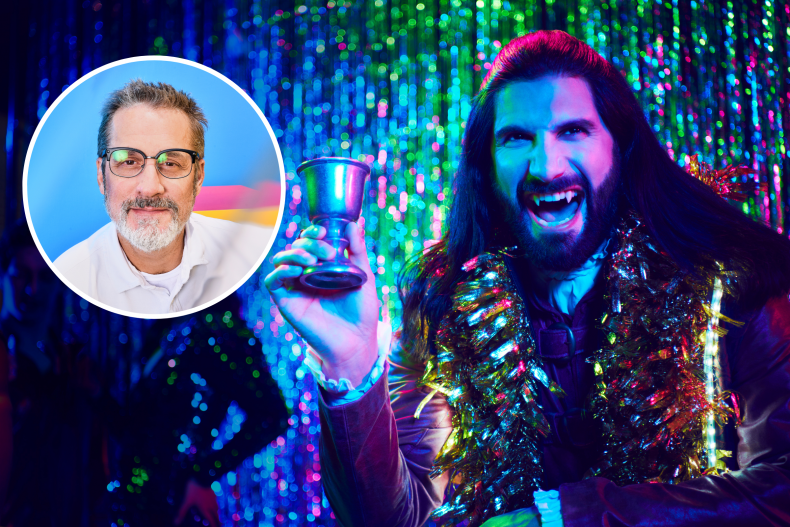 Simms told Newsweek that preproduction was already well underway for the show's fifth season, and filming was set to begin imminently.
At the time of the interview on August 30, Simms said: "We start shooting it in 10 days, I think. We've written [it], we've finally finished writing the next season."
Production on Season 5 should then begin around Friday, September 9, just before the Primetime Emmy Awards on Monday, September 12, where the show is up for several awards including Outstanding Comedy Series.
"We've just spent the last few months writing it," he said, adding that he and the creative team were "excited" to get back to work
"A lot of it is about putting together characters you wouldn't expect to be together," he said about the writing process. "I thought The Guide [Kristen Schaal] and Nadja [Natasia Demetriou] as a team were very funny in the [fourth] season, which is ending now. Obviously, Laszlo and a child of any kind, much less baby Colin, was really fun. I'm excited about all the characters."
Simms also spoke about the show's forthcoming sixth season, admitting that the team tries to focus on one season at a time.
"The farthest ahead we can think is the season that's right in front of us. I do have an idea for the very end of the show, but I don't know when that will be or when we'll have to do that," Simms said. "Every season we figure out how the season starts and have some ideas, some vague idea, of how we want it to end. But then beyond that it's just too much to think about, and also you don't want to get in the habit of, like, slowing things down.
"I mean, we treat every season as if it's the last season and [we think] 'let's just throw in every good idea we have right now,' and we'll figure out more when we have to figure out more."
Reflecting on the show's ending, Simms added: "For the whole series, whenever the time is right, yeah I do have what I think is a good idea. We'll see!"
As yet, FX and the show's creative team have not confirmed when the show will end, but it is unlikely to be in Season 6 given the network did not announce it would be the final season when confirming it had renewed the series.
In June, Nick Grad, president of original programming at FX Entertainment, said in a statement: "There's a lot of life left in our favorite vampires from Staten Island and FX couldn't be more thrilled to commit to two additional seasons of this phenomenal series.
"What We Do in the Shadows excels on every level, from the brilliant cast and surprising guest stars to the producers, writers, directors and crew. We can't wait for everyone to enjoy season four, knowing that the next two are on the way."
At a press conference for the show's fourth season shortly after the announcement, Simms also said: "We know we have at least two more seasons worth of stories to tell and then we'll figure out what happens after that."
What We Do in the Shadows Season 4 finale airs on FX on September 6 at 10 p.m. ET/PT, and it will be available to stream the next day on Hulu.