Walmart Shooter Vowed to Make People 'Remember His Name': Lawsuit
A Walmart employee who allegedly issued a complaint about Andre Bing months prior to the mass shooting this month in Chesapeake, Virginia, has sued the company for $50 million.
Donya Prioleau, 27, of Chesapeake, is the plaintiff in the suit filed Tuesday in Chesapeake Circuit Court. She was one of several employees in the break room on the night of November 23 when Bing, 31, is accused of opening fire with a semi-automatic weapon, killing six and injuring multiple others.
Prior to the shooting, Bing allegedly told both employees and store managers that they should "remember his name" should he be fired.
Prioleau has allegedly experienced post-traumatic stress disorder as a result of her witnessing the mass shooting, as well as sleeplessness, flashbacks, severe anxiety, stomach pain, loss of appetite and nightmares.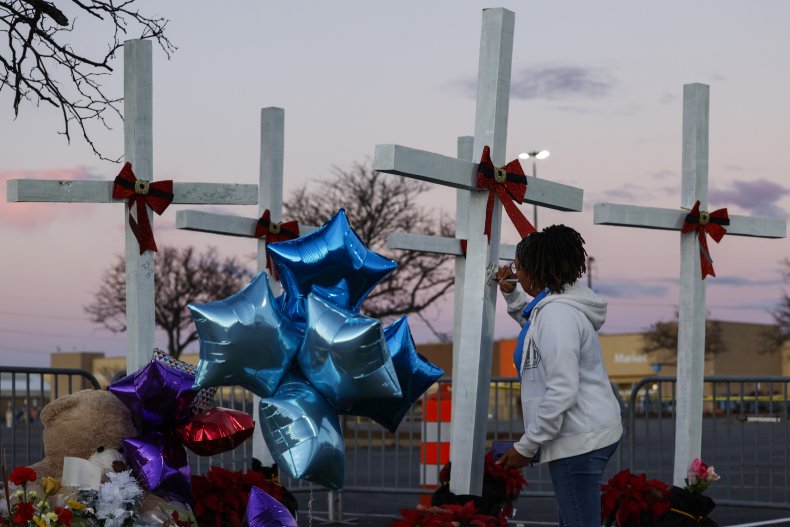 The lawsuit states that "bullets whizzed by…Prioleau's face and left side, barely missing her" as she watched "several of her coworkers being brutally murdered on either side of her."
"Ms. Prioleau looked at one of her coworkers in the eyes right after she had been
shot in the neck," the suit says. "Ms. Prioleau saw the bullet wound in her coworker's neck, the blood rushing out of it, and the shocked look on her coworker's helpless face."
She then frantically left the break room, falling and injuring her knee and elbow.
Since May 26, 2021, Prioleau worked at Walmart as an overnight stocker and trainer responsible for overnight restocking of items. She worked under Bing, who was the team lead and had been employed by the company since 2010.
The lawsuit says that Bing was "disciplined on several occasions" and ultimately was demoted "for his improper and disturbing interactions with others." He was later reinstated as team lead.
Bing exhibited "bizarre and threatening behavior leading up to the shooting," according to Prioleau and other employees—something that Walmart knew or should have known could lead to violence or harm of others.
Prioleau submitted a formal complaint about Bing on September 10 of this year after Bing allegedly said, "Isn't your lady clock ticking? Shouldn't you be having kids?"
He also allegedly harassed her for being short and poor, even calling her an expletive under his breath.
The same day the complaint was filed, Prioleau's mother, Brenda Allen, came into the store at 1521 Sam's Circle to vouch for her daughter because "concerns were falling on deaf ears."
Store manager Alysia Mixon allegedly told Allen that nothing could be done because Bing "was liked by management." She was among multiple managers who allegedly received complaints regarding Bing's behavior.
Other statements Bing allegedly made to Prioleau included asking to "borrow her hair" and inquired whether she liked guns.
In one comment allegedly made to co-workers, Bing said he ran over a turtle with a lawnmower "just to see its guts spray out, which made him hungry and reminded him of ramen noodles."
Prioleau's attorneys at Morgan & Morgan, headquartered in Naples, Florida, said Walmart was negligent in its retention of Bing as an employee and liable for his actions.
"While the cruelty of murdering six defenseless people is truly unimaginable, Ms. Prioleau alleges that she and her coworkers had been concerned for months that such an incident could occur at any time," Morgan & Morgan attorneys John Morgan and Peter Anderson said in a statement to Newsweek. "Our client alleges Walmart acknowledged her written complaint alleging harassment, but continued to employ the perpetrator.
"As workplace shootings and violence become horrifyingly common, employers have a responsibility to understand the warning signs and take threats seriously in order to protect their employees and customers. Our hearts are broken for the families of those who lost loved ones and for those, like Ms. Prioleau, whose lives will never be the same because of this trauma. We will work to hold Walmart accountable for failing to stop this tragedy."
Walmart issued a memo Tuesday to associates, honoring the lives lost and pledging to support families with funeral, travel and other expenses. The company also set up a site where associates can speak to counselors.
The Walmart Foundation will contribute $1 million to the United Way of South Hampton Roads' Hope & Healing Fund, supporting all those impacted in the community. That includes funding to be matched by the company 2-to-1 for associate donations.
"The entire Walmart family is heartbroken by the loss of the valued members of our team," Walmart spokesperson Randy Hargrove told Newsweek. "Our deepest sympathies go out to our associates and everyone impacted, including those who were injured.
"We are focused on supporting all our associates with significant resources, including counseling. We are reviewing the complaint and will be responding as appropriate with the court."
On the day of the shooting, Walmart CEO Doug McMillon tweeted that the "devastating news of last night's shooting" has "hit our Walmart family hard."
"My heart hurts for our associates and Chesapeake community who have lost or injured loved ones," McMillon wrote. "We are here for them today and in the challenging days ahead they will have our support."