Video of Jimmy Fallon Appearing 'Disgusted' With Rami Malek Goes Viral
A clip of Jimmy Fallon interviewing Rami Malek during the promotional tour of Bohemian Rhapsody in 2018 has gone viral after a Rolling Stone article quoted current and former staffers alleging The Tonight Show is a toxic workplace.
The long-running NBC talk show, previously hosted by comedy legends like Johnny Carson, Jay Leno, and Conan O'Brien, is allegedly plagued by the "erratic behavior" of its current host, Fallon. He has apologized since the publication of the report, according to the magazine. Newsweek has contacted Fallon and NBC for comment.
One example cited in the article refers to the time a cue card operator was reportedly "scolded" by Fallon, after which guest Jerry Seinfeld stepped in and got the host to apologize. Since the story's publication, the Internet has been ablaze with chatter, looking back at much of the show which is currently on hiatus due to the ongoing Hollywood strikes.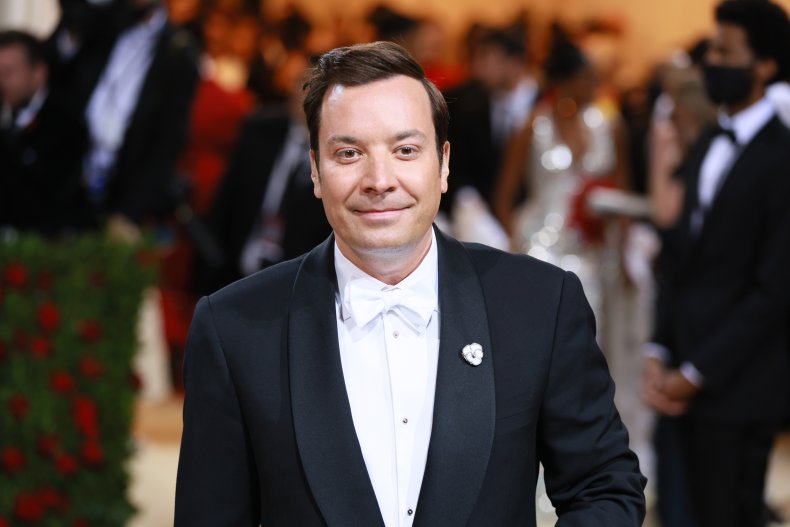 In one viral clip, which has been seen more than 1.6 million times on X, the platform formerly known as Twitter, Malek is seen talking to Fallon about a scene in the Freddie Mercury biopic where he plays the piano. During their exchange, the actor, who went on to win the Academy Award for Best Actor for the role, reaches for the talk show host's hand. When their hands touch, Fallon appears visibly annoyed.
Newsweek has reached out to Rami Malek for comment.
The clip, from a video posted to the show's YouTube channel where it has been seen 14 million times, was shared by X user @Jumblebag, who wrote: "Well well, I just saw that Jimmy Fallon is trending for some of the wrong reasons. With that, here's a clip of an interesting interaction between Jimmy and Rami Malek. Jimmy seemed disgusted when his hand was touched."
Many in the replies pointed out that it could have been a personal space issue and did not condemn the former Saturday Night Live star over the incident.
"In his defense, some people don't like to be touched by people they aren't close to. I'm one of them," wrote X user @chaimbeuil. "Fallon wasn't expecting it, so he didn't have time to prepare mentally."
Another user, @maevaaura, agreed, writing: "Mmm this could easily be because he doesn't like being touched by others. I'm the same way. Anytime someone touches me and they're not a very close friend or my partner, I immediately get annoyed/uncomfortable. Although he should work on his poker face since he's on tv lol."
User @PoliSciEconSalsa wrote: "frankly I wouldnt want my hands to be touched in such [a manner] either, sweaty hands syndrome."
"Ok but maybe he just doesn't like to be touched? I know that's true of a lot of celebrities," wrote @ireylin.
Rolling Stone said it contacted more than 50 people hired to work on the show at some point in their careers for the story. Another 30 people were contacted after the publication reached out to Fallon and NBC, it said.
The network defended the late-night talk show, telling Rolling Stone: We are incredibly proud of The Tonight Show, and providing a respectful working environment is a top priority. As in any workplace, we have had employees raise issues; those have been investigated and action has been taken where appropriate. As is always the case, we encourage employees who feel they have experienced or observed behavior inconsistent with our policies to report their concerns so that we may address them accordingly."
According to a report from Variety, Fallon offered an apology via video call, reportedly saying, "It's embarrassing and I feel so bad. Sorry if I embarrassed you and your family and friends. I feel so bad I can't even tell you."
"I want this show to be fun, it should be inclusive for everybody, it should be funny, it should be the best show, the best people."