Ukraine Military Shares Display of Destroyed Russian Equipment in Kyiv
A video of broken down and rusting Russian tanks in the center of Kyiv has gone viral as a testament to the failure of Moscow's invasion to seize the Ukrainian capital.
The clip shows the parked tanks on a downtown street that has been turned into an open-air military museum, with passersby next to them, some of them taking photos. One version of the video had been viewed more than 1.3 million times as of Saturday.
"In February, Russians were planning a parade in downtown Kyiv," the Ukrainian Armed Forces tweeted next to a version of the video. They said that more than six months into the war, "the shameful display of rusty Russian metal is a reminder to all dictators how their plans may be ruined by a free and courageous nation."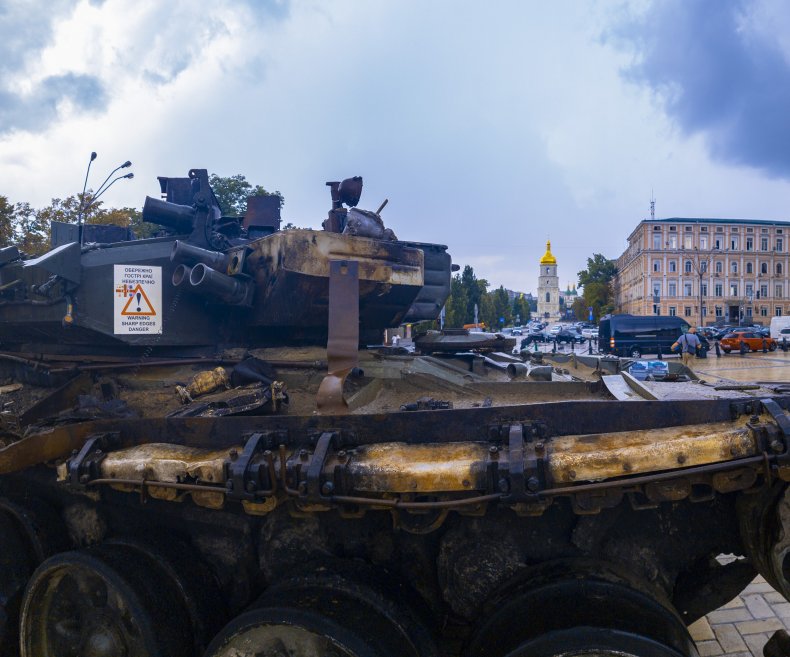 Ukrainian journalist Oleksiy Sorokin tweeted: "Russians finally have their military parade in downtown Kyiv. Yet, there's a catch."
In April, Ukrainian armed forces spokesman Oleksandr Hruzevych said that Russian soldiers advancing on Kyiv had brought parade uniforms with them, expecting a victory soon after President Vladimir Putin launched the invasion on February 24.
Hruzevych said that the uniforms were found in abandoned Russian military vehicles around Kyiv after Moscow's forces retreated. Western intelligence sources have also said that Russia was expecting a swift victory.
The Russian military hardware is in the Ukrainian capital ahead of Ukraine's Independence Day on August 24. That commemorates the day in 1991 when the country's parliament, known as the Rada, proclaimed the Declaration of Independence, following the fall of the Soviet Union.
The British Ministry of Defense has blamed Russia's tank losses for its failure to fit and properly employ adequate Explosive Reactive Armor (ERA), which should degrade the effectiveness of incoming projectiles.
"This suggests that Russian forces have not rectified a culture of poor ERA use, which dates back to the First Chechen War in 1994," British defense officials said on Thursday. Their assessment added that many Russian tank crews lack the training to maintain ERA, "leading to either poor fitting of the explosive elements, or it being left off entirely."
At the start of August, Oryx, an open-source site tracking military-equipment losses, said that Moscow had lost 5,000 military vehicles since February 24, including more than 900 tanks.
Meanwhile, in their assessment for Saturday, British defense officials said that "neither Ukrainian nor Russian forces have made advances on the Kherson front line" in southern Ukraine.
"However, increasingly frequent explosions behind Russian lines are probably stressing Russian logistics and air basing in the south," it added. Newsweek has contacted the Russian Defense Ministry for comment.