U.S. to Appoint Arctic Ambassador as NATO Warns of Russian Military Buildup
The State Department has announced plans to establish an Ambassador-at-Large for the Arctic region as NATO issued a warning over Russia's military sites in the area.
Vedant Patel, the principal deputy spokesperson for State Department, said in the statement that the role will help advance U.S. policy in the Arctic, as well as engage with indigenous groups, state, local, and tribal governments, business and other areas.
The decision arrived after talks with allies in the Arctic and members of Congress, with the Ambassador-at-Large still subject to consent from the Senate.
"An Arctic region that is peaceful, stable, prosperous, and cooperative is of critical strategic importance to the United States," Patel said.
He added: "As one of eight Arctic nations, the United States has long been committed to protecting our national security and economic interests in the region, combating climate change, fostering sustainable development and investment, and promoting cooperation with Arctic States, Allies, and partners."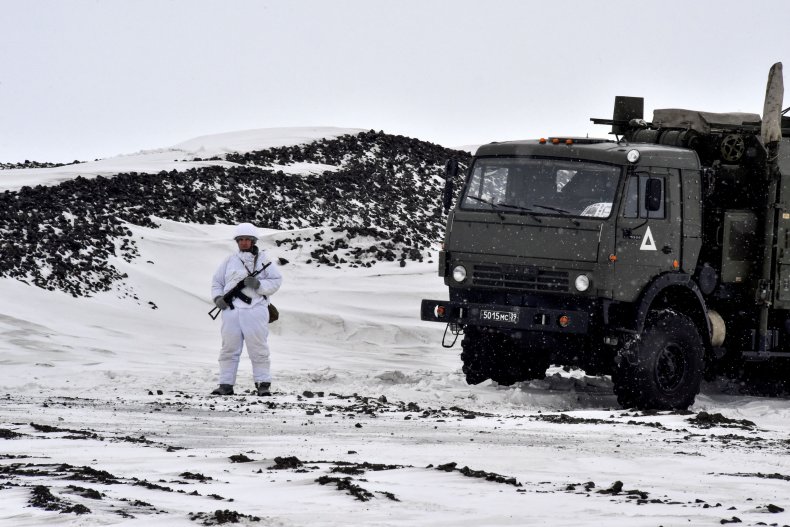 The move was welcomed by Alaska Senator Lisa Murkowski, who has long called for such a role to exist.
"By establishing this role, America will solidify its dedication, commitment, and leadership to this strategically important region and have greater opportunities to spur the diplomacy necessary to preserve a peaceful, prosperous Arctic," Murkowski said in a statement.
The announcement arrived after NATO Secretary General Jens Stoltenberg discussed Russia's build up of military sites in the Arctic during a visit to Canada.
Speaking alongside Canadian Prime Minister Justin Trudeau in Alberta, Stoltenberg praised the North American country's investment in defense in the face of what he described as "significant Russian military buildup" in the region.
Stoltenberg said it is vital that the North American Aerospace Defense Command [NORAD] builds a counter defense in the Artic region as Russia has opened hundreds Soviet-era Arctic military sites, and also used the region to test military-style weapons.
"The shortest path to North America for Russian missiles and bombers would be over the North Pole. This makes NORAD's role vital for North America, and therefore also for NATO," Stoltenberg said, adding that Russia's capabilities in the area are a strategic challenge for a NATO alliance.
A Russian politician recently suggested that Moscow may attempt to reclaim Alaska, which was sold to the U.S. in 1867, in retaliation for sanctions imposed over the Ukraine invasion.
"Let America always remember, there is a part of [Russian] territory: Alaska," Vyacheslav Volodin, the speaker of the State Duma, the Lower House of the Russian Parliament, said during a parliamentary session in July.
"So when [U.S. lawmakers] attempt to appropriate our assets abroad, they should be aware that we also have something to claim back."
The idea was quickly shut down by Alaska Governor Mike Dunleavy.
"To the Russian politicians who believe they can take back Alaska: Good luck," he tweeted.