Trump 'Knows Something' About Looming Indictment: Michael Cohen
Donald Trump's longtime attorney Michael Cohen speculated that the former president "knows something" not revealed to the public about a looming indictment following an investigation by the Manhattan district attorney's office.
On Saturday morning, Trump wrote in a Truth Social post that he believes he will be arrested on Tuesday as part of Manhattan District Attorney Alvin Bragg's investigation into an alleged hush payment that was paid to adult film star Stormy Daniels before the 2016 presidential election. Daniels alleged that she had an affair with the former president in 2006, which Trump has denied.
Bragg's office is believed to have wrapped up the investigation in recent weeks, with legal analysts expecting him to indict Trump in the coming weeks. The probe has focused on a $130,000 reimbursement paid by to Daniels by Cohen, who has turned against Trump and cooperating with investigators throughout the investigation. Cohen's testimony is seen as key to the case, as he previously pleaded guilty to violating campaign finance laws over the payment.
Trump has previously described the investigation as a politically-motivated witch hunt intended at harming his 2024 presidential bid.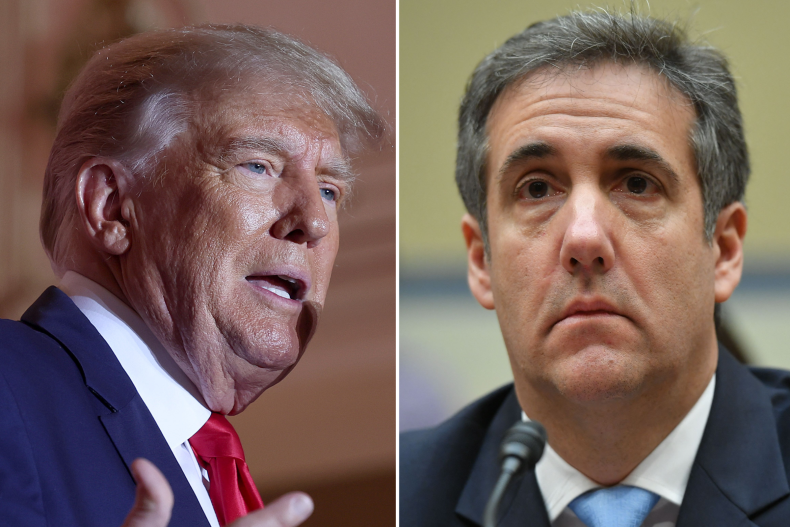 "THE FAR & AWAY LEADING REPUBLICAN CANDIDATE & FORMER PRESIDENT OF THE UNITED STATES OF AMERICA, WILL BE ARRESTED ON TUESDAY OF NEXT WEEK. PROTEST, TAKE OUR NATION BACK!" Trump wrote on his social media platform.
Meanwhile, Cohen tweeted that he believes Trump's remarks reveal he may have more information about the indictment. He did not offer specifics about what the former president may know, although Trump's attorneys met with prosecutors earlier this month, NBC News reported last week.
"'The nonsensical rantings of a lunatic mind' (quote from Young Frankenstein). #DiaperDonald clearly knows something not yet disclosed to the public!" Cohen wrote.
Trump's 'Protest' Call Comes After Analysts Warn of Potential Violence
Speculation that New York prosecutors are preparing to indict Trump grew this week after Bragg's office offered the former president the opportunity to testify before the grand jury in the case, which is typically seen as a final step in an investigation. Trump, however, declined to testify.
Meanwhile, WNBC reported on Friday that local officials have begun security preparations ahead of the anticipated indictment.
Legal experts have warned about the possibility of violence should Trump be indicted. Former federal prosecutor Neama Rahmani previously told Newsweek that prosecutors are likely considering the potential for violence by Trump supporters.
"This will be the most politically charged prosecution in American history," Rahmani said. "Things like security and how to handle it—you don't do something like this unless you plan to go all the way to Trump."
MSNBC legal analyst Glenn Kirschner also warned about the possibility of a "violent attack" if Trump is indicted, at the time predicting the first indictment would come from a Georgia probe into his conduct surrounding the 2020 presidential election, in February.
"Here's what I predict, Dean. The day Donald Trump is indicted and is scheduled to appear for an arraignment on that indictment, his first court appearance, he will post 'Come to Atlanta on the day of my arraignment. Will be wild,'" Kirschner said. "And here we go again."
Trump has not yet been charged with a crime and has denied any wrongdoing. Trump attorney Joseph Tacopina previously said there is no legal basis for the case, telling the Associated Press, "To me, it's much ado about nothing. It's just another example of them weaponizing the justice system against him. And it's sort of unfair."
Newsweek reached out to Trump's campaign press office via email for comment.