Tropical Storm Conditions Forecast for US East Coast As Autumn Begins
As the Northern Hemisphere welcomes the arrival of fall this weekend, portions of the U.S. East Coast are expected to face wet and windy conditions as a storm system develops in the Atlantic Ocean.
The National Hurricane Center (NHC) identified the storm system as Potential Tropical Cyclone Sixteen on Thursday. The storm is expected to begin impacting the southeast and mid-Atlantic coasts on Friday. Stormy conditions are forecast to continue in those areas on Saturday, which is this year's first official day of autumn, and on Sunday.
According to a public advisory issued at 5 p.m. ET on Thursday, the NHC had a storm surge warning in effect between Duck, North Carolina, and Chincoteague, Virginia. A tropical storm warning was in effect at that time from Cape Fear, North Carolina, to Fenwick Island, Delaware.
Maximum sustained wind speeds were estimated to be at 35 miles per hour, though the NHC said those were expected to increase on Friday or Saturday. The storm "is forecast to become a tropical storm while it approaches the coast of North Carolina," the advisory said. "Regardless of whether it becomes a tropical storm, the system is expected to bring tropical-storm conditions to portions of the southeast and mid-Atlantic coasts."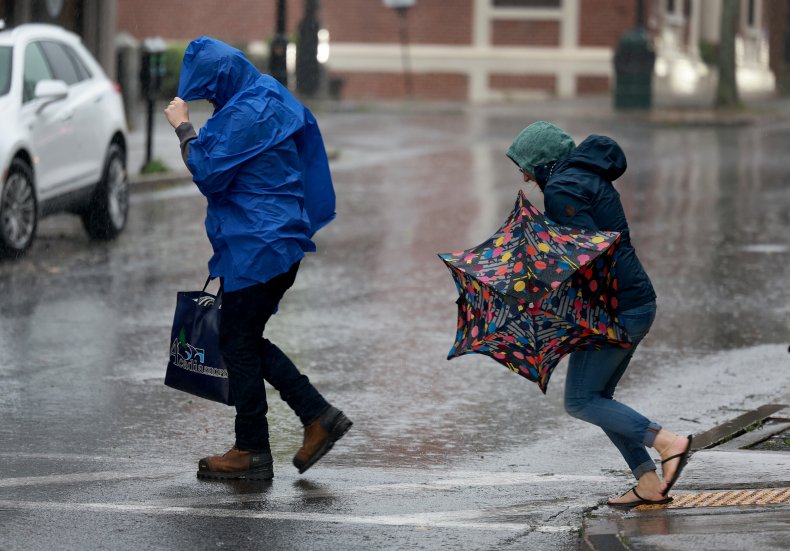 In addition to risks of high wind speeds and storm surge, the NHC advisory said 3 to 5 inches of rain could fall in parts of North Carolina and Virginia. Portions of the mid-Atlantic coast through southern New England were also forecast to receive between 2 and 4 inches of rain over the weekend, with "a few" tornadoes also possible Friday and Saturday in some mid-Atlantic coastal areas.
Newsweek reached out to the NHC by email Thursday afternoon for comment.
State emergency management divisions began warning residents to prepare themselves for the storm on Thursday.
Public safety officials in North Carolina said the strongest wind gusts "will likely remain offshore." However, the North Carolina Department of Public Safety's Emergency Management division said on X, formerly Twitter, that it was "possible" people along the coast could experience wind speeds of 50 to 70 miles per hour.
Virginia's Department of Emergency Management warned residents that "nearly statewide impacts" were expected through early Sunday. Those impacts were expected to include rainfall and tidal flooding, coastal wind gusts as strong as 45 to 55 miles per hour, and even some "isolated tornadoes."
In anticipation of the approaching storm, Delaware's Emergency Management Agency said it was electing to cancel a family emergency preparedness event initially scheduled to take place on Saturday.
AccuWeather experts have expressed "high" confidence that the storm will develop into a tropical or subtropical storm and could make landfall on Saturday in North Carolina.