Trial for neo-Nazi leader accused of fighting outside drag queen event begins

Local
Christopher Hood, of neo-Nazi group NSC-131, was allegedly in an altercation with a counter-protester outside a drag queen story hour event in Jamaica Plain last summer.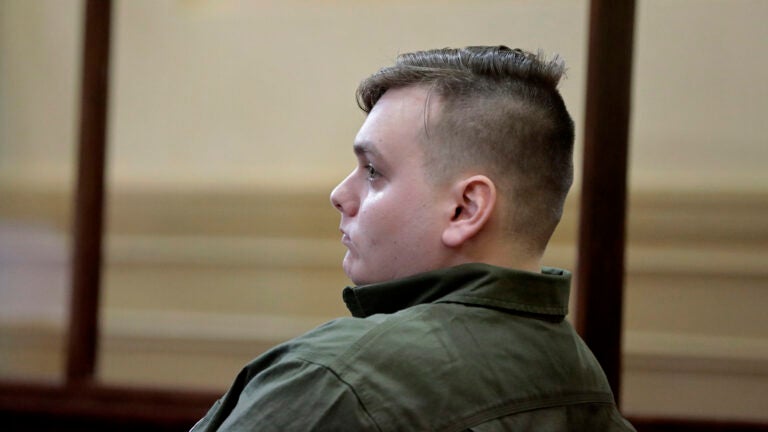 The trial for the leader of a local neo-Nazi group began this week, almost a year after he allegedly got into an altercation with someone outside a drag queen story hour event in Jamaica Plain last July. 
Christopher Hood, a prominent member of the group known as NSC-131, was charged with affray, or putting fear in someone by fighting in a public space, according to Suffolk County District Attorney Kevin Hayden's office.
Hood previously pleaded not guilty. Jury empanelment started Tuesday and testimony began Wednesday, according to Hayden's office.
The incident
On July 23, a group of about 20 masked men gathered outside the Loring Greenough House, a historic mansion that hosts a variety of events, to protest a children's story hour hosted by drag queens, The Boston Globe reported at the time. 
Boston Police reportedly alerted the venue beforehand that the event could become a target for groups like NSC-131, and organizers postponed the event for a few days. 
On the morning of the event, officers were stationed outside the building before the story hour began, and most of the attendees had gone home by the time protesters showed up, according to the Globe. 
Boston Police did not provide information about the incident when contacted by Boston.com Wednesday. 
The group that gathered there wore clothing with the NSC-131 logo, chanted the group's name, and displayed a banner that read "pedo scum off our streets," the Globe reported. 
The NSC-131 members were followed by a group of counter-protesters, many of which rode bikes, as they left the area. That's when Hood allegedly got into a fight with a counter-protester that had to be broken up by officers. Two counter-protesters initially faced charges relating to the incident, but those were later dropped by prosecutors. 
"It's clear that Boston is a way point in the crusade of hate launched five years ago in Charlottesville," Hayden said in a statement at the time. "Society everywhere is targeted by these groups, and society everywhere must reject them."
About NSC-131
NSC-131 is a neo-Nazi group with white supremacist ideals, according to the Anti-Defamation League. The group distributes propaganda, organizes public demonstrations, and trains its members on how to harass the group's enemies. Those perceived enemies are primarily a "hostile, Jewish-controlled system that is deliberately plotting the extinction of the white race," according to the ADL. 
Hood helped found the group in eastern Massachusetts in late 2019. Small chapters were established around the country, but in 2021 NSC-131 disbanded all chapters outside New England. The group is now solely focused on spreading hateful ideas in New England, according to the ADL. 
This incident was not the first, or most recent, neo-Nazi activity in the region.
In May 2021, NSC-131 demonstrated outside the New England Holocaust Memorial in Boston. Later that year, people associated with the group held a banner over a Cambridge overpass with the message "Refugees not welcome."
Members of NSC-131 gathered outside Brigham and Women's Hospital in January 2022 to protest so-called "preferential health care policies for non-white patients." They appeared at the St. Patrick's Day parade in Boston a few months later, displaying their logo and a banner that read "Keep Boston Irish."
This January, members of the group took credit for interrupting a drag queen story hour in Taunton. 
New England has seen an alarming rise in activity from hate groups like NSC-131. The ADL found that the region experienced a collective 96% increase in white supremacist propaganda in 2022. Massachusetts, in particular, saw 465 incidents in 2022, an increase of 72% from 2021. Only Texas had more incidents of recorded propaganda activities than Massachusetts did in 2022. 
NSC-131 has focused recruitment efforts on college campuses, and New England is home to many colleges and universities, ADL New England Interim Regional Director Peggy Shukur told Boston.com earlier this year. The area is also viewed by some of these groups as having symbolic value because of its critical role in the American Revolution.
Newsletter Signup
Stay up to date on all the latest news from Boston.com