The Quintessential Sandals Royal Bahamian Review
If you are looking for the perfect mix of activity and relaxation, look no further than Sandals Royal Bahamian. We spent a week exploring the beach, private island, restaurants and bars at this all-inclusive resort in Nassau, Bahamas. During our trip we experienced the benefits of its butler-level service, allowing us to completely unwind as we prepped for our intimate wedding on the private island.
The Sandals Royal Bahamian is located in Nassau, Bahamas, which is a short drive from the airport. The resort is also near several local attractions if you want to venture off the property on your own or through excursions. Sandals renovated this resort recently and it shows with modern rooms, common areas and restaurants.
The property offers a mix of party and chill-out vibes. One of the main pools is a quiet pool, while the other features events throughout the day and a more party-like feel. The private island, which is a quick 5-minute boat ride, is even more serene with cabanas, snorkeling and the most laid-back way to enjoy your time.
Explore the Sandals offerings and availability.
Sandals Royal Bahamian Rooms and Suites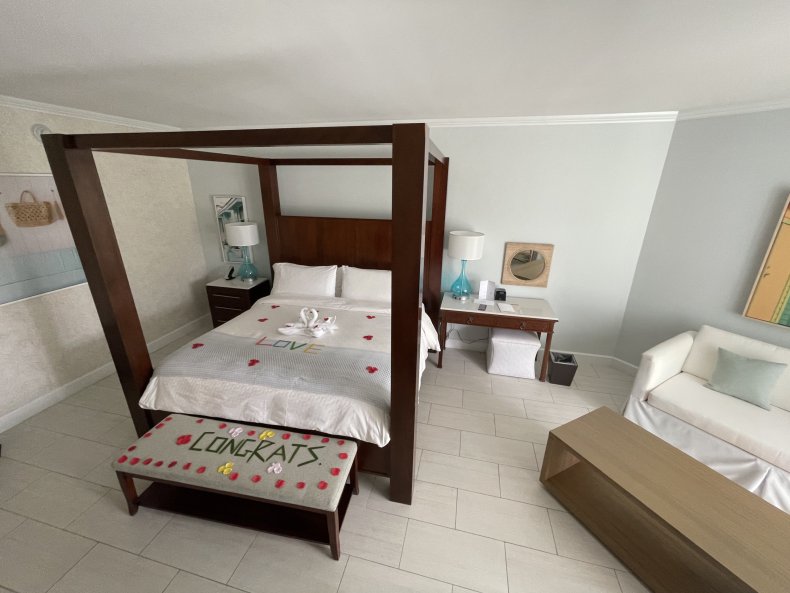 We stayed in the West Bay Butler Suites with swim-up access. Our room was beautiful and we could walk out into a garden-like pool area to wind down. When booking, you can choose between this garden view or one facing the main area of the resort. If you are looking for more privacy, definitely pick the garden area.
The room is spacious with a large king bed, small sitting area and a couch, so on the rare occasion we were relaxing inside we never felt cramped. We were able to easily fit our week's worth of clothes and wedding attire into the closet. It would have been nice, however, for the bathroom lighting to be brighter to aid in prepping for the wedding. As an added bonus, the staff was even able to bring us a box fan for white noise while we slept.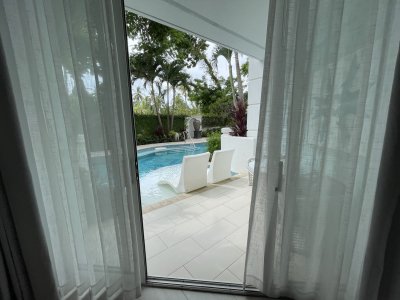 Ahead of our arrival, we filed out snack and drink preferences and the butlers kept our room stocked with our favorite soft drinks, beer, wine and other drinks throughout the stay.
Room rates start at $360 per person per night and go up depending on the room amenities and butler service.
Sandals Royal Bahamian Butlers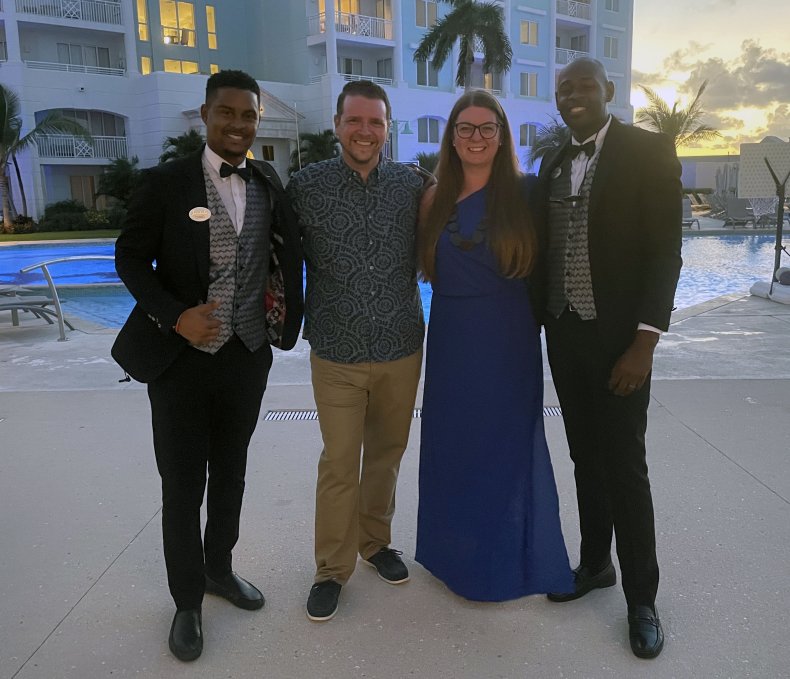 At the airport, we checked in at the Sandals desk and were escorted to the private transfer that is part of our Butler Suite. The ride to the resort was a quick 10 to 15 minutes in a Rolls Royce with an excellent driver. A private check-in experience awaited us, and a butler then escorted us to our room, where our luggage arrived shortly. From there, we attended the Butler's Welcome Party to meet other guests, grab a drink and play a few games.
You can choose from an array of room levels, and the Butler Suites definitely made this trip for us. Our butlers, Chad, Donard and Angela, were able to help us make dinner reservations, bring snacks and drinks to the room or beach, reserve chairs at the beach and handle all the things that we would otherwise need to think about. It dramatically raised our relaxation level, which was great as we prepared for an intimate wedding on the private island.
At check-in, we were provided a phone to text or call our butler team during the stay. At the end of a busy day of travel and wedding prep, we asked our butlers to bring us some refreshments. During the remainder of our stay, they helped us with chairs at the beach, drinks and food, showed us to restaurants and even surprised us with snacks or drinks as we were around the property.
When we needed to change our schedule or when something popped up, they were quick to find a solution so we could kick back and not worry about anything. The team made sure our room was stocked, provided wonderful decorations for us on the night of our wedding, and even discovered a loose shower head and had it fixed while we were at dinner. It's also great for peace of mind, allowing us to ask the butlers anything with a text and receive the answer quickly.
When you book a Butler Suite, the service is included. It's important to note that butlers are the only staff at a Sandals Resort who can accept a tip.
Beach, Pools and Activities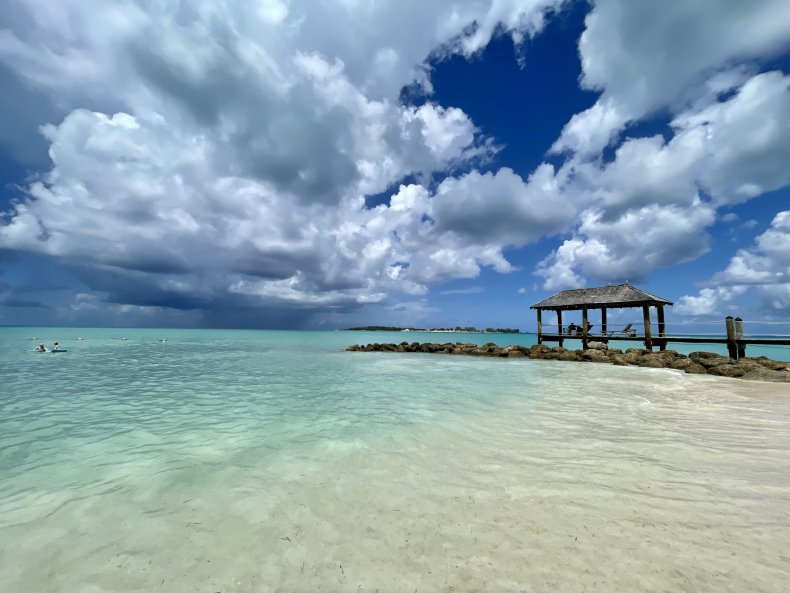 The Sandals Royal Bahamian property includes a plethora of beaches and pools on the main resort area and the island. As you enter the property, you'll find the quiet pool. It is complete with a swim-up bar and water features. A second large pool is more of a party vibe with the ability to play basketball or volleyball. You'll also find activities and events in this pool, along with another swim-up bar.
There are swim-up pools lining the building we stayed in and infinity pools on the beach side of the East building. There is a hot tub near the beach entrance, allowing you to watch the sunset as you de-stress. Another small pool with a swim-up bar is on the island.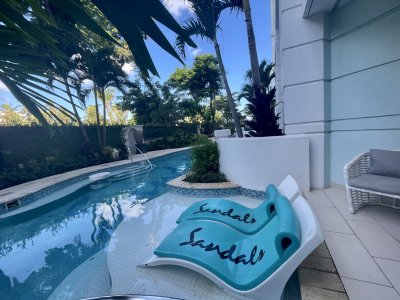 While you will need to act fast to get a chair, none of the pools ever feel crowded and service at the swim-up bars is generally very quick.
We spent most of our time at the beaches. On the main property, there are two main beaches, split by the dock where boats launch for the island and water activities. The beach on the left side is more open, making it a cool place to look for shells and the right side is protected by a rock outcrop in the middle, making it a little calmer. Both are incredibly clean and very clear on a calm day.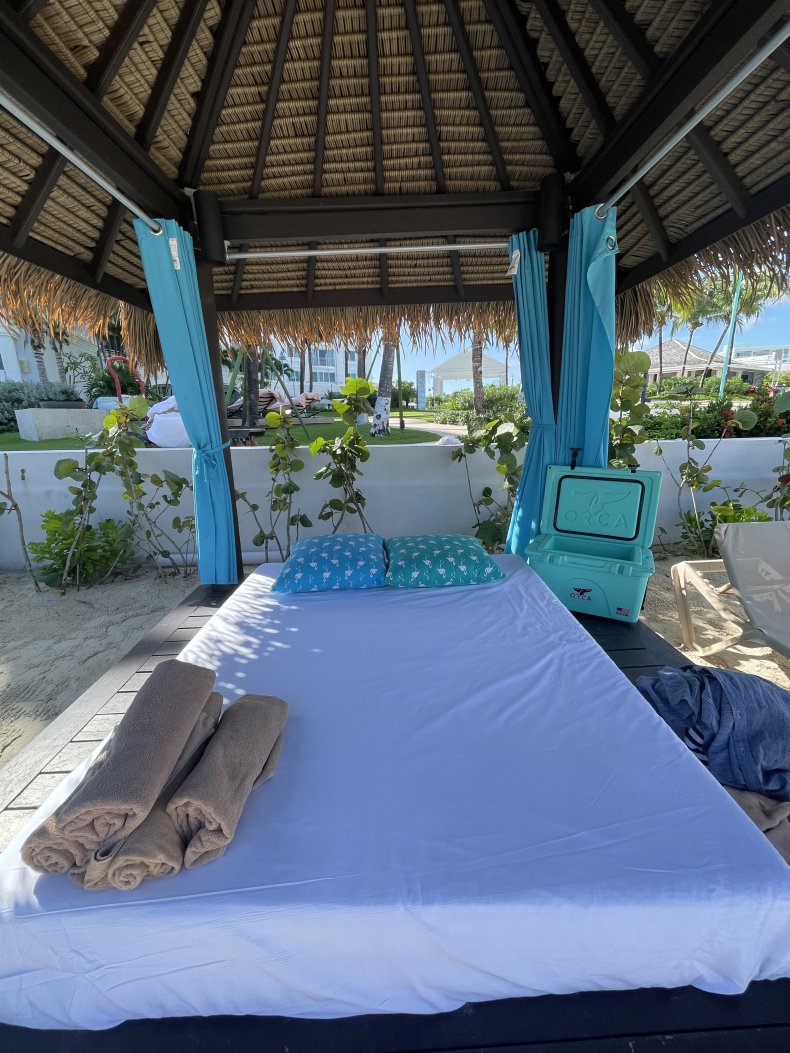 The right side includes cabanas that you can rent and many beach chairs that are first come first serve. Plan to go early and save chairs or have your butler do this for you. We saw baby barracuda, crabs and all kinds of wildlife on the right side and it was our favorite section on the main property.
On the island there is a beach on the resort side with the calmest, clearest water, allowing us to see down to starfish, conch and beautiful fish. On the back of the island is a larger stretch of beach with free snorkeling rentals. We saw a large barracuda, a school of some kind of squid and an incredible array of other fish. The first-come, first serve cabanas on the island are the most relaxing way to spend your day. Get there early and enjoy the breeze and sun while you grab drinks or to-go food from the on-island restaurant, which is wonderful. The island was by far our favorite place at the Sandals Royal Bahamian, and if we could snap our fingers and return in an instant, we would be there right now.
While we were on a mission to chill, you can opt for an array of water activities that are a part of the all-inclusive experience. This includes kayaks, windsurfing, paddle boards, water trikes and more. You can get PADI certified for a fee while you are at the resort or complete the classroom portion online and take the test at the resort.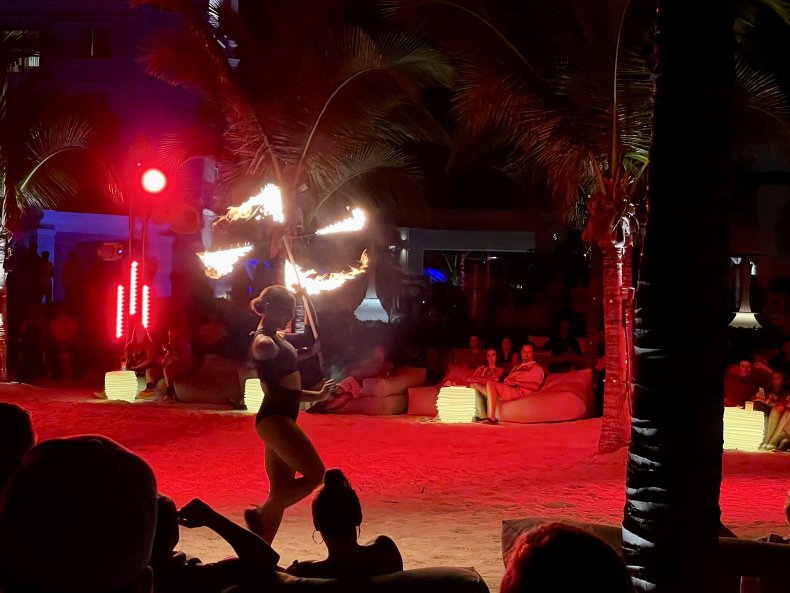 Each evening there is entertainment, including shows with fire twirling and music, audience participation for theme nights and something to do or see after dinner. Even with what we were told was a very booked property, there was always plenty of room on the beach, at the pool and around the shows.
Sandals Royal Bahamian Restaurants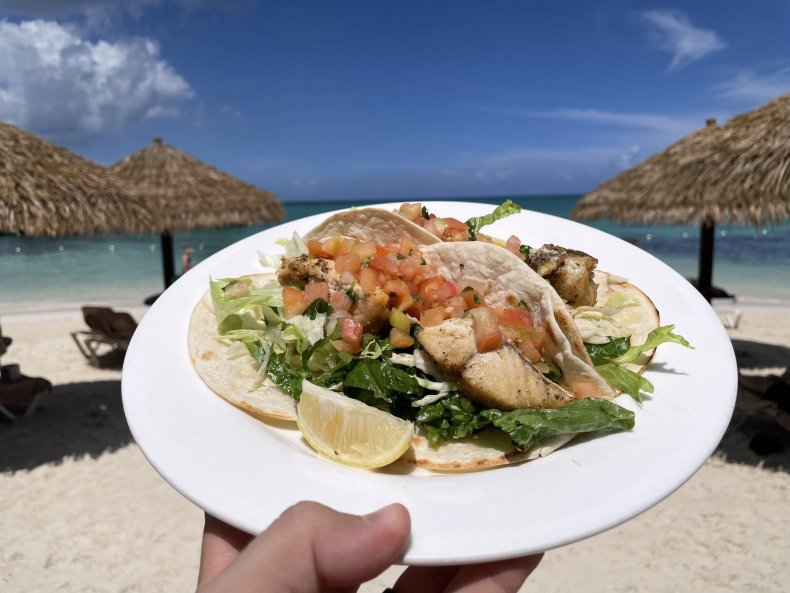 There are 10 restaurants at Sandals Royal Bahamian, a number of walk-up and swim-up bars and two food trucks for snacks, sweets and plenty of coffee drinks. This offers a good mix of options for all meals, though if you are like us, you will gravitate back towards a favorite or two.
We loved the pan-seared swordfish steak at Gordon's Pier Restaurant and the Chicken Cordon Blue at La Plume for dinner options. We made it a point to go back to Gordon's during our stay. It's also right over the water, so you can enjoy the sounds of the ocean and a view of the sunset.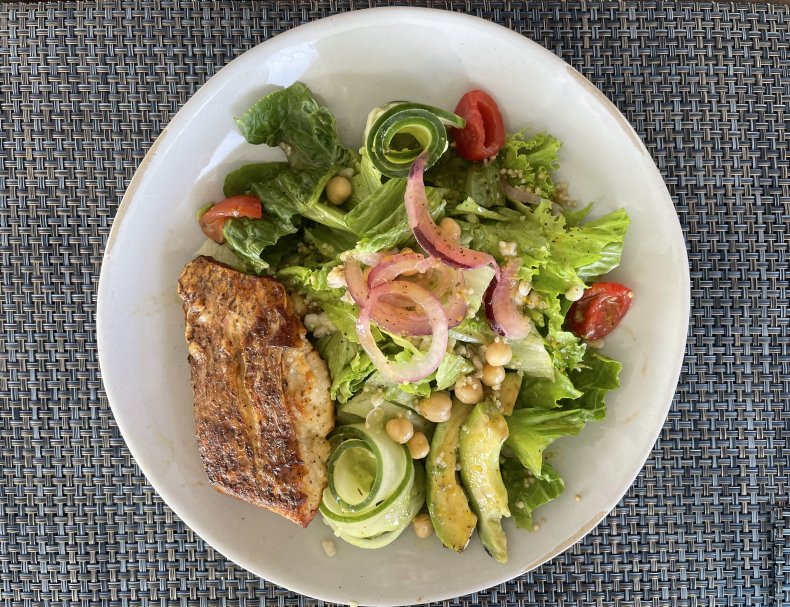 On the private island, the Aralia House is a delicious lunch spot where my wife loved the catch of the day on a salad and we found a delicious sampling of items. Our favorite lunch spot in the main resort is the Calico Cafe, where you cannot go wrong with the grilled snapper filet.
For a more group dining experience, hibachi at Kimono's is a nice change of pace. You can grab food to go at many restaurants and the two food trucks offered delicious snacks and desserts.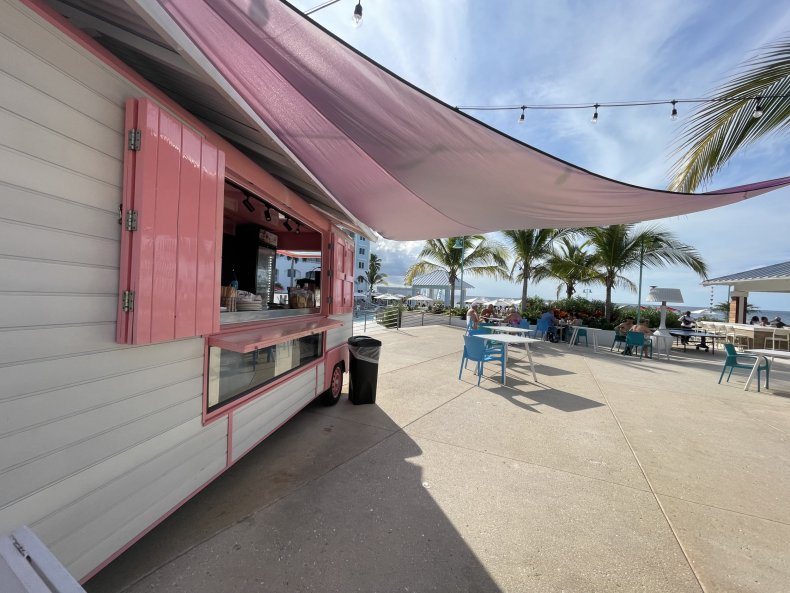 Breakfast is available at several locations with a buffet or a la carte style services. We loved the pink pineapple and ate it by the plateful at breakfast and throughout the day. You can also order room service for meals or snacks if you want to retreat to your room.
Planning a Wedding at Sandals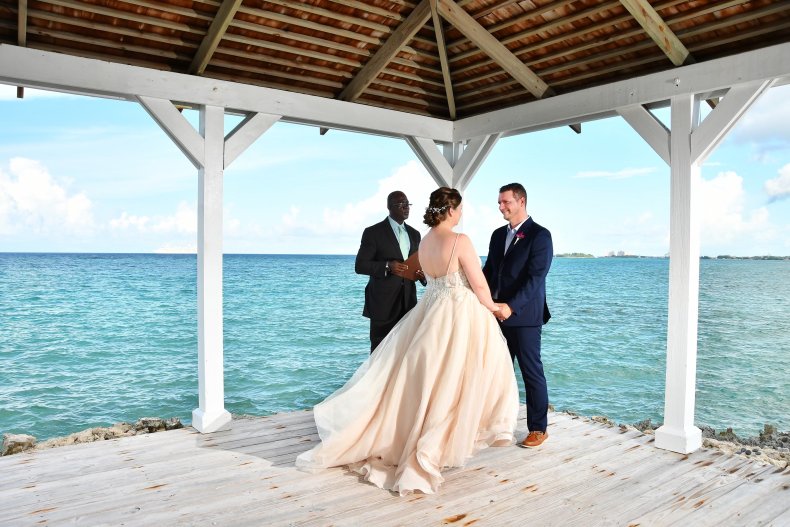 Upon arrival, a snack and champagne awaited as we entered the room, as well as a folder with information on appointments we needed to keep for our wedding. If you choose to have a wedding at Sandals, they will walk you through a range of options and features ahead of time, but there are final decisions to be made about the location and cake to try.
Our on-site planner, Keri, walked us through the various locations, ultimately leading us to the private island option, escorting us over to look at the spot on the island and then back to meet with the local government official for final paperwork. Keri was helpful in advising us on the timing and location, as well as making sure we were ready for each part of the process. She suggested we order a second copy of the marriage license up front to avoid trying to obtain one later. We felt like we were in great hands, with Keri helping us throughout this process. She also helped me sneakily set up a flower delivery a few hours ahead of the wedding.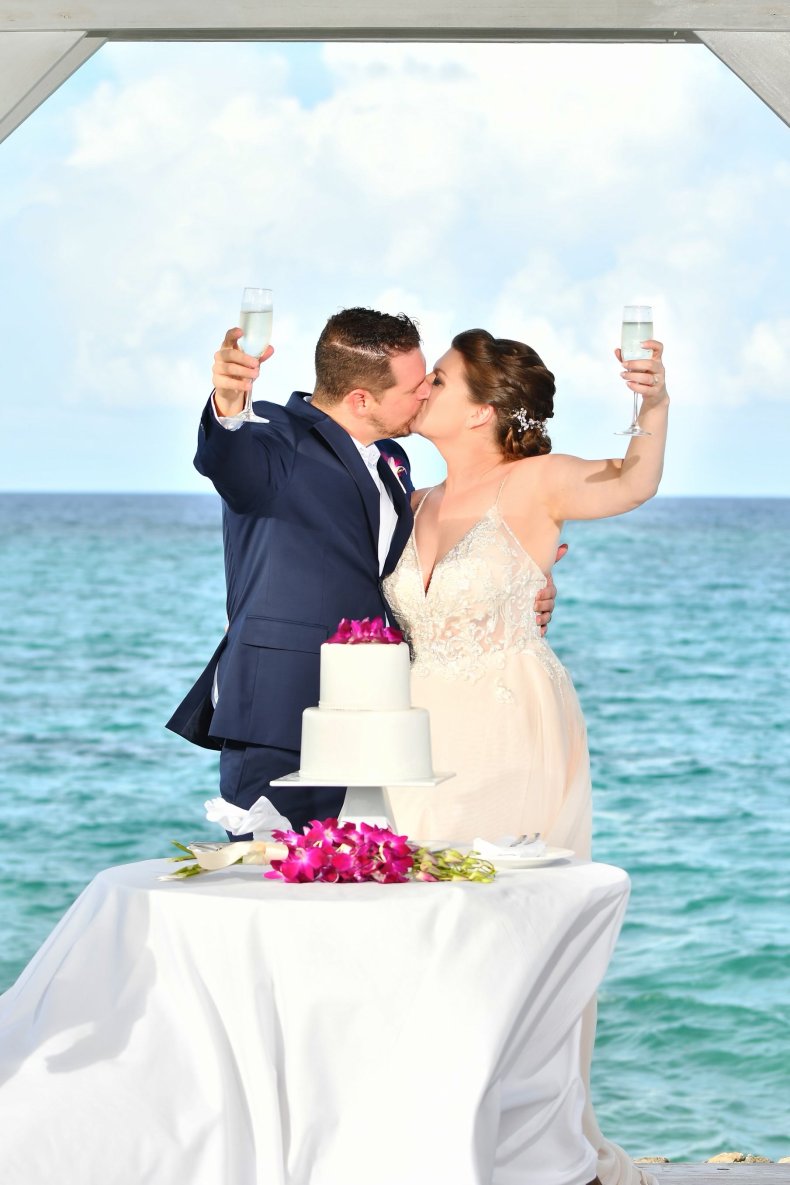 If you opt for someone to do your hair and makeup on-site, there is a spa. We booked a hair and makeup package that included a test run and then day of preparation. The spa is on the front edge of the property, which normally wouldn't be too far, but it does feel distant with hair and makeup done on a humid day. Both the practice session and the day-of session did not meet expectations. The staff was open to corrections but didn't follow the requests, ultimately leading to a compromise on hairstyle and makeup that was not the right color for skin tone and not properly blended.
We took a private boat to the island, where we were the only people, and talked with the minister who would marry us. He did an outstanding job of making it feel like he knew us, picking up on our vows and tailoring his part of the ceremony to us. His booming voice and charming personality were an added reason we were happy to have a video of our wedding.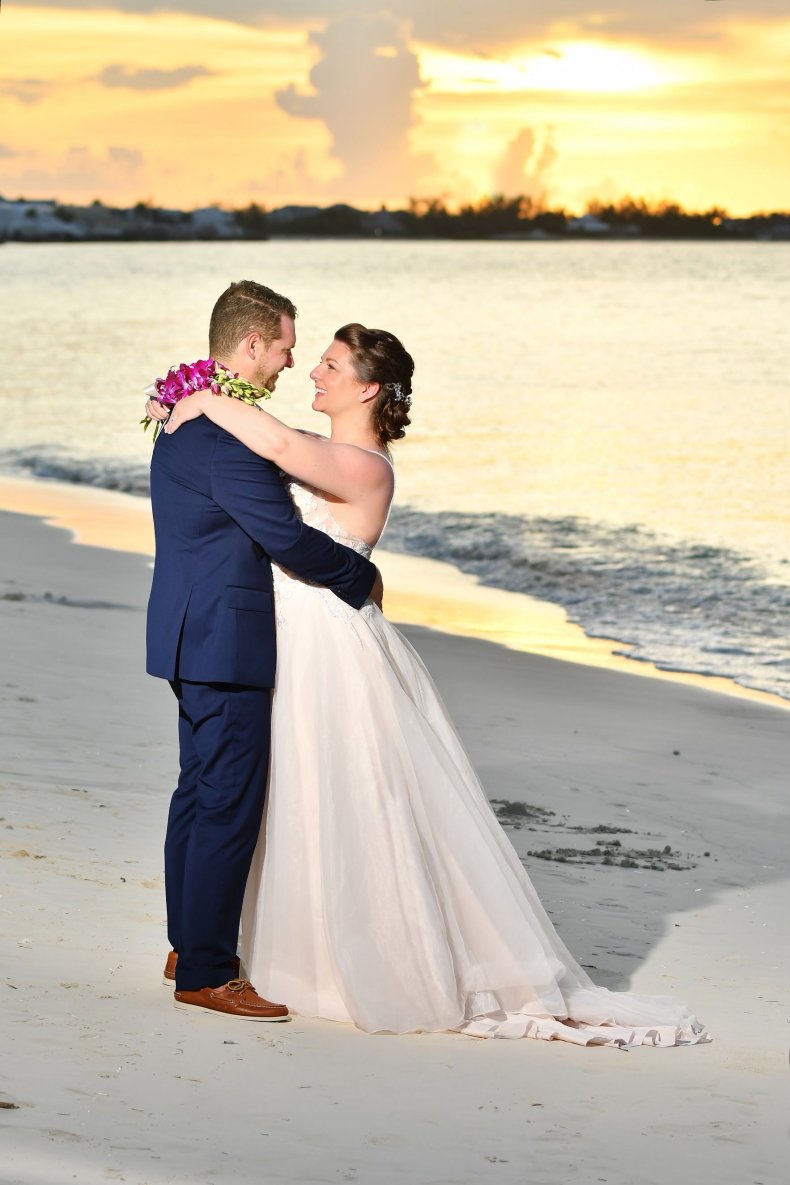 The ceremony was short and sweet and then we danced in the gazebo, where we were married to the song we chose. It was a perfect moment, and every time we hear our song, it takes us right back to the wind, the smell of salt and the sound of the waves. If you choose a wedding at Sandals Royal Bahamian, this is the spot.
After the ceremony, we shared a cocktail and appetizers, which were included as part of the wedding package. Our private ceremony meant we had this moment to ourselves, and the few staff on the island stepped away while we enjoyed the moment.
We love the video and were very glad we added this on at the last minute. Keri offered to shoot it and then we could watch it and decide to buy. As soon as we saw it, we knew it was worth the $495 price, allowing us to share the moment with our families once we returned home.
The photography wasn't as great of an experience. Small things like making sure to include a cruise ship in the pictures even though we weren't on a cruise, to leaving the minister in place for our first kiss. Larger issues like oversaturated photos on the beach that made our skin tones orange and purple ultimately required us to pay for photoshopping later. When taking photos, the photographer often only had one shot of each moment, and they were competing with the videographer for these and not capturing each person's face. The process of reviewing the photos on-site also felt rushed.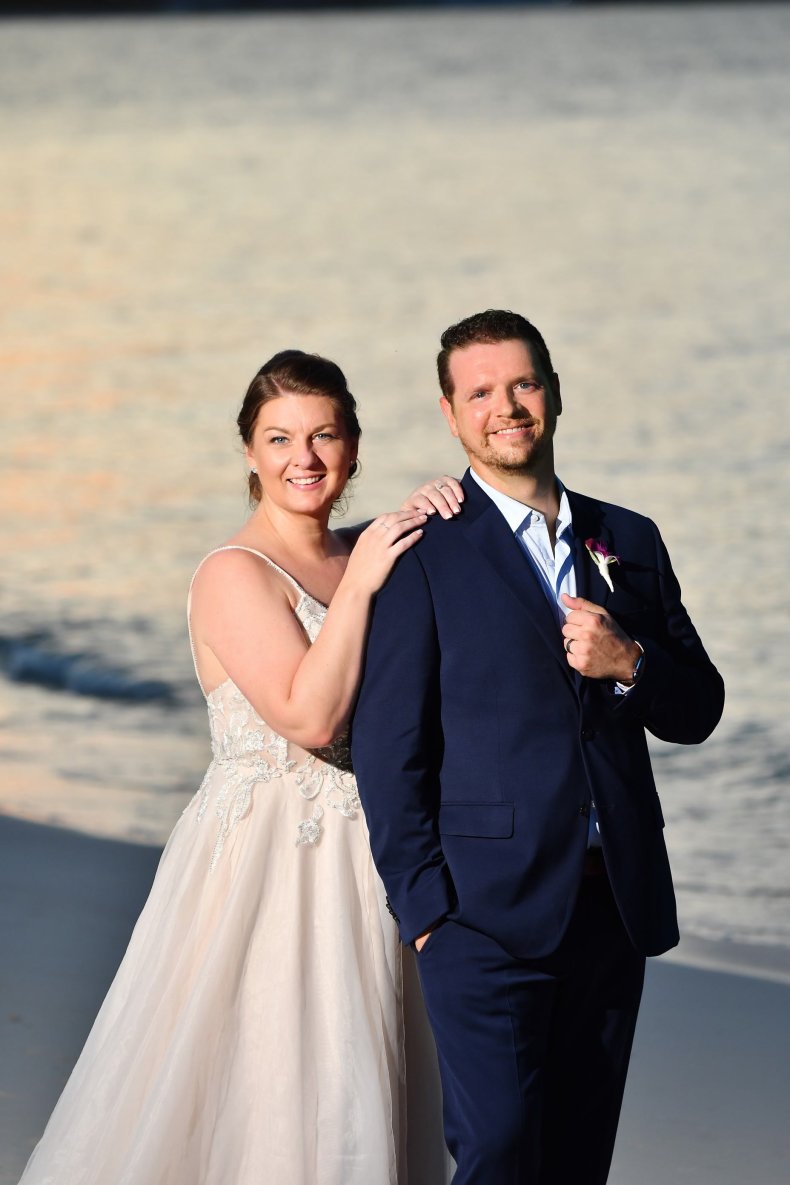 We received prints as part of the package, but they were blurry, so they made arrangements to ship us photos. The replacement photos were also blurry, and since they didn't have the edits we paid for, they are not something we will display. The upside is the package includes the rights to print the photos on your own.
We ended the evening with a private candlelit dinner on the beach. This is a nice option over spending the special occasion in a restaurant. Our advice is to book it earlier in the evening, near sunset, if you are able. Otherwise, it will be very dark while you are eating, and you will battle the bugs.
Is Sandals Royal Bahamian Worth It?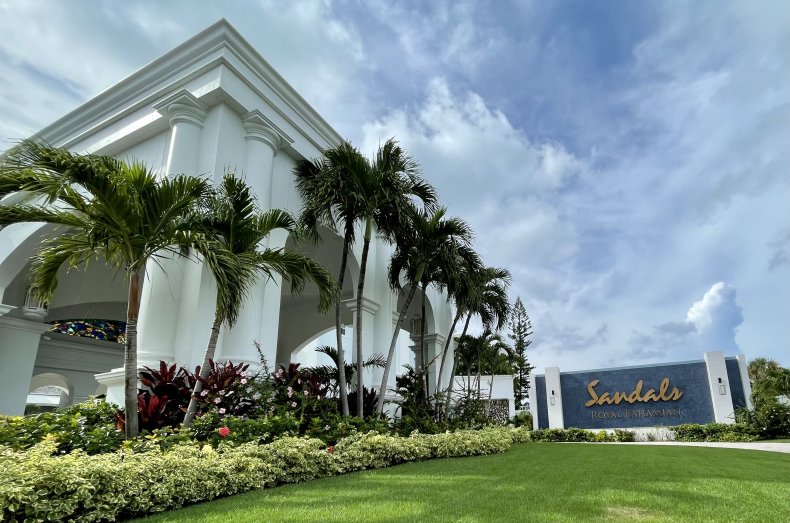 A stay at the Sandals Royal Bahamian resort is a great way to escape to clear water, beaches and great food. Its services simplify the vacation process, allowing you to disconnect and decompress as much as you want while offering easy access to activities and variety. Whether you go for butler-level service or the more affordable entry-level rooms, you are in for a great vacation.
We loved getting married at Sandals. If you choose this route, we recommend making your visit a little longer than a week since you will spend the first few days prepping. Sandals handles all the paperwork and logistics, so you don't need to worry. The wedding planner and officiant were great and we loved the video. Pay attention to the shots that your photographer is taking during the ceremony, and ask for any retakes you need. If you're traveling with a group, you may be better off getting your wedding party to help with hair and makeup. Finally, opt for the video; it's a great value and a wonderful way to capture your wedding at Sandals.
Learn more and book a Sandal's Royal Bahamian Resort stay.
Newsweek may earn a commission from links on this page, but we only recommend products we back. We participate in various affiliate marketing programs, which means we may get paid commissions on editorially chosen products purchased through our links to retailer sites. Sandals provided a media discount to experience this resort.