Tears as Old Man Leaves Store With Handwritten Notes on How to Use iPhone
A video of an elderly customer who was reportedly holding "a bag full of handwritten notes on how to use his iPhone" has gone viral on TikTok.
The clip, which has so far gained 5.3 million views, was posted by TikToker @lilwessel.
Apple's website says it offers "skills" classes on "getting started" with your iPhone, which customers can sign up for on the site. These sessions are "recommended for those new to iPhone."
During each 60-minute session, "you'll learn how to navigate your device and customize your settings, and we'll take you through the latest apps and features."
The site adds: "For sessions with amplified sound, hearing loop technology is available on request."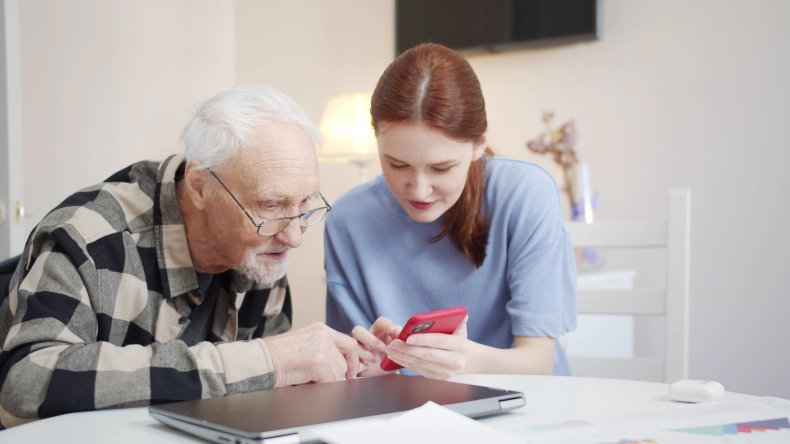 The adoption of "key technologies" by those 65 and older has "grown markedly" since about a decade ago, according to a Pew Research Center survey conducted in 2021.
The survey found that 61 percent of those 65 and older reported having a smartphone, compared with 96 percent of those aged 18 to 29. That 35 percentage point gap between the two age groups was down from 53 points in 2012.
According to the survey, 83 percent of those 50 to 64 reported owning a smartphone, while 95 percent of those 30 to 49 reported the same.
The survey also found that 75 percent of those 65 and older reported being internet users, compared with 96 percent of those 50 to 64.
A message overlaid on the TikTok clip read: "I saw this older man at the mall coming out of an Apple store with a bag full of handwritten notes on how to use his iPhone and my heart hurt so bad. It was the most pure thing I've ever seen."
The footage showed the back of the man, who was holding a small, white gift bag with some papers in it, while he walked alongside another person.
A caption shared with the post simply read: "I miss my grandma."
The clip has greatly moved users on TikTok. In a comment that got 55,800 likes, user reese fazio wrote: "I'm just happy someone did that for him."
Teresa Schmied said: "I love your heart. As an older person I see me trying to keep learning and growing."
Shutup said: "No I'm gonna cry myself to sleep over this."
NATALIE said: "Stuff like this crushes me."
User lailah wrote: "Awww omg i would cry."
Newsweek has contacted the original poster via TikTok for comment. This video has not been independently verified.
Do you have a similar story to share? Send it to life@newsweek.com with some details and your story could be featured in Newsweek.