Starbucks Strike Across the Country as Videos Show Workers Protest Over Pay
Starbucks workers are striking across the United States as part of a nationwide protest ahead of the company's annual meeting on Thursday, during which shareholders will vote on an assessment of worker's rights.
Videos shared on Twitter and other social media show Starbucks workers picketing from Tennessee to Colorado, Massachusetts, and Ohio. In a video taken on Somerville Ave in Somerville, Massachusetts, Starbucks workers can be seen waving signs reading "Starbucks, respect your workers right to organize" and "Starbucks, this is your sign to be kind to workers" under the notes of Pink Floyd's Another Brick in the Wall.
"Ask me about our unfair labor practice," and "Change is brewing," read signs held by striking Colorado Starbucks workers in a picture posted on Twitter.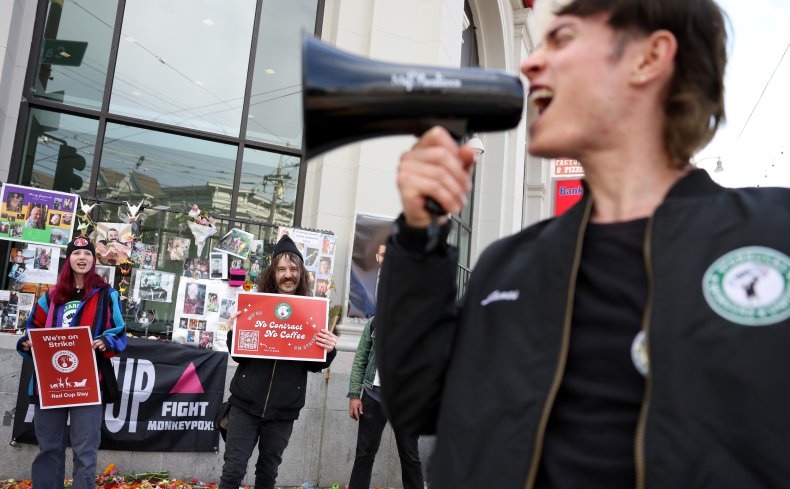 "We are fully committed to strike today," posted the official Twitter for the baristas of the Starbucks at Kingston Pike & Montvue Center Way in Knoxville, Tennessee, posted on Wednesday. "We will continue to demand Starbucks bargain with us in good faith and halt disgusting union busting tactics."
Starbucks workers are walking off to demand higher wages, better benefits, safe working conditions and the right to organize in unions without fear of retaliation and intimidation.
Since December 2021, when baristas in Buffalo, New York formed the first-ever unionized Starbucks store in the U.S., more than 7,500 workers in over 280 other locations of the popular coffee chain have voted to unionize under the umbrella of Starbucks Workers United.
But these unionizing efforts have been met with resistance from the company, which is currently being investigated by The National Labor Review Board over complaints of illegal union-busting tactics.
This is a developing story and will be updated when more information is available.