'Spoiled Puppy' Will Only Eat Food With Special Toppings in Hilarious Clip
A rescue dog who will eat her kibble only with special toppings has the internet in hysterics.
In a video shared to TikTok on October 14 by owner Chelsea (@heyymrsscarterr), Nairobi can be seen sulking by her food bowl and refusing to eat her dinner.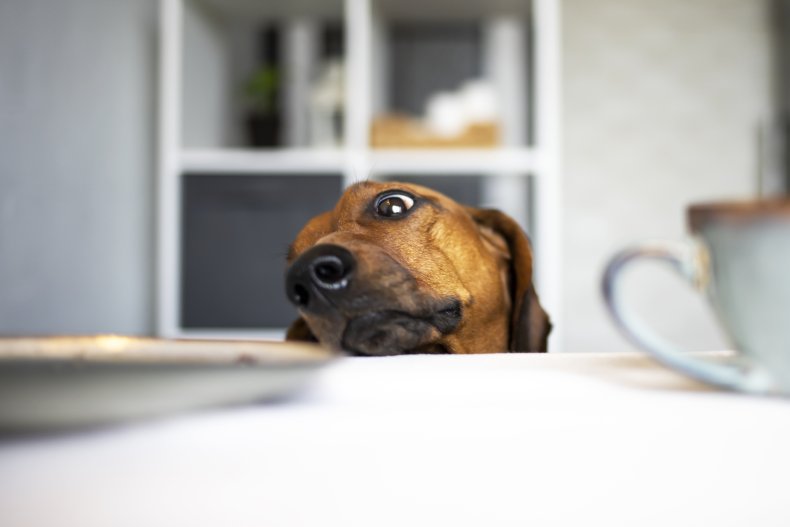 Nairobi's defiance is due to the lack of special "toppings"—such as meat or cheese—which Chelsea's husband usually adds to the dish.
TikTok users found Nairobi's "tantrum" hilarious, with the clip receiving 5.6 million views and 2.1 million likes.
'Picky Eaters'
A survey in summer 2022 of 2,000 dog owners found that canines are almost as picky about food as children.
When it comes to mealtimes, seven out of 10 respondents said their dog was harder to please than their kids, with 54 percent considering their dog to be a "picky eater."
Forty-six percent said their dog liked only particular foods, while 44 percent said their pet disliked certain ingredients.
The survey also discovered that 28 percent of dog owners have 10 or more bags of unused dog food at home. On average, it took owners eight attempts to find a brand or flavor that their pets enjoyed, with three out of five struggling to manage their animal's dietary requirements day-to-day.
Like Chelsea, 33 percent of owners found that adding toppings made dogs more likely to eat their meals. They also said that reducing the amount of scraps, introducing new food, or switching to tastier options, encouraged their pet to eat.
'Spoiled Dog'
Captioned "When mom doesn't put any special toppings on your kibble like dad does," the clip shows a devastated-looking Nairobi sitting in front of a full bowl.
"Eat your food," Chelsea tells her, as Nairobi turns and gives her owner the puppy-dog eyes.
When Chelsea doesn't rush over and add any toppings, Nairobi looks down at her meal despondently.
"Eat it, spoiled dog," Chelsea says, while laughing.
Chelsea and her husband rescued mixed-breed Nairobi as a puppy back in May. The TikToker's account is filled with videos of the dog living her best life, whether that's getting her ears scratched or enjoying a car ride.
Do you have funny and adorable videos or pictures of your pet you want to share? Send them to life@newsweek.com with some details about your best friend and they could appear in our Pet of the Week lineup.
In the comments, Chelsea wrote that she and her husband were going away for a week and Nairobi was staying with a friend of theirs. To make sure the fussy eater was well fed, they decided to do a test run, which they caught on camera.
"Don't worry everyone she got her toppings," Chelsea wrote. "She always does lol."
She added that Nairobi's regular toppings consist of beef broth, cheese, and an assortment of meats and veggies.
TikTokers couldn't get enough of the spoiled pup and her foodie demands, with kleilani asking: "Where's the razzle dazzle?!"
"This was NOT made with love," commented Heidi S, while Ale wrote, "[She] wants to speak with the manager."
"That's why mom's the spare human," Jo posted, while atastetoremember commented: "She definitely told her daddy on you when he got home."
Nairobi is not the only pooch with fussy-eating habits to go viral in 2022. A dog refusing to eat his meals unless they're sprinkled with parmesan cheese took over TikTok in March, while a canine who consumes rotisserie chicken for every meal received 120,000 Twitter likes in February.
Newsweek has reached out to @heyymrsscarterr for comment.