South Carolina Republicans' Abortion Ban Derailed by Judge They Elected
Abortion-rights advocates in South Carolina have once again been saved from a Republican-led abortion ban by a judge the same Republicans elected.
South Carolina Judge Clifton Newman on Friday issued a temporary stay on a newly enacted ban on most abortions when a fetal heartbeat is detected—about six weeks of pregnancy—until the state's Republican-led Supreme Court can review the measure.
There the ban—which limits abortions at a time experts claim most women don't even know they're pregnant—potentially faces challenges.
Last year, the state's highest court struck down a similar six-week ban on a 3-2 vote before it was allowed to take effect on the grounds that the real interest in women's bodily autonomy and health care was "more important than the state's ostensible interest in potential embryonic life in the early stages of pregnancy," leaving the state with its current, constitutionally permitted ban on abortions after 20 weeks of pregnancy.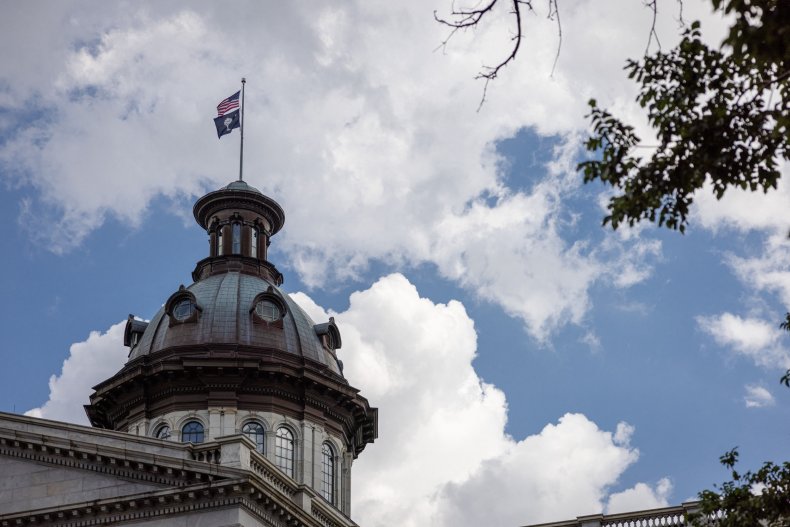 Newman's ruling, however, marks the second time the state's Republican majority's abortion bans have been thwarted by judges they elected. Notably, South Carolina has not elected a Democrat governor since Jim Hodges in 1999, while Democrats have not held a majority in either chamber of the state legislature—which is responsible for vetting and electing judges—since 2000 in the Senate and 1994 in the House.
And Newman—the judge who also oversaw the murder trial of disgraced South Carolina businessman Alex Murdaugh this year—has been a known entity for some time.
First elected to the South Carolina Circuit during Hodges' administration with Republicans' blessing, the former Williamsburg County solicitor was reelected to an additional six-year term by the Republican-led General Assembly in February 2021.
Meanwhile, the Supreme Court justices who previously voted down last year's abortion ban were all elected during years of clear Republican control, with the author of the prevailing opinion—former Justice Kaye Gorenflo Hearn—elected during a GOP majority in 2010.
Though South Carolina's previous six-week abortion ban was found to be unconstitutional by the state's highest court, Hearn—one of the deciding votes in that year's case and the only woman on the court—was term-limited under the South Carolina constitution, and was recently replaced by former South Carolina Appeals Court Judge D. Garrison Hill.
The appointment of Hill—whose nomination came just before the previous Supreme Court decision struck down the 2022 abortion law as unconstitutional—leaves the future of the new abortion law uncertain in a state where Republicans have long fought over the details of some of the nation's most aggressive abortion legislation.
Now his predecessor is gone, and Hill is in that seat. However, Republicans don't know his position on abortion, and some are upset that the Judicial Merit Selection Commission didn't try hard enough to find out.
While Hill's nomination by Republicans made South Carolina the sole high court in the nation without a female justice, his views on abortion were not considered as part of the nomination by the Assembly's Judicial Merit Selection Commission, drawing some consternation from far-right members of the state legislature who believed judges' individual philosophies should be given greater scrutiny prior to nomination.
Whether his views are even relevant is yet to be seen. While Governor Henry McMaster planned to fight the injunction in statements to local media on Friday, Vicki Ringer, director of public affairs for Planned Parenthood South Atlantic in South Carolina, told Newsweek that the court has traditionally respected the court's previous decisions, and that the newly elected justice has given no signs of being a significantly partisan figure.
"There's certainly no guarantee that the state Supreme Court will even take this case," Ringer said. "They may just say that they've already ruled on it, and that not enough has changed for them to reconsider this law.
"I don't think any of us know what to expect. But you know, what I do think I know about these justices is that they have a respect for precedent and that they will not want the court to appear overly political by taking this up just weeks after making a decision. I think that would really hurt the court's reputation, because it will suggest that just by changing people, the law changes."