'Shadow and Bone' Boss Teases 'Six of Crows' Spin-Off and Season 3 Villain
Shadow and Bone Season 2 may have only just landed on Netflix, but showrunner Eric Heisserer has told Newsweek about his plans for the franchise's future.
The new episodes adapt the second and third books in Leigh Bardugo's original trilogy, titled Siege and Storm and Ruin and Rising respectively. They also take elements from Six of Crows and Crooked Kingdom, but leave out an important plotline from the beloved works.
Fans of Bardugo's books will recognize that the show has set up a Six of Crows spin-off that will focus on the Crows' heist at the Ice Court in Fjerda. The storyline involves Kaz Brekker (Freddy Carter), Inej Ghafa (Amita Suman), Jesper Fahey (Kit Young), Wylan Hendricks (Jack Wolfe), Nina Zenik (Danielle Galligan) and Matthias Helvar (Calahan Skogman). This, Heisserer said, was intentional.
'Shadow and Bone' Boss Teases 'Six of Crows' Spin-Off and Season 3 Villain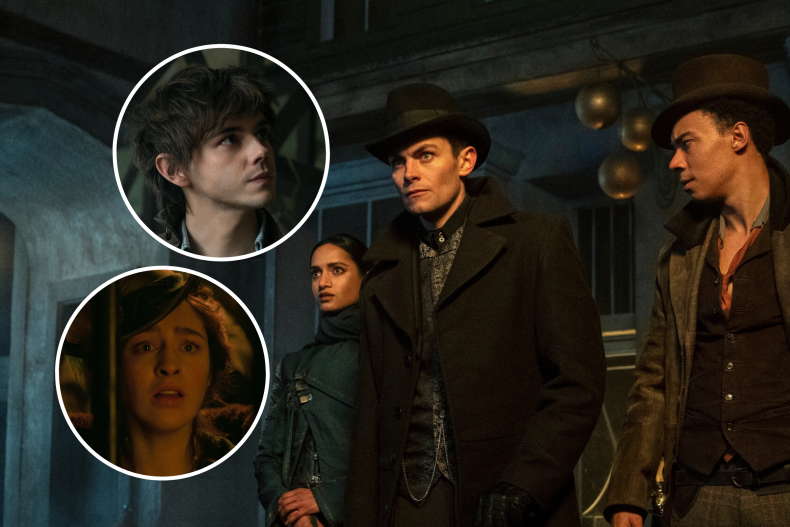 The show's second season ends with Kaz telling Jesper, Wylan and Nina of a new job they have been given, which will see them rescue a Grisha from the impenetrable Fjerdan fortress. The Grisha has created a drug known as Jurda Parem, which increases a Grisha's powers tenfold but is also highly dangerous, as seen in the finale.
"If we're able to get our way, because there are a lot of mouths to feed, the best course of action is to allow us to do Six of Crows as a standalone season and really spend time with those characters," Heisserer said. "And then Season 3 of the mothership allows us to spend a good amount of time with all of our Ravkan contingent."
The Ravkan contingent, as Heisserer describes them, involves characters like Alina Starkov (Jessie Mei Li), Nikolai Lantsov (Patrick Gibson), Zoya Nazyalensky (Sujaya Dasgupta), Mal Oretsev (Archie Renaux), and others who have remained in Ravka.
The showrunner explained that Season 3 of Shadow and Bone would largely take place at the same time as the Six of Crows spin-off, and the finale's last scene is of particular relevance.
He explained: "Those storylines will at least somewhat overlap, because there is a scene in Season 2 that essentially lands on the same night as Hringkälla [an annual event in Fjerda], which means that a good chunk of Six of Crows will be happening at that time.
"But then it moves forward from there, and the fun will be knowing when those characters can cross-pollinate again, and when we can sort of Avengers Assemble everybody against a common, major enemy."
"The Thanos of the Grishaverse is a much-held secret that we've been excited to get to, if we ever get a chance," Heisserer said, adding that the villain they have chosen will be one that fans of the books are familiar with but he would not elaborate further.
Season 2 of Shadow and Bone is also preparing its next season to adapt the King of Scars duology from Bardugo's franchise, which focuses on Nikolai's reign over Ravka and his struggle with a dark secret.
The books also put Zoya front and center, and Heisserer heaped praise on Dasgupta: "I hope she's ready for it because she'll be a pillar of that storyline."
Fans may also be wondering exactly how the Crows will manage without Inej who, in the show, ends Season 2 by heading out to sea in order to target slaver ships that might know the whereabouts of her brother.
Heisserer was quick to reassure viewers that the Wraith won't be apart from the crew for long: "The scene on the Volkvolny [ship] with Inej pursuing the slaver ship happens many weeks before Kaz's voiceover, so that in the event of a Six of Crows storyline Inej will be back with the team fairly quickly and we'll get a sense of how the timeline is shaking out and what has transpired."
Why a 'Crooked Kingdom' Storyline is Used in Season 2 and What it Means for the Future
Season 2 also did something that fans might have expected: it used a major storyline from Crooked Kingdom, the second book in the Six of Crows duology. This was Kaz's revenge plot against Pekka Rollins (Dean Lennox Kelly), who double-crossed him and his brother Jordie when he was a child and left them for dead.
Heisserer explained that using the storyline was "the result of hundreds of hours of discussion with the writer's room," and was not a decision they came to lightly.
"I don't think I can really properly encapsulate all those hours of intense discussion and debate," he said. "But I can give you the highlights, which is that we knew that they needed to face the consequences of betraying Pekka Rollins in Season 1 and we also knew that they'd be in trouble with Dreesen [Sean Gilder], and so all of that sort of gave us the ingredients going into Season 2 of the type of consequences they had to face.
"For the kind of stories that we explored that pitted Kaz against Pekka Rollins, what we discovered after a lot of trial and error was we were essentially just treading water. We were sort of just running in place for those characters, because we were worried about changing something later on that got us too late to, or too early, in their development.
"We also realized that holding them in place so that they were essentially on pause to jump into a Six of Crows storyline meant that the characters didn't grow at all. There were no arcs and our poor actors would be like, 'Why? I'm the same person I am at the end of the season and at the start,' and you never want to hear that."
He went on: "When we realized that we did need to pay off something and advance the story with Pekka and Kaz, and have it mean something—and we also had to explore for a thematic unity Kaz's trauma [and] his back story, which is also deeply tied to Pekka— it felt the best for us to use a canonical story that happens in Crooked Kingdom.
"But we only made that move after we knew what we were going to do in both the Crows and Crooked Kingdom stories, were we to ever get the privilege to explore those."
It may not have been a decision the writers came to easily, but they have already thought of how it could shape the characters' future in the franchise.
Heisserer admitted: "There was, of course, the little small panic in the back of our brains of 'will we ever get to Crooked Kingdom? Maybe, maybe not.' So, this may be our one go to explore that.
"But if we do get there, oh my god, The Wrath of Kahn level [story of] Pekka out of Hellgate [prison] and on a f****** bender to kill all the Crows is going to be amazing."
Shadow and Bone Season 2 is out on Netflix now.