Serena and Venus Williams' 'Hug Says It All' After U.S. Open Doubles Loss
Fans paid tribute to Serena and Venus Williams after the tennis legends lost what is expected to be their final doubles pairing at the U.S. Open.
The Williams sisters hugged each other after being defeated in straight sets by the Czech duo of Linda Nosková and Lucie Hradecká on Thursday night. The match saw Serena, 40, and Venus, 42, teamed up for the first time since 2018. Serena recently announced that she would be retiring at the conclusion of the tournament. She is set to face Croatian-Australian Ajla Tomljanović on Friday in a third round singles match.
Hradecká apologized to disappointed Williams sisters fans during an on-court interview after winning, according to ESPN. However, few appeared to be saddened at the conclusion of the match when reacting on social media, with many instead noting the significance of the sisters' final pairing or offering positive comments on their on-court hug.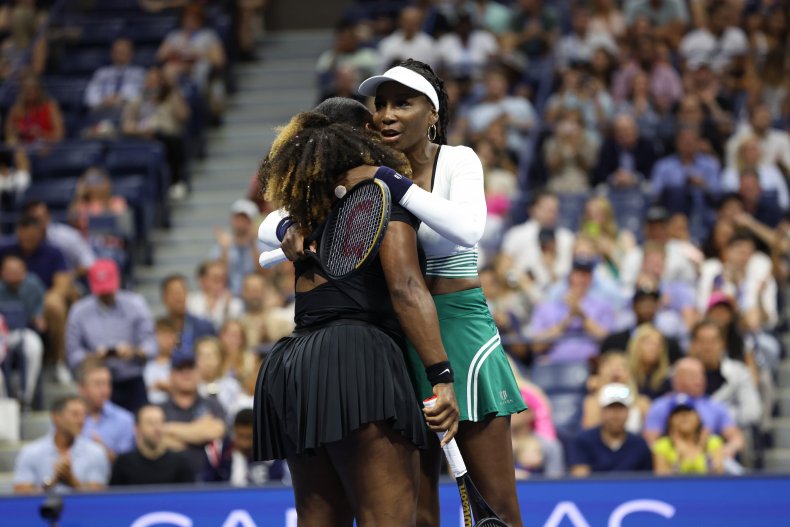 "That hug says it all," the official account of the Billie Jean King Cup tweeted, alongside a heart emoji and a video of the sisters hugging each other after the match ended.
"Serena and Venus are still the best and I am so proud of them," tweeted novelist Terry McMillan. "They have nothing left to prove. #WilliamsSisters."
"If that was their last professional doubles match together, Serena and Venus are one of the best women's doubles players ever," sports journalist Lukas Weese tweeted. "Their record of 14-0 in Grand Slam finals will never be touched."
"No greater love," the official account of Roland-Garros, or The French Open, tweeted alongside a heart emoji and pictures of the sisters after the match. "Thank you, @Venuseswilliams and @serenawilliams."
"What a time," the Just Women's Sports account tweeted, also sharing a heart emoji and a hug photo.
"Through highs and lows, you can never really lose when having a sister like this by your side," the Tennis.com account tweeted.
"It's really hard to explain how much Venus and Serena mean to me, how much they mean to the culture," tweeted sports reporter Chelsea Sherrod. "Living legends."
"What else can be said?" the Women's Tennis Association tweeted after sharing an "applause" emoji.
"I'm so proud of Venus and Serena," tweeted civil rights activist Preston Mitchum.
Venus Williams, who lost in the first round of the singles competition on Tuesday, has not yet announced any plans for her own retirement. She referred to her younger sister jokingly as "the boss" earlier this week, according to ESPN, while explaining that it was Serena's idea for them to compete together in doubles one final time.
The U.S. Open crowd gave the sisters a standing ovation as they walked off the court together on Thursday night.
Newsweek reached out to representatives for Serena and Venus Williams for comment.