Russian Soldiers Fleeing 'So Fast They Left Half Their Equipment': Official
Russian soldiers are fleeing so rapidly as a Ukrainian counteroffensive reclaims broad swaths of territory that they are leaving behind "half of their equipment," according to a Ukrainian official.
As the war marked 200 days on Sunday, significant gains by Ukraine's forces in the country's east have forced Russia to pull back troops from the region to avoid being surrounded.
Russian soldiers have retreated so hastily that they have left behind a significant amount of weapons, according to Anton Gerashchenko, an adviser at the Ukrainian Ministry of Internal Affairs.
Gerashchenko tweeted a video purporting to show a Russian tank that was left behind in Izyum, a major base for Russian forces in the Kharkiv region.
"Today our military accepted first lend lease supplies from Russia in Izyum (that's a joke, of course. I will mark my jokes for some time now)," he wrote alongside the clip. "Russian soldiers fled so fast they left half of their equipment."
Ukrainian forces have retaken more than 3,000 square kilometers of territory since September 6, according to a report from the U.S.-based Institute for the Study of War (ISW) on Saturday.
Russian forces are "hurriedly fleeing" the region to avoid being encircled in the city of Izyum, which Ukrainian forces will soon capture if they have not already done so, the ISW said.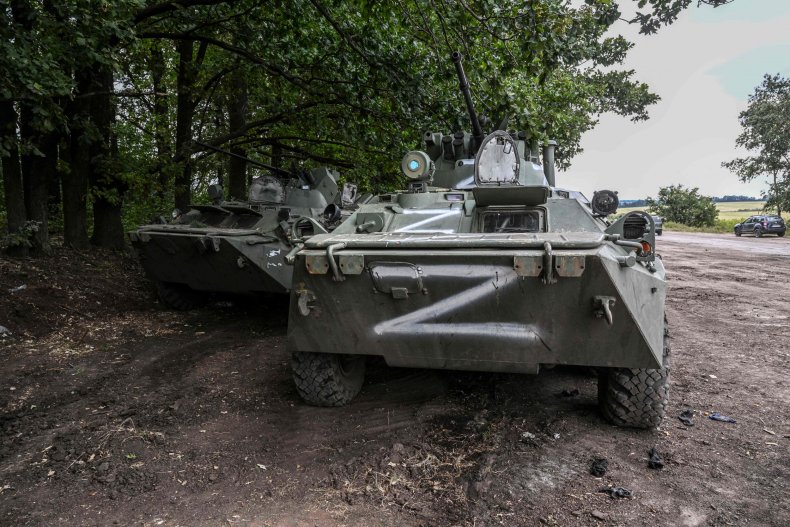 Russia's Defense Ministry announced on Saturday that it was pulling back troops from the Balakliya and Izyum areas but said those troops would be sent to the Donbas region of eastern Ukraine, where two separatist regions have been declared sovereign by Russia, "in order to achieve the stated goals of the special military operation to liberate Donbas."
Ukrainian President Volodymyr Zelensky commended the Ukrainian military in a video message shared on the Telegram platform on Saturday night.
Zelensky also taunted Russia for withdrawing troops, saying the Russian army was doing what it does best by "showing its back."
"In the end, it is a good choice for them to run away. There is and will be no place for the occupiers in Ukraine," he said.
On Sunday, Zelensky shared a video of Ukrainian soldiers hoisting the national flag over Chkalovske, another town reclaimed from the Russians in the counteroffensive.
"We will expel the occupiers from every Ukrainian town and village," Zelensky wrote. "Thanks to all our heroes!"
On Saturday, Ukrainian Prime Minister Denys Shmyhal lauded the gains as "very promising" and credited the large amount of weapons donated to Ukraine by NATO nations, including the U.S.-made M142 High Mobility Artillery Rocket System (HIMARS).
The Russian Ministry of Defense and the Ukrainian Ministry of Defense have been contacted for comment.