Russia Tries to Blackmail WSJ With Veiled Threat About Evan Gershkovich
A Moscow source warned the Wall Street Journal (WSJ) against continuing to publish "disinformation" about Russia, suggesting that their coverage indicates that they don't care about the fate of their American reporter Evan Gershkovich, who was detained by Russia's Federal Security Service (FSB) on March 29 over espionage allegations.
The unnamed "informed" source told Russian state-owned news agency RIA Novosti on Friday that the WSJ continues to publish "fake" articles about Russia while forgetting about Gershkovich.
"If the Wall Street Journal continues to engage in activities not related to journalism, publishing disinformation regarding Russia, this will mean that the editors are not at all interested in the fate of Gershkovich," the source told RIA Novosti. The source claimed that the WSJ recently published some articles with false information about Russia, but didn't specify which articles or the topics covered by the paper.
Tensions have been running high between Russia and the United States since Russian President Vladimir Putin launched a full-scale invasion of Ukraine last February. Both countries heavily criticized each other when Russia arrested Gershkovich who the U.S. State Department said was being "wrongfully detained," which means that the U.S. believes he was mainly targeted because he is an American citizen.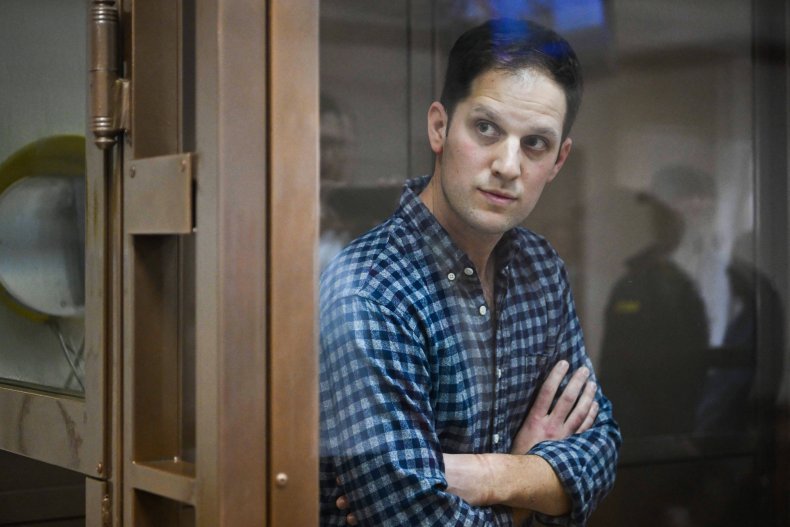 Gershkovich has been in pre-trial detention in Lefortovo prison in Moscow since early April, according to Meduza. A Moscow court extended his arrest for three more months in a pre-trial hearing on Tuesday, a decision that Gershkovich appealed against on Friday, according to Reuters.
In a Tuesday statement released by Dow Jones, which publishes the WSJ, the paper expressed their disappointment about the court's decision.
"Today our colleague, and distinguished journalist, Evan Gershkovich appeared for a pre-trial hearing in a Moscow court. While we expected there would be no change to Evan's wrongful detention, we are deeply disappointed. The accusations are demonstrably false, and we continue to demand his immediate release," the Journal said.
Gershkovich was arrested in the city of Yekaterinburg on spying allegations. The FSB launched a felony espionage case against him, in which he could be sentenced to up to 20 years in jail if convicted. The U.S. and the Wall Street Journal have denied the espionage accusation and continued to call for his immediate release.
Meanwhile, U.S. Secretary of State Antony Blinken previously said U.S. consular officials had not had access to Gershkovich since he was detained. The State Department said this is "a violation of Russia's obligations under our consular convention and a violation against international law," referring to a treaty adopted by the U.S. and the Soviet Union in 1964.
In April, Sergei Ryabkov, Russia's deputy foreign minister warned that Russia will not tolerate the U.S. "pressure" in Gershkovich's situation.
Ryabkov told reporters at the time that Russia was considering granting U.S. diplomats consular access to the detained journalist, but he criticized U.S. attempts to "pressure" Russia on the matter.
"We will not tolerate any attempts to pressure us, and it has no significance what status they assign to this person in Washington. We will act in accordance with our own internal needs, norms and laws that apply in this situation and nothing more," Ryabkov said at the time, according to state-run news agency Tass.
Newsweek reached out by email to the Wall Street Journal's press representative for comment.