Republicans Accuse Biden DOJ of 'Targeting' Joe Manchin's Rival
Republicans are calling foul play after the Department of Justice (DOJ) announced a lawsuit against the son of West Virginia Governor Jim Justice on Wednesday.
Justice, a Republican, is vying for Senator Joe Manchin's seat. Manchin is the lone Democrat senator in the traditionally red state of West Virginia and could be a key player in Democrats maintaining their control of the Senate in 2024 as the Republicans fight to gain control. However, just a day after a poll was published that showed Justice's astounding 22-point lead over Manchin in a theoretical match-up, the DOJ announced that it was suing Justice's son, James Justice III, and his 13 coal mining companies for allegedly committing more than 130 federal law violations and creating health and safety risks.
Republicans have long decried the DOJ and other federal organizations like the FBI after former president Donald Trump accused the organizations of conducting a "witch hunt" against him in myriad lawsuits ranging from alleged illegal business dealings to 2020 election fraud.
The recent announcement has Republicans crying foul play that they feel is again unfairly targeting one of their own.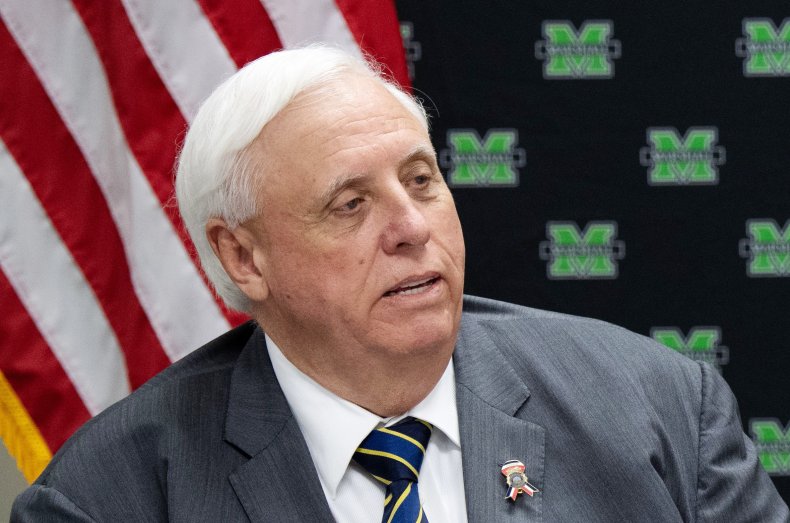 "Joe Biden's Department of Justice has gone totally rogue," NRSC spokesman Tate Mitchell said in a statement on Twitter. "Democrats weaponizing the federal government to attack the family of a Republican Senate candidate is a complete abuse of power."
Newsweek reached out to Justice's office by email for comment.
"Did anyone really think that Biden's weaponization of the DOJ to target his political opponents was going to stop with Trump?" Donald Trump Jr., Trump's eldest son, tweeted with a copy of the NRSC press release on Wednesday.
Manchin has not yet announced a reelection bid, but Democrats are pitting him as their best chance at retaining a key Senate seat. Manchin has retained his seat in the red state since 2010 by siding with Republicans on certain issues, which has angered his Democratic colleagues. However, Justice could be the GOP's best chance at flipping West Virginia to their favor, even when pitted against Manchin, who will have the upper hand of being the incumbent if he chooses to run.
The East Carolina University poll of 957 registered voters found Justice leading by 22 percentage points in a head-to-head matchup with Manchin, Newsweek reported on Tuesday. Fifty-four percent of voters said they planned to back Justice, while 32 percent said they were going to vote for Manchin.
And while Justice also dominated a poll pitting him against fellow Republican challengers, such as Representative Alex Mooney, a widely reported lawsuit regarding his son could shift the approval rating to Mooney.
The poll found that a matchup between Mooney and Manchin would be much closer, with only a single percentage point separating the two in Mooney's favor, allowing the Democrat senator a stronger chance to retain his seat if he decides to run.