Republican Warns Colleagues About Plan B If They Kill Debt Deal
Kentucky Republican Representative Thomas Massie spoke about the recent debt limit increase bill and warned his GOP colleagues about what could happen if they vote against it.
On Wednesday, Massie appeared on Glenn Beck's radio show and said, "My friends— they're not saying they wouldn't vote for debt limit increase; in fact, almost all of us in the House already have when we voted for the cut, save, limit, growth, whatever they called it Act."
"They're saying this bill isn't good enough…I hear their complaints, and many of them are valid, but the question is what are we going to get if we blow this up in the House," Massie said. "I think what happens next is [Senate Minority Leader Mitch] McConnell and [Senate Majority Leader Chuck] Schumer say, 'ok well, you guys are done playing around, we're gonna get this done,'… and they'll pump out something that's darn near a clean debt limit increase."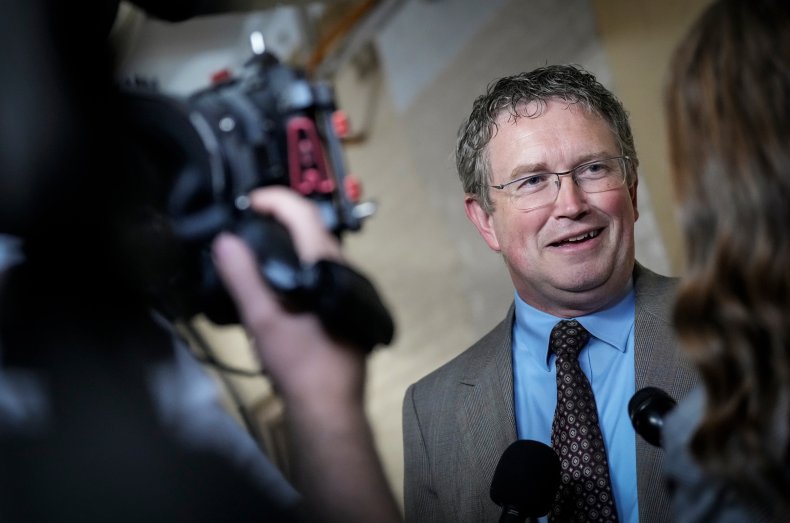 The comments by Massie come amid ongoing negotiations about a debt limit increase bill, which is opposed by some Republicans in the House of Representatives.
Earlier this month, U.S. President Joe Biden and House Speaker Kevin McCarthy came to an agreement on a bill to raise the current debt ceiling, which will help fund the government for the following two years.
According to the Washington Post, the bill agreed upon by McCarthy and Biden suspends the current debt ceiling until 2025 and limits funding to the Internal Revenue Service (IRS). The bill also raises the $31.5 trillion debt ceiling and limits some federal funding.
"The Speaker and I made clear from the start that the only way forward is with a bipartisan agreement," Biden wrote in a tweet. "This agreement is an important step forward, and now it will go to the United States House and Senate."
On Tuesday, Massie made similar comments about his support for the debt limit increase bill saying, "I want to see the rule, it's not printed yet, it's not been read, but I anticipate voting for this rule."
"When people want to express their ideology, the floor of the House on the actual final passage of the bill is the place to do that. What do the 13 of us owe the rest of Congress? We owe them an honest shake and a playing field that doesn't change," Massie said during a hearing with the House Rules Committee on Tuesday.
Newsweek reached out to Massie's press office via email for comment.
Some other Republicans, such as Representative Lauren Boebert, have already expressed opposition to the debt limit increase saying in a tweet, "Our base didn't volunteer, door knock and fight so hard to get us the majority for this kind of compromise deal with Joe Biden."