Rep. Greene Blasts 'Turncoat' Republicans for Not Fighting 'Election Fraud'
Representative Marjorie Taylor Greene took to Twitter on Saturday and voiced her thoughts surrounding claims that the 2020 presidential election was fraudulent.
"Republicans in Congress can investigate, but we can't prosecute. The key component is the Department of Justice, but they are politically corrupt and only care about one party: the Democrat party. We must defund the Department of Justice!" the GOP lawmaker tweeted.
Greene, a Georgia Republican, also made a Saturday appearance on Steve Bannon's War Room on conservative network Real America's Voice and said, "People are going to be easily frustrated watching a Republican majority over the next two years, while we have no control in the White House and no control in the Senate. This is why I'm going to scream this loudly every single day. Elections have consequences, election interference has consequences, and election fraud has consequences."
Greene continued, "The fact that the Republican Party has not united on a national level in the most effective and aggressive way to stop all the things that are happening is a shame and it is completely turncoat on the people that vote for Republicans."
Rumblings of election fraud are nothing new from some members of the Republican Party and were most recently displayed during this year's midterm election. Most notably, failed Arizona gubernatorial candidate Kari Lake has called into question the integrity of her race after losing to her Democratic opponent, Katie Hobbs.
Lake, who was endorsed by former President Donald Trump, said last month on Twitter that "Arizonans have no Faith & Trust in our elections. Our Election Officials are incompetent (…or worse) They have failed us."
Trump has also voiced his concerns over possible election fraud during the 2020 election as well as this year's midterm election. The ex-president posted to Truth Social on Wednesday saying, "Our poor Elections have taken a beating. America is no longer looked at as the Home of Free and Fair Elections, but rather as a Country of Corrupt Politics and Politicians!"
Meanwhile, political analyst Craig Agranoff told Newsweek on Saturday, "I think this is wasted time since most Republicans would like to move on and look towards the future. Several who cast doubt on the election results were not successful in their recent races."
Toward the end of her interview with Bannon, Greene said, "What we have to do as Republicans in the majority is use the power of the purse. We have to use the rules and procedures that we have in our possession to totally gut the FBI and the Department of Justice because it is their job to prosecute."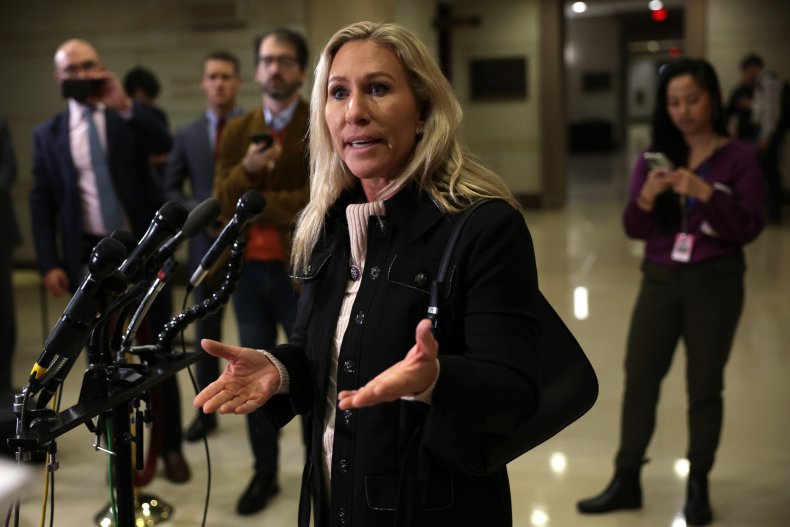 Greene's comments follow Twitter CEO Elon Musk's tweet on Friday that said the social media platform would post "what really happened with the Hunter Biden [laptop] story suppression by Twitter."
Independent journalist Matt Taibbi posted a series of internal conversations from Twitter staff discussing how they will censor users from sharing a New York Post article in the run-up to the 2020 election as it violated the platform's "distribution of hacked materials" policy.
Hunter Biden's laptop has been at the center of speculation and controversy since the Post's story first broke. Emails allegedly written by President Joe Biden's son appear to show terms of agreements with Chinese and Ukrainian companies. One of the emails found in the laptop suggests that Hunter arranged a meeting between his father and a top executive at Burisma, a Ukrainian energy firm, in 2015, when then-Vice President Biden was in charge of Ukraine-U.S. policy.
The information for the Post's story was said to have been supplied by Trump lawyer Rudy Giuliani, who said he obtained it from a MacBook Pro belonging to Hunter.
After originally dismissing the reports as potential misinformation and casting doubt on its authenticity, The Washington Post and The New York Times later found that thousands of emails, which formed the basis of the story, did come from a computer that Hunter reportedly dropped off at a repair shop in Wilmington, Delaware, in April 2019, but never picked up.
However, The Washington Post said in March that the emails provide "little new insight" into Hunter's work for Burisma and that they do not implicate the president.
In addition, Trump commented on Musk's "Twitter files" on Truth Social on Saturday and said, "So, with the revelation of MASSIVE & WIDESPREAD FRAUD & DECEPTION in working closely with Big Tech Companies, the DNC, & the Democrat Party, do you throw the Presidential Election Results of 2020 OUT and declare the RIGHTFUL WINNER, or do you have a NEW ELECTION? A Massive Fraud of this type and magnitude allows for the termination of all rules, regulations, and articles, even those found in the Constitution. Our great "Founders" did not want, and would not condone, False & Fraudulent Elections!"