Putin's 'Desperate' Mariupol Visit Was His 'Last Stand': Governor
Russian President Vladimir Putin's "desperate" visit to Mariupol was his "last stand" amid his struggling invasion of Ukraine, New Hampshire Governor Chris Sununu said on Sunday.
Putin visited Mariupol, a Ukrainian port city that has suffered widespread damage amid fighting in the Russia-Ukraine war, on Saturday, just one day after the International Criminal Court (ICC) issued an arrest warrant for alleged war crimes committed by the Russian military in Ukraine. His visit sparked condemnation from Ukraine and its allies.
Putin's visit comes more than a year after he launched his "special military operation" on the Eastern European country, aiming for a quick victory. However, Ukraine's spirited defense effort, bolstered by Western military aid, has prevented Moscow from making substantial progress despite the vast size of its military, with Putin facing increased scrutiny over the floundering invasion.
Sununu, a moderate Republican who has been named as a potential 2024 presidential contender, joined in on the criticism against the Russian leader during an appearance on CNN's State of the Union on Sunday.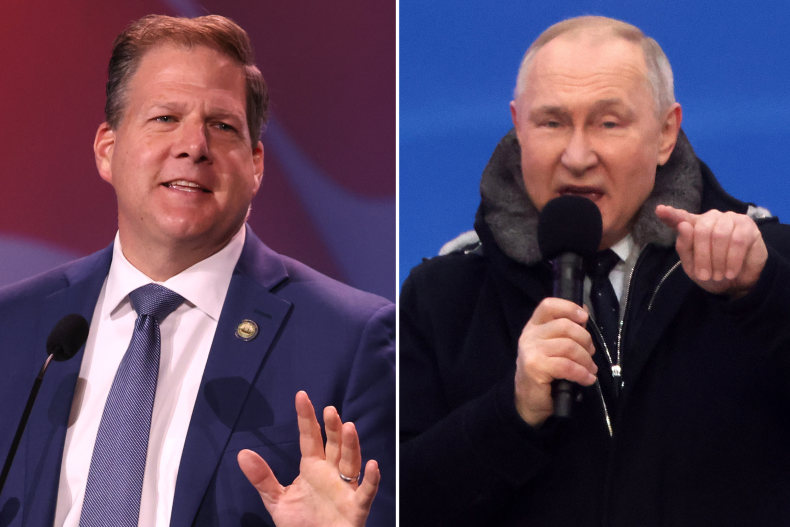 The Republican governor described the visit as an attempt to boost morale among Putin's troops and "add to the propaganda machine," adding that the visit signals Putin's "desperation to keep the troops together."
"He knows he has to somehow get the morale of what troops are remaining up in anyway he can. The Russian army has been absolutely decimated. It's been demoralized. They're leaving the lines left and right. This is Putin's, if you will, last stand," Sununu said.
Sununu Breaks From Other Republicans on Ukraine
Sununu has sought to differentiate himself from other Republicans on the issue of Ukraine, which has divided the GOP. While many more traditional conservatives have voiced support for the United States providing military aid to the war-torn country, some Trump-aligned Republicans have said that the U.S. should not be as involved in the conflict.
Both former President Donald Trump and Florida Governor Ron DeSantis, seen as top contenders in the 2024 presidential race, recently told Fox News host Tucker Carlson that providing aid to Ukraine is not "vital" to U.S. national interests, with DeSantis, who has not yet announced any plans to run for president, describing the war as a "territorial dispute."
Sununu criticized these remarks in an opinion piece for The Washington Post on Saturday.
"Simply opposing aid to Ukraine because President Biden supports it is not a viable foreign policy," the governor wrote. "To abandon Ukraine would set off a negative chain of events for U.S. interests domestically and abroad."
He doubled down on support for Ukraine during his CNN interview on Sunday.
"I've been very clear and a lot of other folks have been very clear about us having to back Ukraine's play. Russia is no friend of the United States," he said. "So this is the United States. We support freedom. We don't capitulate, we don't back down from it, we support countries, we support our allies, we support coalitions."
Newsweek reached out to Sununu's press office for comment via email.