Putin Preparing Russians for 'Protracted, Grinding War' in Ukraine: ISW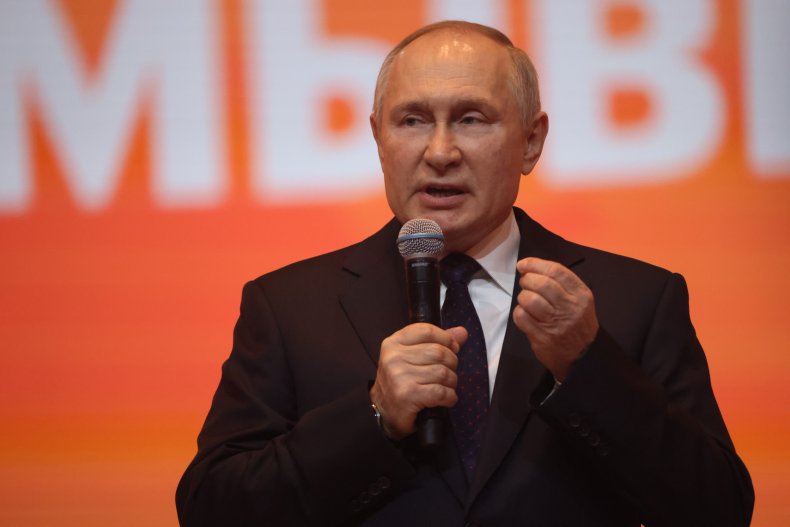 Russian President Vladimir Putin is preparing his country to accept that the war in Ukraine will be "grinding" and "protracted," according to the Institute for the Study of War (ISW).
Putin was "setting conditions for a protracted war of conquest in Ukraine" during a recent meeting with Russian officials, according to an ISW report published on Wednesday night. The Russian president purportedly alluded to his country's imperial history while favorably comparing himself to Russian Tsar Peter the Great during a Wednesday meeting with members of his Presidential Council for the Development of Civil Society and Human Rights.
"Putin remarked that the 'special operation' in Ukraine can be a 'lengthy process' and that the acquisition of new territory is a significant result of this process for Russia," the ISW report states. "This invocation of Russian imperial history explicitly frames Putin's current goals in Ukraine as overtly imperialistic and still maximalist."
"Putin is conditioning Russian domestic audiences to expect a protracted, grinding war in Ukraine that continues to seek the conquest of additional Ukrainian territory," it continues. "This informational conditioning is fundamentally incompatible with any discussions regarding a ceasefire or negotiations."
Russian military bloggers responded positively to Putin's remarks and anticipated that success in the war could take "years," according to ISW. The report suggests that Putin will remain unwilling to negotiate for the end the war until achieving his ultimate objective of gaining control over territory that resembles the Russian Empire of 1721-1917.
Putin also used the meeting to tout Russia's supposed ownership of four regions of Ukraine that he claimed to have annexed in late September, according to the Russian newspaper Kommersant. He reportedly said that the results of the referendums that proceeded the annexations had proven "that people want to be in Russia."
The Russian meeting came only two days after Ukrainian drones struck a pair of air bases deep within Russian territory, killing or injuring multiple soldiers and damaging at least two aircraft capable of carrying nuclear bombs.
Air bases in Kursk, closer to the Ukrainian border but still within Russian territory, have also been hit by Ukrainian drones in recent days, according to Kursk Governor Roman Starovoit.
An ISW report on Monday found that Russian military bloggers were expressing "anger" about their country's seeming "inability" to prevent the drone attacks inside Russia.
On Tuesday, Britain's Defense Ministry said Putin's government was likely to seek severe punishment for Russian military officers who it deems responsible for allowing the attacks.
"If Russia assesses the incidents were deliberate attacks, it will probably consider them as some of the most strategically significant failures of force protection since its invasion of Ukraine," British officials said in a daily intelligence update.
Meanwhile, former Putin speechwriter Abbas Gallyamov claimed in a Telegram post that the Russian leader was secretly hatching a plan to escape to Venezuela in the event that Russia loses the war.
Newsweek has reached out to the Russian Ministry of Defense for comment.