Putin Pays Out Over $3k to Every Soldier in Bid to Quell Unrest in Army
Vladimir Putin has issued an order for Russian soldiers to be given a sizable one-off payment amid reports of the dwindling morale of his troops and anger that they were not receiving their salaries.
The Russian president signed a decree on Thursday authorizing a one-time payment of 195,000 rubles ($3,150) for those contracted to the army for a year or more and for those who have been drafted as part of the partial mobilization Putin announced in September.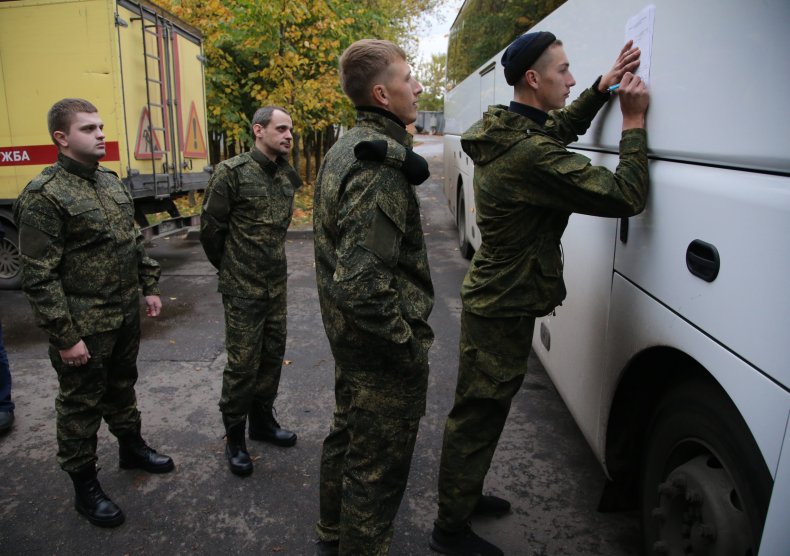 The decree, which was reported by Russian state media, was intended to "provide additional measures of social support" to those fighting in what the Kremlin calls a "special military operation." The payment would not be given to military cadets and those at military educational organizations.
Newsweek has contacted the Russian defense ministry for comment.
Along with numerous reports of demoralized Russian troops and desertion are complaints about the mobilization being botched and problems with getting paid.
In October, British defense officials said that many Russian conscripts had to pay for their own body armor. Reservists and volunteers have been complaining that they had not been paid, adequately fed or given benefits they were promised.
This week, more than 100 soldiers at a training center in the southern region of Ulyanovsk went on strike and said they would not fight until they received a promised sum of 195,000 rubles.
"They are sending us to war for pennies," one of the troops mobilized from the republic of Chuvashia told the 7×7 news website. "We're being cheated here."
Meanwhile, families of mobilized men have publicly complained to Voronezh Oblast Governor Alexander Gusev that they had not received promised payments of 120,000 rubles ($1,940).
Volunteers and mobilized men have been promised salaries that are more than twice the national average, although this will burden the Russian budget, the Institute for the Study of War (ISW) said on Wednesday.
The U.S. think tank said that the Kremlin is relying heavily on financially incentivizing Russians to fight in Ukraine, "which will likely continue to strain the Russian economy for decades."
Reuters reported that the Kremlin will face a budget deficit that will drain Russian reserves to their "lowest level in years" due to the cost of mobilization, combined with less energy revenues and the impact of Western sanctions.
Dmitry Polevoy, investment director at Moscow-based broker Locko-Invest, told the agency that payouts connected to the war could come to between 900 billion rubles and 3 trillion rubles (around $14.6-$48.5 billion) in the next six months alone.