Putin meets with government official at center of alleged Ukrainian children schemes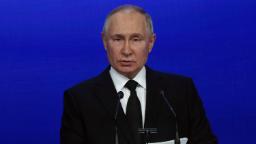 Russian President Vladimir Putin met Thursday with Maria Lvova-Belova, the official at the center of an alleged Russian government scheme to relocate, reeducate, and sometimes militarily train or forcibly adopt out Ukrainian children.
Lvova-Belova, whose official government title is Commissioner for Children's Rights, has been sanctioned by several Western governments.
According to those countries – and a new report by Yale investigators, backed by the US State Department – she is at the center of a Russian government scheme to forcibly deport thousands of Ukrainian children to Russia, often to a network of dozens of camps, where the minors undergo political reeducation.
Lvova-Belova was appointed to her position in 2021. Putin held a working meeting with her on Thursday at his Novo-Ogaryovo residence, in the Moscow region, to discuss the issues facing children in the Russia-annexed areas of Ukraine.
"You have been doing this for a long time, and I know that the amount of work is growing," said Putin in video footage of the meeting released by the Kremlin. "The number of applications from our citizens regarding the adoption of children from the Donetsk and Luhansk republics, from the Kherson and Zaporizhzhia regions is also growing. The (Commissioner's) Institute has been dealing with this issue for a long time, for almost nine years now."
Lvova-Belova told Putin about her plans for a joint endeavor with the Ministry of Health related to "medical care for children in various areas."
Lvova-Belova also told Putin about the "trial military-patriotic" camp she and regional leaders organized in Chechnya for 200 "difficult teenagers" who "committed offenses or were registered in the juvenile department."
She did not specify where exactly it was held, but said that the mentors for "brave patriots" who had been involved in the fighting.
Llova-Belova asked for more support to help spread the initiative and hold camps in different regions of Russia's Caucasus.
More on Putin's so-called Commissioner for Children's Rights: Lvova-Belova regularly visits Russian-occupied Ukraine, and the Russian government boasts of her personally escorting plane loads of children back from Ukraine.
Putin has empowered Lvova-Belova to use unspecified "additional measures" to identify children who don't have parental care in the four Ukrainian regions it claims to have annexed.
The United States, European Union and the United Kingdom have all sanctioned her for her alleged role in the scheme.
"Lvova-Belova's efforts specifically include the forced adoption of Ukrainian children into Russian families, the so-called 'patriotic education' of Ukrainian children, legislative changes to expedite the provision of Russian Federation citizenship to Ukrainian children, and the deliberate removal of Ukrainian children by Russia's forces," the U.S. Treasury said in September.
 CNN's Mick Krever and Jennifer Hansler contributed to this post.