Psychiatrist Pens Letter to Bryan Kohberger's 'Lovesick' Admirer
A psychiatrist has penned a letter to a woman who has been writing to Bryan Kohberger, the suspect in the slayings of four University of Idaho students.
Brittney J. Hislope, apparently a single mother from Kentucky, has written lengthy posts about her feelings for Kohberger, 28, on Facebook since early January—just days after his arrest.
Kohberger is accused of fatally stabbing Kaylee Goncalves, 21, Madison Mogen, 21, Xana Kernodle, 20, and Ethan Chapin, at a rental home in Moscow, Idaho, in the early hours of November 13.
He has yet to enter a plea to four counts of first-degree murder and one count of felony burglary, but his lawyer in Pennsylvania previously said he was "eager to be exonerated. A preliminary hearing is scheduled for late June.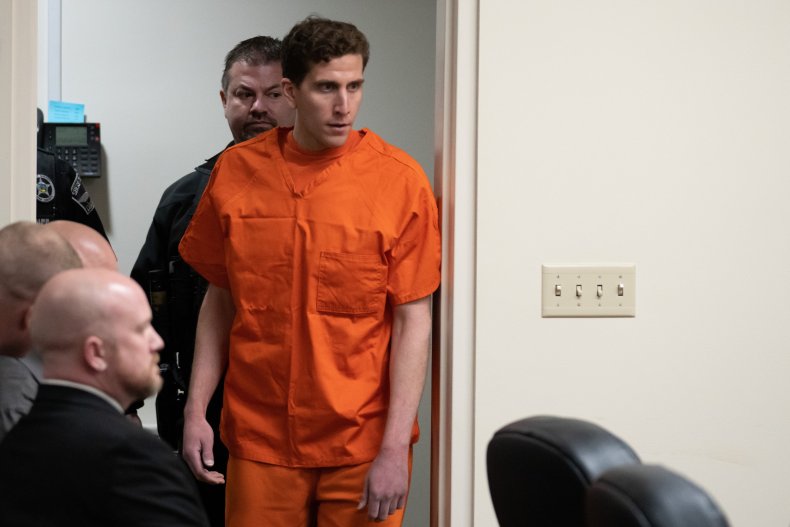 In her posts, Hislope has described feeling "lovesick" about Kohberger, who she refers to as her "love interest" and "crush." Hislope has also said that she has written numerous letters to Kohberger, but is worried about whether he is receiving them. She has been contacted for comment.
Carole Lieberman, a psychiatrist who co-authored Bad Boys: Why We Love Them, How to Live with Them and When to Leave Them, has urged Hislope to seek therapy in a letter, obtained by Newsweek.
"Dear Brittney, I understand you have been writing to Bryan Kohberger in jail in Idaho, the man accused of murdering four college students. Although some people have put you down for doing this, mocking you or telling you that it's just plain wrong to do so, you know he is your one true love and that your love is very real," Lieberman wrote to Hislope.
She continued: "You feel he's lonely and sad in jail, and that no one understands him like you do. You feel your letters are helping him survive in there and giving him hope. I know, because I've talked to, and written about women like you, who write to guys in jail."
Lieberman went on to say that Hislope's feelings for Kohberger may be because both feel misunderstood.
"You want to rescue Bryan. You feel he's been misunderstood all his life. You know what that feels like because you've been misunderstood, too. You've heard that he's been rejected and hurt by girls and you get that because you've been rejected and hurt by boys," she wrote.
The most significant reason for Hislope's feelings, Lieberman said in her letter, is due to her "dysfunctional relationship" with her father.
"Your dad never made you feel lovable enough, so you grew up feeling like you could never catch a prince—like the ones in the fairy tales. But, with Bryan, it's different," she wrote.
"His princely crown may be a little tarnished, and his royal robe is a little tattered, but you think he will love you, unlike the other princes who rejected or hurt you."
Lieberman said Hislope is hoping that Kohberger will "write you back and then when he gets out, the two of you will go off into the sunset together."
"You want to believe he's not guilty. People may tell you that the chances aren't good that he'll get out, but you think that even if he doesn't, you'll move near whatever prison he goes to next and then visit him all the time," the psychiatrist wrote.
But she warned Hislope that she may end up heartbroken.
"Have you thought about the fact that he may have other women writing to him, too? Other women who have fallen in love with him, like you?" Lieberman asked. "You might never know about this until you've wasted years pining for him."
She concluded by advising Hislope to "get some psychotherapy and work on your feelings of not being lovable enough, so that you can find a 'prince' in real life."
Lieberman added: "If it makes you happy to keep writing to Bryan in the meantime, fine, but—with therapy—you'll discover that a man who is already out in the real world will make you even happier. And you deserve it."