Protester Jumps in Front of Trump's Motorcade in Rare Security Breach
Video shows a man wearing a black-and-white striped prison outfit dart in front of the motorcade taking former President Donald Trump away from a Miami, Florida, courthouse following his arraignment on federal charges Tuesday afternoon.
The individual was holding a sign that read "LOCK HIM UP" and jumped in front of moving vehicles trying to swiftly navigate through the throng of people in the area. Secret Service members immediately grabbed the man and led him to the sidewalk, where he was detained.
"On both occasions, the individual was removed swiftly from the roadway by Miami police," Secret Service Special Agent Steve Kopek, who was traveling with the Trump detail today in Miami, told Newsweek via text. "His actions had no impact on the security of the protective movement and we thank the MPD [Miami Police Department] for their partnership."
Traditionally, at Secret Service-controlled sites, agents employ the use of physical barriers to create time and distance for law enforcement to assess and react to individuals who fail to follow police direction.
"You do not rush the motorcade," attorney Bradley Moss tweeted. "That guy wanted to be arrested."
Numerous protesters were out all day in front of the courthouse.
There were not just spats between pro- and anti-Trump factions outside the Wilkie D. Ferguson Jr. federal courthouse, but also between supporters of Trump and Florida Governor Ron DeSantis—viewed as Trump's strongest challenger in the race for the Republican presidential nomination.
DeSantis has focused his attacks on the "weaponization" of the Department of Justice and FBI, rather than the charges against Trump. He has also neglected to entertain any specific pardons for Trump should he ultimately be found guilty.
Trump supporters also chided Miami Mayor Francis Suarez, a Republican, upon his arrival at the courthouse. Suarez, who is debating his own presidential candidacy, seemed to support Trump against the charges by referring to the allegations cited within the indictment as "un-American."
A local reporter captured a photo of the detained protester, sign in hand, earlier Tuesday.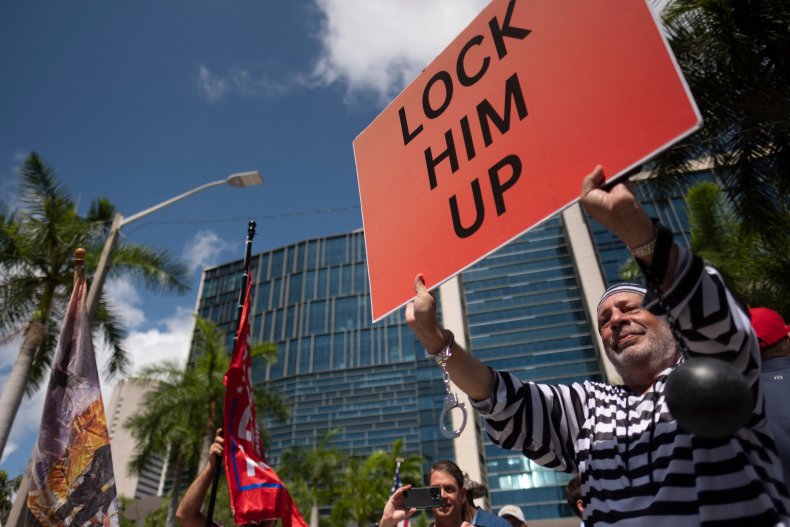 Trump was arrested and arraigned Tuesday in connection with last week's 37-count indictment resulting from Special Counsel Jack Smith's investigation into the former president's handling of classified documents. The charges included 31 counts of willful retention of national defense information.
The former president has maintained his innocence.
This is the second time Trump has been indicted. In April, the Manhattan District Attorney's Office charged that he falsified business records related to hush money payments to adult film actress Stormy Daniels and former Playboy model Karen McDougal before the 2016 presidential election.
Update 06/13/2023, 5:26 p.m. ET: This story was updated with comment from the Secret Service and additional background information.