President Biden Warns 'MAGA Republicans' Not To Risk A Debt Default. Again.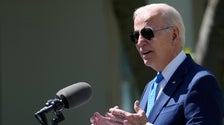 WASHINGTON ― President Joe Biden Tuesday repeated his warning to House Speaker Kevin McCarthy and his fellow Republicans to stop threatening a global recession to get their way on spending cuts.
"He threatened to become the first speaker to default on our national debt, which took over 230 years to accumulate," Biden said, referring to McCarthy's speech to a Wall Street audience Monday.
"He threatened to be the first one to default on the debt, which would throw us in a gigantic recession and beyond unless he gets what he wants," Biden said and then tied McCarthy to the "Make America Great Again" wing of the party, loyal to coup-attempting former President Donald Trump. "You've got to ask yourself, what are MAGA Republicans in Congress doing? Because this is not your father's Republican Party, it's a different deal.
On Tuesday, McCarthy told the New York Stock Exchange that Biden's refusal to negotiate over proposed spending cuts is making a debt default more likely, as the United States Treasury's ability to cover bond interest payments will run out as early as June unless the "debt ceiling" is increased by Congress and Biden.
"The longer President Biden waits to be sensible to find an agreement, the more likely it becomes this administration will bumble into the first default in our nation's history," McCarthy said.
In remarks at the signing of an executive order to make it easier to pay for child care and home care, Biden said he disagreed with Republicans' desire to cut discretionary spending and that, regardless of their differing views on future spending, that disagreement had nothing to do with paying debt already incurred.
"I urge Congress to take the threat of default off the table," Biden said.
Republicans' threat of defaulting on the national debt ― which would likely trigger a global financial catastrophe ― as a way to win spending cuts was a tactic they first used in 2011 when Democrat Barack Obama was president.
GOP members of Congress, even the self-styled right-wing "Freedom Caucus" members, however, made no similar effort to tie paying off existing debt to cutting future spending when Trump was president from 2017 through 2021, a four-year period that saw dramatic increases in both spending and debt.
But in his protracted effort to secure enough votes from his own caucus to win the speakership in January, McCarthy promised some members that he would support their use of the debt ceiling as a bargaining chip. He also agreed to a rule allowing a single member to trigger a no-confidence vote that could end his tenure as speaker.