Political Strategist Stings GOP Leadership With 'Mean Girls' Comparison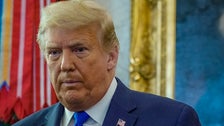 Democratic strategist Chai Komanduri likened GOP leadership efforts to "make MAGA happen" to the characters in the hit movie "Mean Girls" who try to popularize the slang term "fetch."
"It seems to be the GOP leadership is still very Trumpy and into MAGA," Komanduri told MSNBC's Ari Melber on Tuesday, pointing to former Trump White House press secretary Sarah Huckabee Sanders' Republican rebuttal to President Joe Biden's State of the Union speech.
"They're sort of trying to make MAGA happen to use that famous phrase from 'Mean Girls,'" Komanduri said ahead of Sanders' address.
"I've never heard a direct comparison from 'fetch,' which they were trying to make happen so aggressively as slang in 'Mean Girls,' and the entire MAGA movement," responded Melber. "I think 'fetch,' while not a great piece of slang, is probably less dangerous to democracy though, Chai."
"I agree, but I think it's a terrible slang phrase and I think Regina George was quite right to make sure that it never happened," Komanduri replied.