Police try to ID suspicious man from Middleborough doorbell cam

Local News
Home security cameras recorded a suspicious man seemingly trying to enter the home of a family who say they don't know him.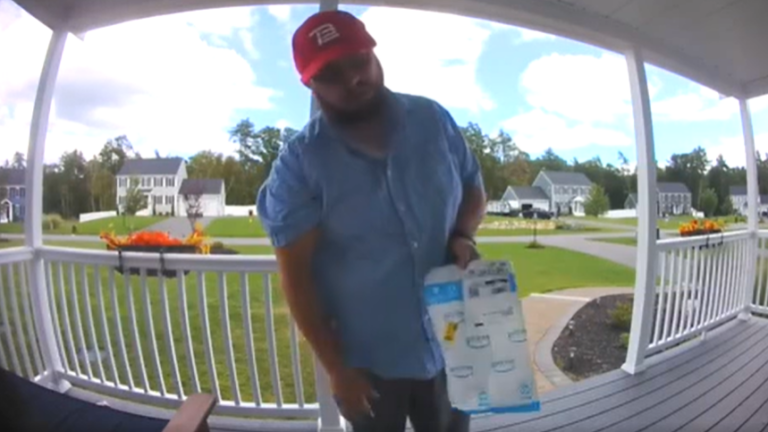 Middleborough police are asking the public for help identifying a man they say acted suspiciously outside a home and was caught on a doorbell camera. 
On Wednesday, the police department shared Ring camera footage of a man on the porch of a Pocksha Drive home. The video shows a light-skinned man wearing a wrinkled blue short-sleeve button-up shirt and undershirt, light-colored neutral toned shorts, and a red baseball cap. He also has a beard and appears to be wearing glasses and a watch. 
In the video, the man can be seen holding an Amazon package, but police said the man is not a delivery driver. The man was involved in a "suspicious incident" on Tuesday, police said, and may drive a red Hyundai Tucson. 
According to WCVB, which obtained additional home security video from the scene, there was more to the incident. Just after 2 p.m. on Sept. 19, the man, who is not known to the family that lives at the home, rang the doorbell before trying to open the front door, the news station reported. 
Video obtained by WCVB shows the man opening an Amazon package that had been delivered to the family, and then showing the item to the doorbell camera. Before stepping off the porch, he puts the item in the milk delivery container and takes a picture of it.
The video also shows the man looking under the doormat — a common place to keep a spare key.
The family's 19-year-old daughter was home alone at the time of the incident, WCVB reported. She noticed that the man had parked his SUV in their driveway right behind her SUV, and went out to confront him. 
The man told the daughter he had a message for her father, who he named, WCVB reported. He then asked to come inside, but she refused. 
Before driving off, the man transferred two cases of water, a pair of dirty sneakers, and two hats from the back of his SUV to the back of the daughter's unlocked SUV, WCVB reported. 
Police declined to give any further information about the incident Thursday. Anyone who recognizes the man is asked to call police at 508-947-1212. 
Newsletter Signup
Stay up to date on all the latest news from Boston.com