Piers Morgan Accuses Lionel Messi of 'Gloating' World Cup Win—'We Get It'
Piers Morgan has accused Lionel Messi of "gloating" as the Argentina star's World Cup win becomes an even more bitter pill to swallow for the TV presenter.
The 57-year-old had publicly wished that France beat Argentina in the soccer showpiece at the weekend and has continually promoted Messi's soccer rival, Cristiano Ronaldo, as the G.O.A.T. even if it meant that he was mercilessly trolled after Messi helped secure a 4-2 win on penalties.
Since the final whistle in Qatar on Sunday, there have been joyous scenes on the streets of Buenos Aires and among the Argentine players, as they savor the special moment.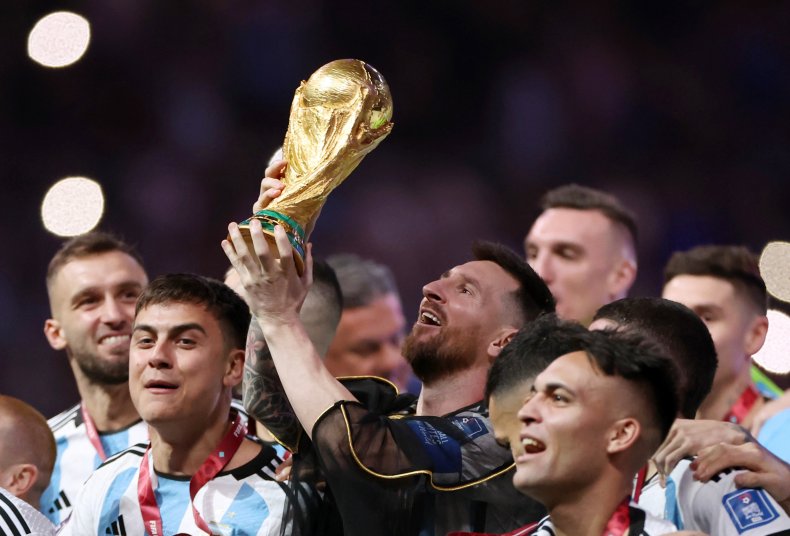 But Morgan feels that enough is enough and has hit out at Messi after the star player filled his Instagram page with numerous photos of himself with the World Cup.
Morgan, who is never one to shy away from saying what he thinks, shared a screenshot of Messi's Instagram page, which is followed by 404 million people, and wrote alongside it in a tweet: "OK, Lionel.. we get it, you won the World Cup. You're slightly over-egging the gloating soufflé now…"
Of course, there was a huge reaction to his tweet and many went in on Morgan for his anti-Messi sentiments over the past weeks.
Just before the World Cup, Morgan had a bombshell interview with Ronaldo for Piers Morgan Uncensored, which ended the striker's career with Manchester United after the soccer star slated the management and senior executives at the club.
With a clip of the interview still pinned to the top of Morgan's Twitter page, one person hit back at him, tweeting: "OK, Piers.. we get it, you did an interview with Ronaldo. You're slightly choking on it now…"
Messi has posted five times since Argentina won the tournament and one pointed out that actually this was a modest amount.
They replied to Morgan: "5 posts for a whole World Cup win. Was expecting more."
Meanwhile, Messi himself shared a video of his journey from a youngster in his home country to lifting the World Cup trophy and some of the heartaches he has suffered along the way before he achieved his soccer dream.
Captioning the post, Messi paid thanks to those who believed in him and the team, even when the road was rocky and it looked like becoming world champions may never happen.
He wrote: "From [childhood club] Grandoli to the World Cup in Qatar, almost 30 years passed. It was close to three decades in which the ball gave me many joys and also some sadness. I always had the dream of being a World Champion and I didn't want to stop trying, even knowing that it might never happen.
"This Cup that we won is also for all those who did not achieve it in the previous World Cups that we played, like in 2014 in Brazil, where everyone deserved it because of how they fought until the very final, worked hard and wanted it as much as I did… And we deserved it even in that damn final."
Messi also hailed Argentine soccer legend Diego Maradona, who was the last captain of the national team to lift the World Cup, in 1986.
He continued: "It is also from Diego who encouraged us from heaven. And of all those who always supported the national team without looking so much at the result but rather the desire that we always put into it, also when things did not go as we wanted.
"And of course, it is from all this beautiful group that was formed and from the coaching staff and all the people from the national team who, being anonymous, work day and night to make it easier for us.
"Many times failure is part of the journey and of learning, and without disappointment it is impossible for success to come.
"Thank you very much from the heart! Let's go Argentina!!!"
Do you have a tip on a sports story that Newsweek should be covering? Do you have a question about soccer? Let us know via [email protected].