Photos Reveal Unearthed 'Surprises' Left Behind By Retreating Russians
Nearly a month after Russian soldiers retreated from Kherson, Ukrainian forces are finding "explosive surprises" left in their wake.
Russian forces finished their retreat from Kherson, the only regional capital the Kremlin had held since the start of the war, in mid-November. In former retreats, Russian forces scrambled under surprise Ukrainian attacks and left large collections of equipment behind, including tanks and ammunition. When Russia announced it would withdraw its forces from Kherson, Ukrainian officials worried the plan could be posing a trap for Ukrainian troops.
The General Staff of the Armed Forces of Ukraine shared a Facebook post on Wednesday showing several photos of Ukrainian troops allegedly exposing Russian explosives that were buried in Kherson. According to the post, State Special Transport Service of the Ministry of Defense of Ukraine mining units were looking for and destroying any Russian explosives left over after their retreat.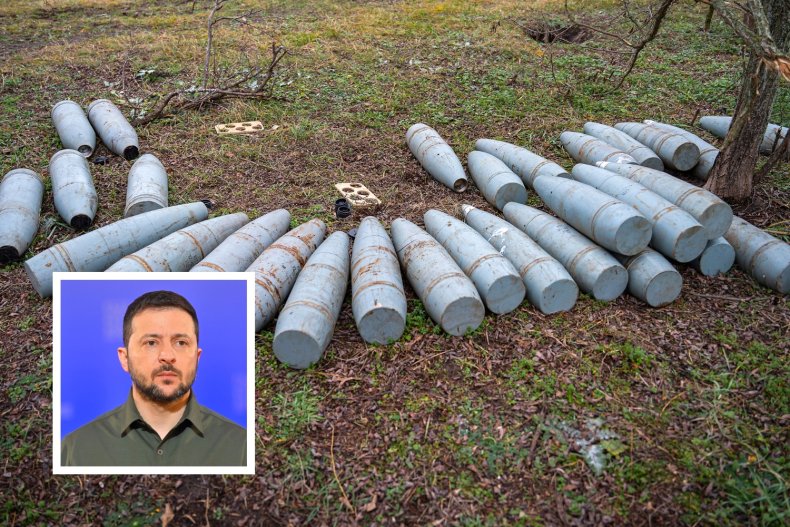 "After stepping down from their positions, the enemy left behind many explosive 'surprises,'" the post said.
However, one military expert doubts the explosives were left to intentionally harm the Ukrainians.
Center for Strategic and International Studies senior adviser and retired Marine colonel Mark Cancian told Newsweek that if unarmed, the explosives would be harmless. After examining the photos, Cancian said one of the projectiles was unarmed. The projectile was pictured with two fuzes that would need to be screwed into the projectile before it was fired.
Cancian called the other projectile "mysterious".
"I don't see a firing mechanism but the two packages sitting on the projectile connected by pink cord (likely detonation cord) might be set by the Ukrainians to dispose of the projectile," he said. "My suspicion is that these are artillery shells that the Russians could not evacuate and buried them for disposal."
Cancian doubts the explosives were positioned to cause casualties. During Russia's retreat, he said the safe withdrawal of troops and equipment was likely prioritized and artillery ammunition wasn't as important.
Ukraine has been skeptical of the reasoning behind Russia's retreat from Kherson since it was announced. Newsweek previously reported Ukrainian President Volodymyr Zelensky warning Ukrainian forces to restrain their emotions.
"The enemy does not bring us gifts," he said.
Zelensky urged his forces to move "carefully, without emotions, without unnecessary risks." The forces are still searching for any weapons or traps Russia left behind.
The Facebook post said the divers worked in difficult weather conditions under constant enemy shelling to find, secure and destroy any explosives. The post shared several photos, including those of the explosives and of armored Ukrainian soldiers searching for other explosives in the Dnipro River and on land.
"Our brave fighters do not surrender to any difficulties," the post said.