Photo of Classified Documents Stored in Trump's Bathroom Goes Viral
An image of classified documents that were stored in a bathroom at former President Donald Trump's Mar-a-Lago home has gone viral.
Trump, in a series of Truth Social posts on Thursday, announced that he had been indicted by a federal grand jury as part of Special Counsel Jack Smith's probe of his post-presidency handling of classified documents. In the indicting document released by the Department of Justice (DOJ) less than 24 hours later, multiple photos showed boxes of documents in various locations around the former president's South Florida residence.
The indictment states that boxes of the documents were discovered "in a ballroom, a bathroom and shower, an office space, [Trump's] bedroom, and a storage room" after the FBI searched Mar-a-Lago in August. The government says that the documents had not been declassified and that Trump "was not authorized to possess or retain" the documents.
One of the photos in the federal indictment—showing boxes piled under a chandelier and near the toilet in one of Trump's ornate bathrooms—almost immediately raised eyebrows online. Many reacted by mocking the former president.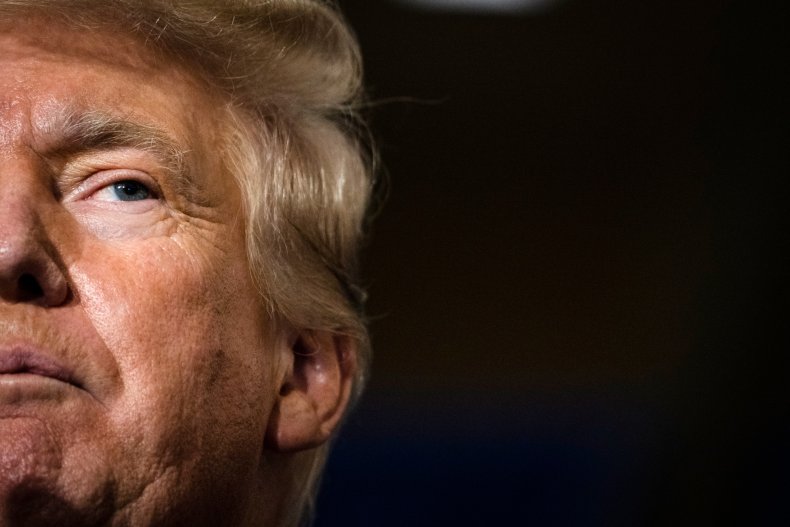 "He stored highly classified documents in his bathroom!?" Democratic Senator Debbie Stabenow of Michigan tweeted alongside the images of bathroom documents. "Talk about a sh*tshow."
"Trump's contempt for United States national security, captured in a single photograph," presidential historian Michael Beschloss wrote while sharing the same image.
"An incredible image—boxes of classified documents stacked next to a toilet in a gilded Mar-a-Lago bathroom," tweeted Chris Megerian, White House reporter for the Associated Press.
"No wonder Mar-a-Lago flooded, those documents going down the toilet must've caused a hell of a clog #TrumpIsGuiltyAF," writer Tara Dublin tweeted.
"[Check] Towels [check] Toilet paper [check] National security documents?" tweeted Democratic Congressman Mark Pocan of Wisconsin. "Nothing says you give a crap about national security like storing top-secret files in your bathroom."
"Republicans spent 2 years and $7 million investigating Hillary Clinton's use of a private email server, and here we are with boxes of classified documents sitting next to a toilet in a resort bathroom," activist and former Democratic congressional candidate Melanie D'Arrigo tweeted.
"Who DOESN"T want to read classified documents while on the toilet?" tweeted Bruce McCulloch ofThe Kids in the Hall, a Canadian sketch comedy troupe.
"Trump ran out of toilet paper to hoard during the pandemic so he shifted to classified documents," gun control activist and Parkland survivor David Hogg tweeted.
"Plumbing tip, if anything is leaking in the bathroom it should not be classified documents," tweeted the NE Ohio Regional Sewer District account.
The former president was charged with 37 federal felony counts, including 31 violations of the Espionage Act. The charges carry a maximum prison sentence of 100 years.
Lawyer Ryan Goodman, former special counsel at the Department of Defense, called the case against Trump "devastating" in a tweet, saying: "I have looked at all prior prosecutions under the Espionage Act and have never seen egregious facts like this."
Trump also referenced the photo in a Truth Social post on Friday, arguing that the boxes were "so neat, orderly, and clean" and that the FBI "staged" a photo of a tipped-over box following the bureau's search last year.
In another post, the former president claimed that there were no documents while referring to a second image in the indictment—which shows an open box with newspapers, photos and what appears to be documents spilling out of it.
Trump has proclaimed his innocence on all charges, denying wrongdoing of any sort and maintaining that all of his legal difficulties are the result of a politically motivated "witch hunt."
A number of prominent Republicans including Speaker of the House Kevin McCarthy have spoken of the indictment in similar terms as Trump, accusing the DOJ of being in league with Democrats and attempting to interfere with the 2024 campaign of the leading GOP candidate.
Two of the lawyers who had been defending Trump in the documents case, Jim Trusty and John Rowley, abruptly resigned on Friday. The former president announced on Truth Social that he would be represented by Todd Blanche moving forward, who is also defending him against 34 state felony charges in New York.
Newsweek has reached out to the law office of Blanche via email for comment.