Oregon GOP senators end 6-week walkout following new agreements
The longest legislative walkout in the history of Oregon and the second-longest in the U.S. has finally ended among the state's GOP senators.
Under a compromise that helped end the boycott in Salem, an abortion provider would need another provider to concur with a decision to not notify the parents of certain young patients who get the procedure.
Oregon's Democrats also agreed to remove clauses that would have increased the purchasing age of semiautomatic rifles from 18 to 21.
Ending a walkout that held up key bills for six weeks, Republicans showed up for work in the Oregon Senate on Thursday after wresting concessions from Democrats on measures covering abortion, transgender health care and gun rights.
The lawmakers' walkout — the longest in state history and the second-longest in the United States — came as several statehouses around the nation have been ideological battlegrounds, including in Montana and Tennessee.
The Republican boycott, which prevented the state Senate from reaching a two-thirds quorum needed to pass bills, was prompted by a sweeping measure on abortion and sex reassignment care that Republicans called too extreme. The measure would allow doctors to provide abortions regardless of a patient's age, with medical providers not required to notify the parents of a minor in certain cases.
OREGON DEMOCRATS PLAN TO START FINING GOP SENATORS AS BOYCOTT HITS 1-MONTH MARK
As part of the deal to end the walkout, Democrats agreed to change language concerning parental notifications for abortion.
Under the compromise, if an abortion provider believes notifying the parents of a patient under 15 years old would not be in that patient's best interest, the physician would not have to notify the parents — but would need another provider to concur. However, no second opinion would be needed if involving a parent or guardian would lead to the abuse or neglect of the patient.
Democrats said the measure will still ensure abortion access and protect caregivers from anti-abortion or sex reassignment care measures passed by other states. It will also require that health insurance covers medically necessary sex reassignment care.
Democrats also agreed to drop several amendments on a bill that would punish the manufacturing or transferring of undetectable firearms. The now-removed clauses would have increased the purchasing age from 18 to 21 for semiautomatic rifles and placed more limits on concealed carry.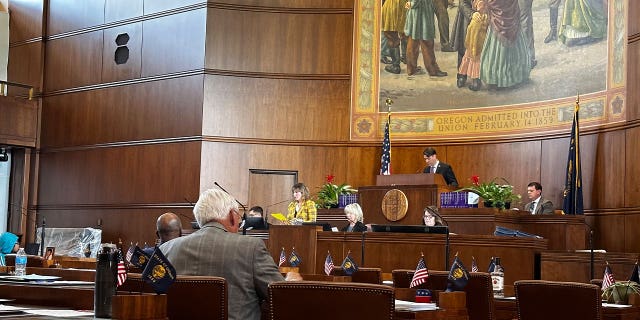 Democrats immediately filed new versions of both measures reflecting the agreements, and the Senate then passed them. Although the bills were approved earlier by the House, they now will go back to that chamber for a concurrence vote before going to Democratic Gov. Tina Kotek for her signature.
"I'm encouraged that we were able to come to an agreement that will allow us to finish the important work Oregonians sent us here to accomplish," Democratic Senate President Rob Wagner told reporters.
Republicans, who are the minority party, considered it a victory.
"Parental rights will not be ignored regarding minors seeking abortion and sex reassignment care," said Republican Sen. Lynn Findley. "Constitutional rights to own and bear arms will not be eviscerated, especially for citizens between 18 and 21 years old."
REPUBLICAN BOYCOTT OVER OREGON'S DEMOCRATIC-LED BILLS ENTERS 5TH WEEK
GOP Leader Sen. Tim Knopp had said the boycott that began on May 3 would end only on the session's last day — June 25 — to pass "bipartisan" legislation and budget bills. But an optimistic mood settled over the Capitol this week as GOP and Democratic leaders met to negotiate compromises. On the Senate floor Thursday, Knopp said he looked forward to finishing the session in "an extraordinarily bipartisan way."
"We asked for lawful, we asked for constitutional, we asked for compromise, and I see that from your side," Knopp said as he addressed Wagner following Thursday's roll call. "We appreciate everyone who was involved."
The longest walkout in the Oregon Legislature's history happened despite voters passing a ballot measure in 2022 that disqualifies lawmakers with 10 or more unexcused absences from reelection.
"A whole bunch of legislators aren't going to be able to come back to this building," Wagner said.
But Republican senators are likely to sue over the measure if they're not allowed to register as candidates, starting in September, for the 2024 election. Republicans also walked out in 2019, 2020 and 2021.
On June 1, Senate Democrats voted to fine senators $325 every time their absence denied a quorum.
CLICK HERE TO GET THE FOX NEWS APP 
On Wednesday, more than 40 Oregon Democratic House and Senate members sponsored a joint resolution proposing an amendment to the state Constitution to require a majority of each chamber in the Legislature to be present to conduct business. If passed by the Legislature, it would go before Oregon voters in a ballot measure in the 2024 election. However, Wagner said Thursday the measure was unlikely to pass this year with hundreds of other bills pending
The walkout also blocked the approval of the two-year state budget. Kotek can bring lawmakers back for a special session if the House and Senate don't approve the budgets by the time the regular session ends.
There are 17 Democrats in the 30-member Senate, meaning at least three Republican or independent members must show up to make a quorum. Five GOP members were in attendance Thursday, and Democratic leaders said Republicans have promised to provide enough senators to make a quorum for the rest of the session.
The Republicans had initially said they were boycotting because bill summaries did not meet a long-forgotten state law that required them to be written at a level an eighth-grader could understand.
The walkout is the second-longest of any U.S. state, after Rhode Island, according to a list by Ballotpedia.
In 1924, Republican senators in Rhode Island fled to Rutland, Massachusetts, and stayed away for six months, ending Democratic efforts to have a popular referendum on the holding of a constitutional convention.
That self-imposed exile followed the detonation of a gas bomb in the Senate chamber. Democrats and Republicans both accused each other of setting it off.