No 'Specific' Plans to Stop Putin's Draft as It Nears 300K Goal
Kremlin officials offered few details about when—or even if—they plan to stop the country's partial military mobilization of the Russian public, even as Moscow nears completion of its initial 300,000-person conscription goal.
At a meeting in the Kazakhstani capital of Astana last week, Russian President Vladimir Putin said 222,000 people within Russia have already been mobilized to offset the personnel losses accrued throughout its near yearlong incursion into Ukraine, and that he expected the country's draft to end within the next two weeks.
However, Kremlin spokesman Dmitry Peskov told reporters on Friday that it was uncertain whether the country would actually honor Putin's assertions, emphasizing "there is no more specific date" for the partial mobilization, which started on September 21, to officially end.
The reason, some speculate, is because 300,000 was never the real goal.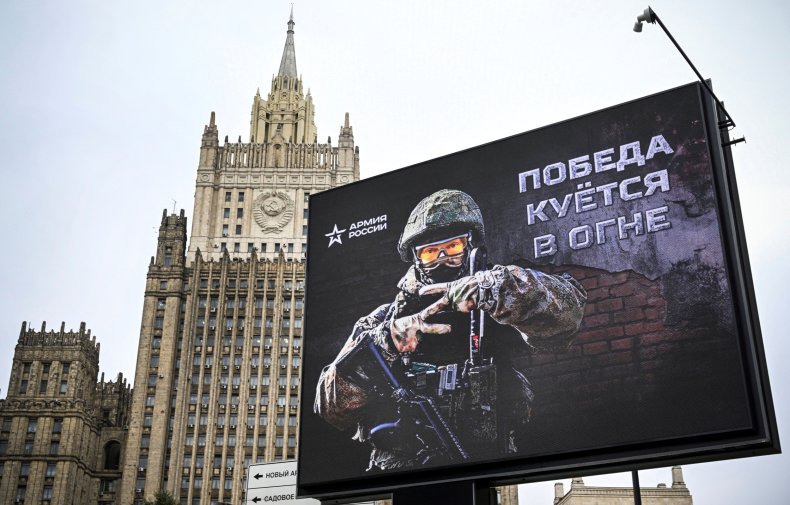 In September, independent newspaper Novaya Gazeta Europe—the Riga-based offshoot of the Russian newspaper of similar name—published a report detailing a "hidden" seventh paragraph in Putin's partial mobilization decree allowing the Kremlin to enlist up to a million civilians for military service, far exceeding the amount government officials had stated publicly.
Newsweek has contacted the Russian government for comment.
Peskov, meanwhile, has challenged the validity of the report, telling state media last month that the existence of the seventh paragraph was "a lie." But if pursued, the only question of the effort is what Putin hopes to achieve.
Russian casualties in the war have only continued to mount, with the estimated body count from the invasion of Ukraine recently exceeding the total combat losses accrued by the United States during the entirety of the Vietnam War.
The partial mobilization of Russian citizens has also spurred nationwide protests, culminating in the mayor of the Russian capital of Moscow declaring earlier this week that the region's conscription goals had been met following the reported resignation of several city officials.
Meanwhile, morale on the front lines among those who have been conscripted remains exceedingly low, per media reports. Some conscripts, many of whom boast little-to-no combat experience, have died trying to escape from military service. Both state and non-official sources have reported a spate of deaths among conscripted soldiers even before they reach the battlefield.
Those that do, meanwhile, are often subject to cramped and deplorable conditions, reporting a lack of food, water or functional equipment. Many conscripts have been forced to buy their own gear and medicines. Relatives of soldiers have told international media that many of the soldiers sent to the front lines have received no training, with one soldier reported by The Moscow Times receiving just 30 bullets to use in combat.
"No one had even held a machine gun," a friend of a killed soldier told the outlet.