New Mexico State men's basketball program suspended over hazing allegations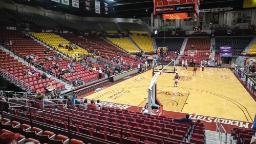 CNN
 — 

New Mexico State University has suspended its men's basketball program over hazing allegations within the team, the school announced Saturday.
The coaching staff has been placed on paid administrative leave as the conduct among the Aggies is investigated, university officials said.
"The board supports the action taken by the university leaders and is confident a full and thorough investigation will be conducted," the NMSU Board of Regents said in a statement to CNN.
Officials have not provided details on the allegations or how many students were involved. CNN has reached out to the campus and New Mexico police for comment.
NMSU chancellor Dan E. Arvizu sent a letter to the school's community on Saturday that confirmed the indefinite suspension and called hazing a "despicable act."
"The most important job I have as Chancellor of the NMSU System is to ensure our students are safe and protected from harm," Arvizu said. "That's why I was so heartbroken and sickened to hear about these hazing allegations."
Hazing "humiliates and degrades someone and has the potential to cause physical and emotional harm, or even death," he said. "Sadly, hazing can become part of an organization's culture, if left unchecked. NMSU policy strictly prohibits hazing, in all forms, and it's something we simply will not tolerate."
The Aggies, who are 9-15 in head coach Greg Heiar's first season with the team, have already faced controversy this season.
In November, NMSU basketball player Mike Peake was wounded in a fatal shooting on the University of New Mexico campus, authorities said.
Peake was targeted by Brandon Travis, a 19-year-old UNM student, who was killed after exchanging gunfire with Peake, New Mexico State Police said in a news release.
The basketball game between the two in-state rivals scheduled for that night was postponed as a result of the shooting.
New Mexico State said in its statement that the new hazing allegations are "separate from the events that took place" at New Mexico.
The Western Athletic Conference – which includes the Aggies as a member – told CNN in a statement that it is monitoring the situation and "has no additional comment."