New Clip of Heidi Klum Wiggling as Worm Goes Viral: 'Terrifying'
Heidi Klum is the queen of Halloween, creating quite a stir this year by taking the "would you love me if I was a worm?" trend to a whole new level.
German-American supermodel Klum is known for going all out in extravagant and bizarre costumes, and this year she hosted her 21st annual Halloween party on Monday while dressed as a very lifelike rainworm.
While the internet was buzzing over videos and photos shared of her at the party, another video of the model testing out her odd costume before its debut has recently gone viral.
Part of the original video, which was posted on her Instagram on Tuesday, shows Klum wiggling on the floor in the costume to test out her worm abilities. The video was tweeted by Pop Crave on Wednesday and had over 382,000 views at the time of publication.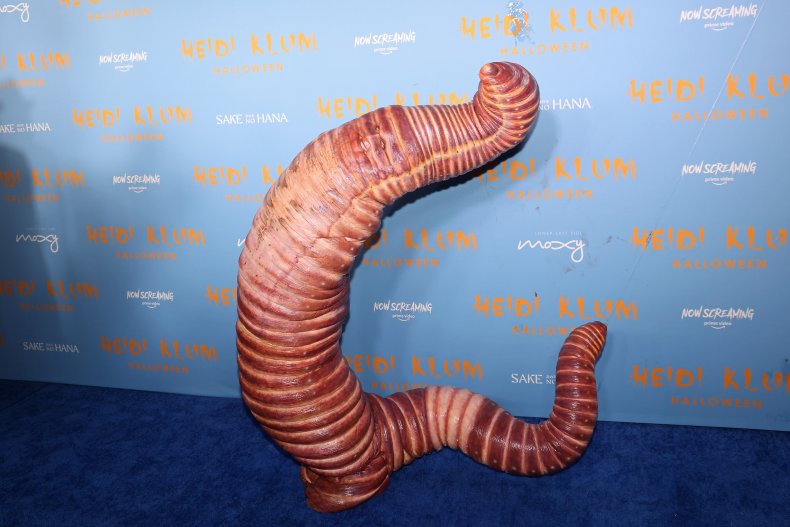 In the original video on Klum's Instagram, she asks makeup artist Mike Marino and his team at Prosthetic Renaissance, who helped design the costume, if this was "one of the hardest" costumes, to which Marino laughs.
Many online were discussing Klum's worm costume in responses to the Pop Crave tweet on Wednesday, one user writing, "I'm sorry this video is terrifying, but I appreciate her work" with several thumbs up emojis.
"This is so terrifying," another wrote.
"Stop it please I'm having nightmares because of it," someone else tweeted.
Others praised Klum, however, with one user writing, "I'm crying??? 😭 her effort is unmatched."
"One thing about Heidi is if she'll get a role she'll put all of her effort into it," another commented.
Other videos went viral earlier this week showing Klum lying down in the costume on the red carpet, answering questions. In one video, the journalist bent down to ask her, "just hanging around or just laying around?"
"You know, just laying around, just worming around," Klum responded. When asked how this particular costume came about, the model said, "I don't know, I just wanted to be something random, I wanted to think outside of the box."
After explaining some of the makeup process, she said, "I'm quite claustrophobic in here."
Other videos of Klum dancing at the party in the costume amassed several million views.
Klum's party saw a number of celebrities dressed in Halloween costumes as well on Monday evening, including Twitter's new man-in-charge Elon Musk dressed in a Devil's Champion-Leather Armor Set, Julia Fox sporting a devilish look, Boogie Nights actress Heather Graham as Cleopatra, and many more.
Newsweek reached out to a representative for Heidi Klum for additional comment.