Navy Veteran's Emotional Plea After Car Stolen With Daughter's Ashes Inside
A Navy veteran is begging a thief to return his daughter's ashes, which were inadvertently taken when a man stole his car.
John Ratcliff had packed his whole life into his SUV as he prepared to move across the country, and consequently lost many possessions and sentimental items when the vehicle was stolen from outside a hotel in Denver, Colorado. But the most painful loss of all was the remains of his beloved daughter, Susan, who died in 2020.
Ratcliff, 70, has now publicly appealed for the thief to have a heart, by launching a direct appeal in the media in a desperate bid to have the ashes returned to him. Addressing the criminal directly, he said: "I weep at night because we've lost our daughter; that was one pain, the second pain of losing her ashes is almost too much, so please return it. We need it."
The frail veteran, who was in a wheelchair and wearing an oxygen tube, made the appeal on local news channel Fox 31. "Have a heart," he added. "Just be a human. Why would anybody see those ashes and not give them back? …They have to be the coldest people in this world you know to do something like that."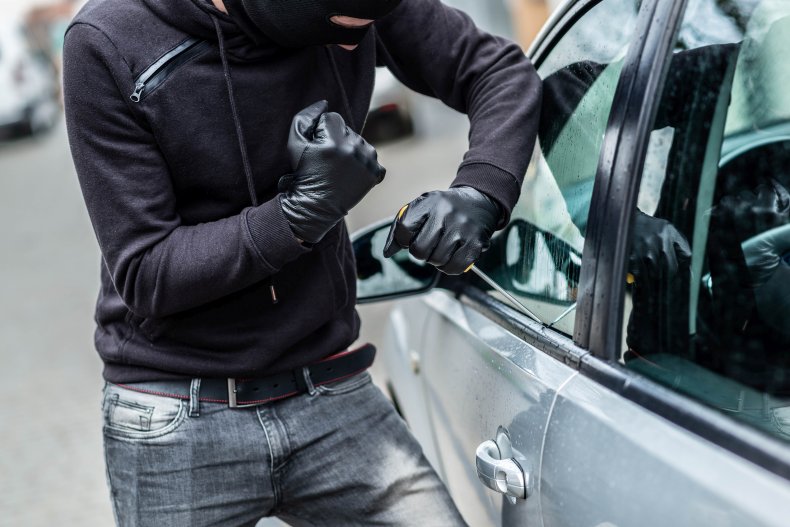 Ratcliff, who served in the Navy for 21 years, had filled his 2004 Chevy Trailblazer ahead of his drive to start a new life in Florida. He had filled his car with the things that meant most to him in the world. "It had all my old uniforms, my mementos from the Navy, all my pictures," he told the news channel. He did not reveal how old his daughter was when she passed away, or how she died.
The SUV, which was distinctive with a broken loop on the rear hitch pulled straight out, was stolen from a hotel parking lot near E. 40th Avenue and Chambers Road back on January 27. The crime was captured on surveillance camera, which showed a yellow car drop a man off who walks around the SUV before managing to get into it and drive it away, with the yellow vehicle following behind. Anyone with information should contact Denver police.
Newsweek has reached out to Denver Police Department by email to request further information and comment about the theft and any subsequent investigation.
Incredibly, the case is not the first time a criminal has stolen the ashes of a victim's loved one.
A California couple, who were both U.S. Army veterans, were devastated when their baby daughter's ashes were taken during a burglary at their Sacramento home back in April 2019.
And a grieving mom who kept the ashes of her 24-year-old son close to her at all times —leaving them in her car while she worked as an ER nurse—lost them when the urn containing the ashes was stolen from her car.
While a TikToker claimed her landlord had thrown her father's ashes away, along with the rest of her belongings, after a dispute about her tenancy.