Memphis Grizzlies Star Ja Morant Says He'll Get 'Help'; Video Shows Apparent Gun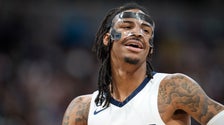 Ja Morant will be away from the Memphis Grizzlies for at least their next two games, the team announced Saturday, not long after the NBA opened an investigation into a social media post by the guard after he livestreamed himself holding what appeared to be a gun at a nightclub.
Morant said in a statement distributed through the agency that represents him that he takes "full responsibility" for his actions — adding that he was going to "take some time away to get help."
The video was streamed by Morant on his Instagram page early Saturday, hours after the Grizzlies played in Denver. They were flying to Los Angeles on Saturday for games against the Clippers on Sunday and the Lakers on Tuesday.
Morant will miss those two games, at minimum, the Grizzlies said, without any further comment.
"We are aware of a social media post involving Ja Morant and are investigating," NBA spokesman Mike Bass said earlier Saturday.
The league will try to speak with Morant as part of that investigation, though it is unclear when any meeting may occur. Morant apologized in the statement released by Tandem Sports + Entertainment.
"I take full responsibility for my actions last night," Morant said. "I'm sorry to my family, teammates, coaches, fans, partners, the city of Memphis and the entire Grizzlies organization for letting you down. I'm going to take some time away to get help and work on learning better methods of dealing with stress and my overall well-being."
It was not immediately clear what Morant meant by "help" or if he planned to be away from the team for longer than the two-game minimum announced by the Grizzlies.
The league, if it finds wrongdoing, could fine or suspend Morant. Based on the Grizzlies' statement, the earliest Morant could play again is Thursday at home against Golden State. His Instagram and Twitter accounts were disabled shortly after the Grizzlies announced his absence.
Memphis is currently No. 2 in the Western Conference standings, led by Morant, a two-time All-Star averaging 27.1 points and 8.2 assists per game.
This is at least the second time in the last few weeks that Morant has been the subject of a league investigation. Morant's actions were investigated by the league after a Jan. 29 incident in Memphis that he said led to a friend of his being banned from home games there for a year.
That incident was following a game against the Indiana Pacers; citing unnamed sources, The Indianapolis Star and USA Today reported that multiple members of the Pacers saw a red dot pointed at them, and The Athletic reported that a Pacers security guard believed the laser was attached to a gun.
The NBA confirmed that unnamed individuals were banned from the arena but said its investigation found no evidence that anyone was threatened with a weapon.
Morant responded to that incident by tweeting that the reports "paint this negative image on me and my fam. & banned my brother from home games for a year. unbelievable." During the Jan. 29 game, there was barking between Pacers players and friends of Morant seated along the sideline. A close friend of Morant's, Davonte Pack, was escorted from the arena as Pacers bench players shouted in Pack's direction.
Pack and Morant also are involved in a civil lawsuit brought after an incident at Morant's home this past summer, in which a 17-year-old alleged that they assaulted him. The Shelby County district attorney's office said in January that it was "aware of the incident, and after careful review of the facts, decided that there was not enough evidence to proceed with a case."
There is precedent for the NBA when sanctioning a player over conduct involving guns. In January 2010, then-Commissioner David Stern suspended Washington's Gilbert Arenas indefinitely without pay after saying the player's behavior made him "not currently fit to take the court."
The suspension followed Arenas getting photographed before a game in Philadelphia playfully pointing his index fingers in a gun imitation at his teammates while he was under investigation by federal and local authorities after admittedly bringing guns into the Wizards' locker room.
Arenas ultimately missed 50 games, the rest of the 2009-10 season.
Morant, the No. 2 pick in the 2019 NBA draft, has become a full-fledged superstar. His five-year, $194 million extension with the Grizzlies kicks in to start next season and would rise to about $230 million if he makes an All-NBA team this season.
He also is a sought-after endorser. On Christmas, Nike unveiled Morant's first signature shoe, which is set to be released in the coming weeks. And earlier this week, Powerade announced a multiyear endorsement deal with Morant.
On the same day the Powerade deal was revealed, The Washington Post published a story, based on police records it obtained, detailing how Morant and some associates "have been accused of threatening and even violent behavior," the newspaper said.
The questions about Morant's conduct come at a time when gun violence again is a prominent talking point in the sports world.
Top NBA draft prospect Brandon Miller and his Alabama teammate Jaden Bradley, by courtroom revelations, have been linked to the scene of a killing. Neither has been charged or accused of a crime, but then-teammate Darius Miles and another man are facing capital murder charges.
And New Mexico State's men's basketball season was shut down in February because of a fatal shooting and allegations of locker-room hazing. Mike Peake, the New Mexico State player implicated in the shooting death of New Mexico player Brandon Travis in November, said he was acting in self-defense and has not been charged with a crime.