Meet the 3-Legged Dog Who Walks Upright Like a Human—'Taught Himself'
A three-legged dog that has learned to walk upright is taking over the internet.
Dexter—an 8-year-old Brittany spaniel—had his right front leg amputated after being hit by a van. The accident was nearly fatal, and although his left front leg was able to be saved, it was severely damaged.
Despite his injuries, Dexter has adapted to his new life as a "tri-pawed" dog, with his unique stride delighting and terrifying TikTok users in equal measure.
Dexter first went viral on February 2 after his owner Kentee (@dexterdogouray) shared a video to TikTok.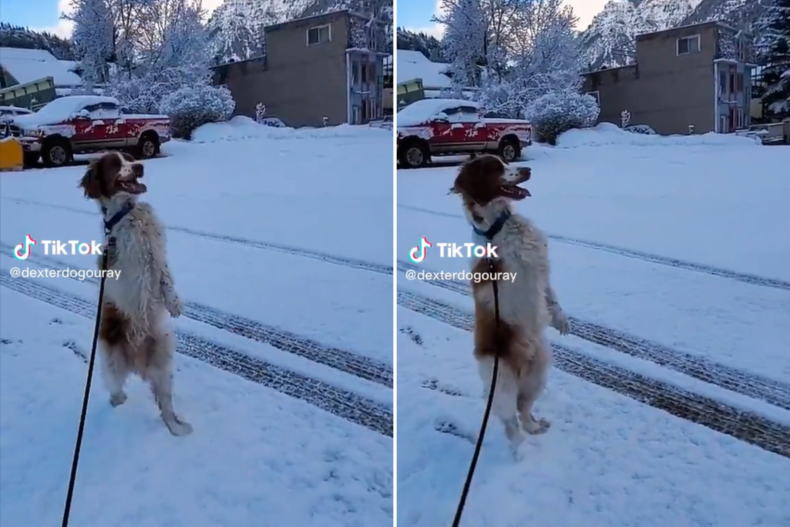 The footage, which shows Dexter walking toward his owner on his hind legs, has received almost 11 million views.
Weeks later, Dexter is wowing users again, this time showing off his skills in the snow. The clip shows Dexter confidently striding along, despite the icy weather, and has been viewed by 12.6 million people.
"We had about a year of surgery for him," Kentee said. "This is how he taught himself [to get around]."
'From a Typical Family Dog to an Inspiration'
After Dexter escaped the yard and was run over by the vehicle, he was rushed to a nearby animal hospital in Montrose, Colorado. His right front leg was amputated the next day, while his remaining front limb was fused together with pins at the elbow.
"He really has 2.5 legs," Kentee told Newsweek.
Once Dexter returned home, he struggled to put weight on his front leg, and Kentee noticed him gradually attempting to walk upright.
Roughly two months after the accident, Kentee spotted Dexter "in an impossible location." Stepping out onto her front porch one morning, she realized that Dexter had climbed the porch stairs by walking upright.
Now, he walks on his hind legs "about 85% to 90% of the time."
Dexter gets plenty of looks while out and about, with reactions ranging from shock to awe. Since his accident, Dexter has walked in parades, appeared on stage and attended meet-and-greets for fans.
"He is a showman," Kentee said. "He loves people. He went from a typical family dog to an inspiration walking into the hearts of millions. Dexter teaches all of us that life does not have to look exactly the same as we always imagined."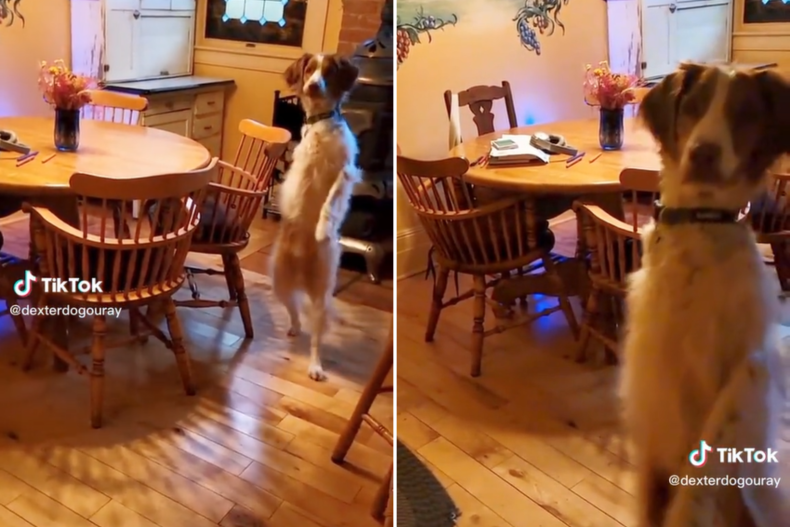 'Swagger'
TikTokers were amazed by Dexter's ability, calling the clip of him walking up to Kentee "sassy."
"He doesn't walk, he struts," commented Tj Frank.
"He's got swagger," agreed 90s Dancer.
"What a distinguished gentleman," said Lee Foulger.
"I would love to see that dog walk around with a top hat and a [monicle]," wrote Magic Moon.
However, his unusual walk also gave some viewers the creeps.
"WHAT THE HELL," commented Hudson Feely on the clip of Dexter walking in the snow.
"Can u imagine how terrifying this [would] be at 3:00am," said Abbadon Gaming.
"What a cute skin walker you have," wrote Max, referencing the body-stealing creatures from Navajo legend.
While Jaylynn Taylor said: "[as] long as you in the house before 7 we good."
Do you have funny and adorable videos or pictures of your pet you want to share? Send them to life@newsweek.com with some details about your best friend and they could appear in our Pet of the Week lineup.