Matthew Judon talks AFC East, draft picks on 'Good Morning Football'

Patriots
The linebacker finished in the top 10 in Defensive Player of the Year voting last season for the Patriots.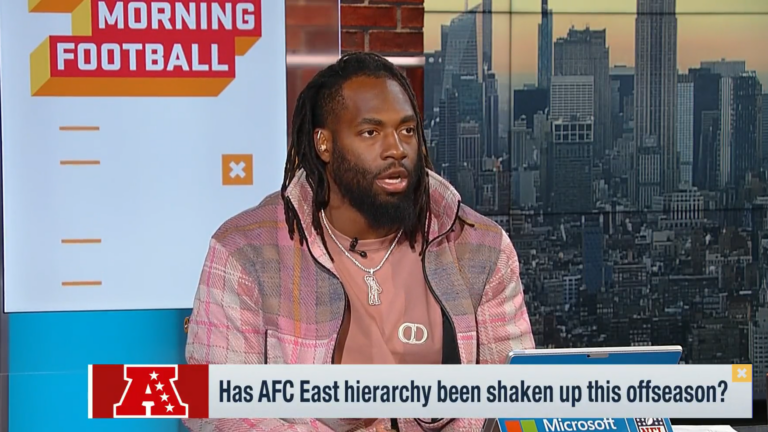 Patriots linebacker Matthew Judon went on ESPN Monday morning to discuss the Patriots' 2023 season expectations, and talk to two prospects who his team may grab in April's NFL draft.
During Good Morning Football, one of the hosts, Kyle Brandt, suggested that New England may be the "lowest profile" team in the AFC East since the 1990s. Brandt mentioned the additions and hype around the Bills, Dolphins, and Jets heading into next season, and the relative quiet surrounding the Pats.
He then asked Judon what he thought of the lower expectations that many have for his squad.
In his response, Judon seemed unbothered.
"Really, it doesn't matter, you have to go out there and play," Judon said. "When nobody is talking about you and you don't have high expectations, you've got nothing to lose. Regardless of who we have, who's talking about us, what type of nuances we have or if we look like the girl you want to ask to prom, we gotta go out there and play."
Judon noted that oftentimes those teams with the star-studded rosters and lofty expectations on paper flame out before ever accomplishing anything. Judon highlighted the Jets as a team with high expectations but in a league with tons of uncertainty.
"They're going to look great on paper but they will have to play it out," Judon said.
New York wasn't the only team in New England's division that Judon talked about.
On the show, the Pro-Bowler also mentioned the strengths of Buffalo and Miami and in particular, and how each team's star players can impact a game.
With the Bills, Judon's main focus was on Josh Allen and the quarterback's versatility. He said that Allen's work with both his arm and his legs is what really makes him challenging to defend.
"If he never wanted to use his feet, he could absolutely rip you apart with his arms," Judon said. "But, he can also use his feet."
When asked about his favorite draft steal of all time, Judon pointed to Tyreek Hill.
"He is changing the way we see wide receivers," Judon said. "We've seen guys of his caliber come out before him, but they weren't used like he's used. Right now he's basically unguardable. Just with his speed and his ability to make people miss, he's changing the game."
Near the end of the show, Judon continued his work on the recruiting trail for the Patriots. Judon talked to both Broderick Jones and Quentin Johnston, who New England has been linked with in recent months.
Both players figure to be selected in the middle of the first round, right around the Patriots' No. 14 selection.
With Jones, Judon kidded him on how often offensive linemen hold, but said that he looks forward to seeing the tackle soon.
During Johnston's portion of the show, the receiver shared what he thought made him a top prospect, which prompted Judon to say, "come to the Patriots."
After Judon repeated the comment, Brandt asked Johnston if he'd want to play for Bill Belichick in New England. His response was short and sweet, "Let's go, let's get it."
Sign up for Patriots updates🏈
Get breaking news and analysis delivered to your inbox during football season.