Man Survives Shark Attack in Florida After It 'Smacked Him From Behind'
A 22-year-old man is recovering from bite wounds after a suspected bull shark attack in the Florida Keys.
Ethan Wilder was spearfishing with his best friend on Friday morning when the incident took place, near Davis Reef off Islamorada.
"I had just speared a fish," Wilder told Newsweek. "Once I had the fish in my hand, I swam back up to the surface with it and right before I went to swim back to the boat the shark smacked me from behind."
The shark bit his ankle but Wilder was able to swim away back to the boat. His friend helped to pull him on board and he immediately called the U.S. Coast Guard.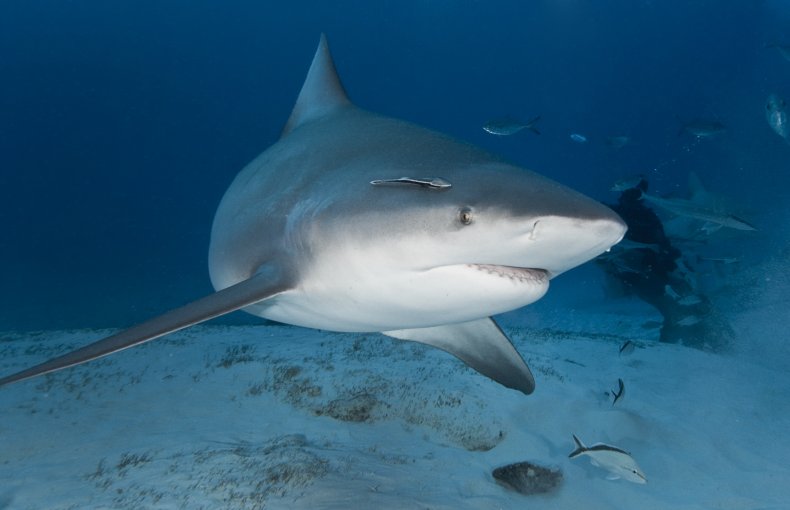 "I got flown from Islamorada to Jackson South Medical Center in Miami where I went into surgery so they could repair a tendon in my ankle as well as stitch my leg back together," Wilder said. "I'm feeling pretty good now, the main thing is making sure the wound is clean and doesn't get infected."
More shark attacks have been recorded in the U.S. since 1580 than in any other country in the world, according to data from the Florida Museum's Shark Attack File. In the last ten years there have been more than 250 attacks in Florida alone, compared with only 143 across the whole of Australia.
However, shark attacks in Florida are rarely fatal—the last recorded fatality was in 2010, when a 38-year old kite-surfer was killed south of Stuart Beach.
More than two thirds of the shark attacks in Florida since 1926 have been attributed to three species: Requiems (36%), Bulls (16%) and Blacktips (15%). Although it has not been confirmed, Wilder is fairly sure he knows which species attacked him.
"I am about 98 percent sure it was a bull shark because right when it bit me I turned around and saw the shark's oval nose for about a second or two before I swam away," he said. "As well, my best friend who was watching me from the boat saw the shark's tail on the surface right after it got me."
Following his surgery, Wilder was discharged from hospital the day after the attack.
"I just have to go back to get all of the stitches removed in a week and I'll be in a boot for six weeks so my tendon heals properly," he said.
Although you are approximately five times more likely to die from a dog bite than in a shark attack, there are some things you can do to minimize your risk of encounters with these apex predators.
The Florida Museum recommends always swimming with a buddy and staying close to the shore. Avoid swimming at dawn or dusk and do not swim around schools of fish or where people are fishing.
If you see a shark, maintain eye contact, move away slowly and avoid excessive splashing.