Man Dies After Being Struck by Lightning in Ocean During Thunderstorm
A man has died after reportedly being struck by lightning while paddle-boarding in the ocean during a thunderstorm.
The man was in the sea near the Greek island of Rhodes on Tuesday when the incident occurred, local media reported. His girlfriend was filming him from the beach at the time.
Lightning struck the water somewhere in the vicinity of the tourist shortly before 1:30 p.m., causing him to fall injured into the sea, Greek media outlet Rodiaki reported. It is not clear if the man was hit directly.
A resident pulled the man to shore, and he was rushed to a nearby health center. Medics later declared the man dead.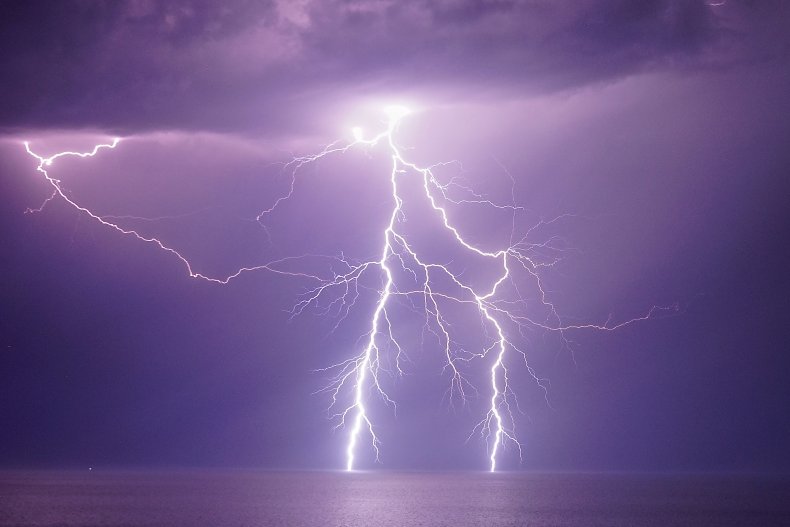 The tourist had reportedly ignored the advice of swimmers to get out of the water.
The man was subsequently identified as British citizen Scott Seddon, 26, of Liverpool, the BBC reported.
Swimming in or being out on the water during a thunderstorm can be risky. Water conducts electricity, so it is more likely to be struck by lightning than land is, according to the website Oceanswims.com.
When lightning strikes water, it spreads out across the surface horizontally rather than penetrating deep. As a result, a swimmer—or paddle-boarder—does not have to be struck directly to be injured.
After Seddon was struck, Wander Machado, 47, a Brazilian who plays for a local soccer team on the island, tried to save him.
"Once I approached him, I noticed he was submerged in the water with his face downward, and there were visible marks on his face," Machado told Rodiaki.
"I immediately knew that every second was crucial and started pulling him to the shore," he said. "I was worried that the same thing would happen to me, as it was still raining, but I didn't stop."
Emergency responders arrived at the scene shortly afterward and tried to resuscitate Seddon. "Unfortunately, I found out a little later that he didn't make it," Machado said.
An investigation by the Central Port Authority of Rhodes has been launched, according to Rodiaki.
The U.K.'s Foreign, Commonwealth and Development Office said in a statement: "We are supporting the family of a British man who has died in Rhodes and are in contact with local authorities."
Deaths resulting from a lightning strike are very rare. Researchers from the University of Patras in Greece found that 23 deaths were caused by lightning strikes in the country between 2010 and 2019.
The odds of being struck by lightning are extremely low—around 1 in a million, according to the U.S. National Weather Service.
But despite the low risk, lightning is among the leading causes of storm-related deaths in the United States. Between 2009 and 2018, there were 27 lightning fatalities each year, on average.