LL Cool J brought hip-hop heaven to Boston on Sunday

Concert Reviews
Backed by The Roots and featuring the likes of Doug E. Fresh and Queen Latifah, Sunday's TD Garden show was a nonstop thrill.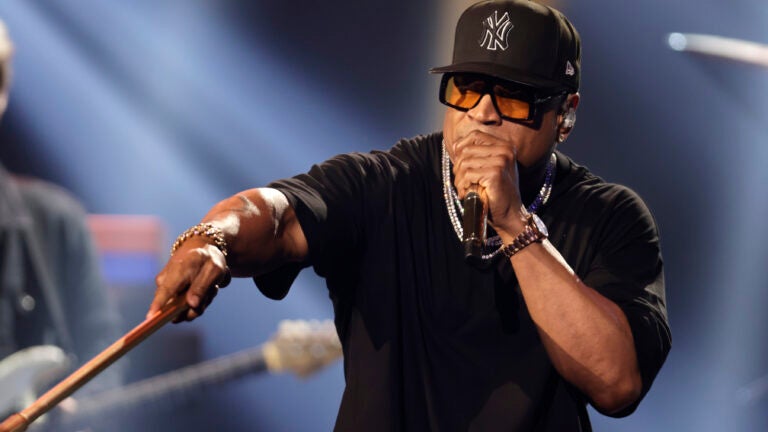 LL Cool J feat. the Roots, DJ Jazzy Jeff and DJ Z-Trip, with Queen Latifah, Doug E. Fresh, Slick Rick, DMC, Monie Love and Treach, at TD Garden, Sunday, Nov. 19.
We know when (August 11, 1973), we know where (the basement of 1520 Sedgwick Avenue, the Bronx) and we know who (DJ Kool Herc). Hip-hop is almost unique among musical genres for having such an unambiguous, pinpoint-specific creation event, and that origin myth has resulted in a great many celebrations of its 50th anniversary this year.
The most electric 13 minutes of any Grammys broadcast in recent memory was February's tribute to hip-hop's first half-century, with one classic act after another popping up to deliver a few bars before figuratively handing off the mic to the next. It was an embarrassment of riches, an absolutely joyful survey of what's come before, and LL Cool J — the segment's host as well as a participant — apparently decided to take it on the road.
That's an exaggeration, of course. The "50 Years of Hip-Hop" performance involved two dozen acts, far too many to put on one stage for a concert lasting just under three hours. For Sunday's final date of the F.O.R.C.E. (Frequencies of Real Creative Energy) Tour, LL Cool J brought a third that number with him to the TD Garden. The eras covered included the '80s, '90s and '00s, with multiple Rock And Roll Hall Of Famers, a late-night house band extraordinaire and a couple of sitcom veterans among the roster.
It couldn't touch the breadth of what transpired on the Grammys stage, but it was maybe the most logistically feasible equivalent for a traveling show, and it was a nonstop thrill.
Almost literally, in fact. From the moment the Roots blasted off with rolling, popping drums, churning bass and brapping sousaphone on the Jimmy Castor Bunch's "It's Just Begun," there were almost no interruptions in the music, with most songs segueing directly to the next. They served the same function as the backing band for a classic soul act, warming the crowd up with a short, fiery set before the headliners appeared and then remaining onstage for the duration.
But their endurance never flagged, with Questlove's drums remaining especially crisp throughout — though given how Black Thought chattered out the bridge in one seemingly breathless barrage that wound the group's energy wickedly tight, they were smart to tackle "Here I Come" early.
Doug E. Fresh came out next with his gruff tenor, bleeding energy even on tracks where the music was bumping low. He was soon joined on the bouncy sizzle of "The Show" and "La Di Da Di" by Slick Rick, whose cool and literally laid-back delivery provided an effective contrast, riding the beat while Fresh pushed it. And Fresh's beatboxing solos were as sharp and percussive as anything the inexhaustible Questlove was doing on drums.
With the Roots playing a pounding and dramatic backdrop, LL Cool J came out for the first of his two sets, performing "I'm Bad" like he was providing the theme song for his own James Bond movie. His energy was halfway between Fresh and Rick, constantly on the move but controlled and restrained enough that he was practically bursting at the seams. (In fact, he periodically pulled up his sleeves to show off his mega-jacked, Navy crime-fighting arms.) He strutted, and not without cause, all through "Doin' It," "Luv U Better" and "Goin' Back To Cali," tough and confident without aggression.
Then all of a sudden DMC showed up unannounced for a handful of Run-DMC songs that included "Hollis Crew (Krush Groove 2)," the Roots detonating the fragmented "My Sharona" riff of "It's Tricky" and "It's Like That," where he, LL and Black Thought rapped over nothing but a spare DJ beat. After that, LL and DMC cleared out and the Roots brought things back down, if you could call it that, with a short set that included cuts by JAY-Z and Ol' Dirty Bastard ("Shimmy Shimmy Ya," with its pinging piano note that started sounding like a siren), before handing things over to DJ Jazzy Jeff for a turntable solo.
Queen Latifah's arrival marked a shift in the sonic palette more towards the socially-conscious atmospherics of early-'70s Motown or Philadelphia International. "Latifah's Had It Up 2 Here" was fitted out with lush orchestral hits, "I Wanna Be Down (Remix)" was a simmering bump and "U.N.I.T.Y." operated against a backdrop of deep jazzy soul. Monie Love appeared soon after, and Latifah spent the rest of her set grinning as she fueled off of the energy and rhythmic complexity of Love's raps in "Ladies First" and "Monie In The Middle," where the beat pushed Love even harder. They were soon joined by Naughty By Nature's Treach, who generously shared reliables "O.P.P." and "Hip Hop Hooray."
Their vibe seemed to inform LL Cool J's final set, which started with material like the tinkly "I Need Love" and the gentle yacht-hop of "Hey Lover" that showed his more sensitive side, before getting incrementally harder and more ominous with "I Shot Ya," the chanking "Jack The Ripper" and ultraconfident throwdown "Mama Said Knock You Out." (The disco-beat "Phenomenon" and the snappy, electric synth-funk of Whodini's "Freaks Come Out At Night" helped keep him from getting too lost down that rabbit hole.)
Just before closing out the set, the show and the tour, the rapper told the audience that his vision had been to bring musicians and live music on the road with him. Then he and the Roots — with none of the other headliners returning for final bows — launched into "Rock The Bells," with band hits, slashing turntables, clonking cowbells and hard syncopation combining into a polyrhythmic fury. It's a song from when hip-hop had just become a teenager, and the music's continued power showed why it's survived long enough to join the AARP.
Setlist for LL Cool J/The F.O.R.C.E. (Frequencies of Real Creative Energy) Live at TD Garden, Nov. 19, 2023

FIRST SET
I'm Bad
Doin' It
4, 3, 2, 1 (with Black Thought)
Flava in Ya Ear (Remix) (Craig Mack cover)
The Force
Big Ole Butt
Luv U Better
Around the Way Girl
Headsprung
Ill Bomb
Rampage (EPMD cover)
Jingling Baby
Nitro
Going Back to Cali
Come On Everybody (Run-DMC cover) (with DMC)
Hollis Crew (Krush-Groove 2) (Run-DMC cover) (with DMC)
It's Like That (Run-DMC cover) (with DMC)
Here We Go (Run-DMC cover) (with DMC)
It's Tricky (Run-DMC cover) (with DMC)
SECOND SET
I Need Love
Hey Lover
Big Poppa (The Notorious B.I.G. cover)
All I Have (Jennifer Lopez cover)
I Shot Ya
Jack the Ripper
I Can't Live Without My Radio
Kanday
Loungin'
Paradise
Hush
Phenomenon
Freaks Come Out at Night (Whodini cover)
Mr. Good Bar
Mama Said Knock You Out
Rock the Bells
Marc Hirsh can be reached at [email protected] or on Bluesky @spacecitymarc.bsky.social.
Newsletter Signup
Stay up to date on all the latest news from Boston.com