Lindsey Graham Urges Trump To Make Nice With DeSantis, Predicts What He'll Really Do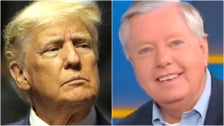 "Trump's not into these thou-shalt-nots," Graham said to laughter on "Fox & Friends." "That's not his thing."
However, Graham still advised Trump to keep it positive.
"The bottom line is, I think, if I were Trump, which I am not, I would be running on four years of being a pretty effective president. The best is yet to come. I would say 'DeSantis, I picked him out of a crowd. I knew he was talented early on. I'm the guy that saw the talent. He's been a great governor, but I'm better able to be president,'" Graham said.
"But that ain't gonna happen," the senator added.
DeSantis, who has yet to declare his candidacy, irked Trump this week by saying he personally would not know how to pay "hush money" to a "porn star." It was interpreted as a dismissive nod to the Stormy Daniels payoff case that threatens Trump with an indictment.
Trump, who has been calling the Florida governor "Ron DeSanctimonious" for some time, fired back with a screenshot spreading an unfounded rumor that DeSantis drank with underage girls as a high school teacher.