Lake Oroville Water Level Skyrockets After Rain
Three weeks of storms in California have caused at least 20 deaths, severe flooding and "several hundred million" dollars of damage, but water resources experts are pointing out that all the rain and snow is driving up levels in the state's drought-stricken reservoirs.
At Lake Oroville in northern California, the state's second-largest reservoir, the water level is now well above the seasonal average.
Oroville was at 707.01 feet above sea level at the start of the year, according to the Lakes Online database. In just over three weeks, the water level has risen by more than 90 feet. On January 25, it was at 801.55 feet above sea level.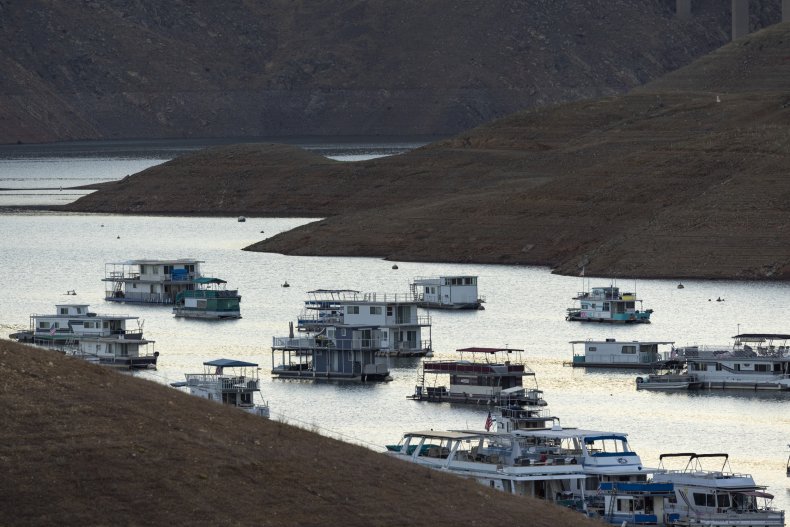 Lake Oroville was formed after the construction of the Oroville Dam, which was built on the Feather River in 1967. The reservoir has a full capacity of 3,537,577 acre-feet and provides water to millions of people and thousands of acres of farmland.
It reached a record low in September 2021, when the water level dropped to just 628.47 feet. Last spring, the lake peaked at a mere 55 percent of its full capacity.
"Last year, we had a lot of storm in October and December…but then it just stopped raining and in January, February and March we had the lowest precipitation ever on record," Ernest Conant, regional director of the California branch of the U.S. Bureau for Reclamation, told Newsweek. "That's why we were in such a dire situation this past year."
This time last year, water levels were at 743.13 feet, below the seasonal average of 776 feet. But, since December 26, 2022, over 32 trillion gallons of rain have fallen across California. Lake Oroville has gone from 46 percent to 61 percent of its capacity in the past two weeks.
The winter storms have also delivered above-average levels of snow in the Sierra mountains. As of January 20, snowpack in the Sierra Nevada mountains was at 240 percent of the average for this time of year.
"This is great because that will come down later in the spring when it starts warming up," Donald Bader, the Shasta area manager for the Bureau of Reclamation, told Newsweek earlier this month.
"So, we can anticipate that and add that to our storage volumes, because we know we've got that extra storage sitting up there in the mountains. There's a tremendous amount of snow this year, so that's very encouraging."
Despite these gains, Bader said California would need more than a few weeks of wet weather to compensate for the drought that has gripped the southwestern U.S. for the past two decades.
"Right now, we're just really hoping the rains continue because we've seen it too many times where they just shut off," he said.
Do you have a tip on a science story that Newsweek should be covering? Do you have a question about drought? Let us know via science@newsweek.com.