Kevin McCarthy Says A Possible Trump Indictment Would Be Politically Motivated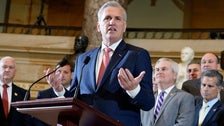 House Speaker Kevin McCarthy (R-Calif.) on Tuesday said a possible indictment of former President Donald Trump over his role in hush money paid to porn star Stormy Daniels would be politically motivated.
"I think in your heart of hearts you know too that you think this is political, and I think that's what the rest of the country thinks," McCarthy said at a GOP retreat in Orlando, Florida. "And we're kind of tired of that."
Trump is under investigation by Manhattan District Attorney Alvin Bragg over his role in a $130,000 hush money payment made to Daniels in 2016 ahead of the presidential election. Daniels said she had sex with Trump in 2006, while Trump has denied the allegation.
McCarthy appeared to suggest Trump's case was similar to a previous investigation into whether former Secretary of State Hillary Clinton's presidential campaign violated federal campaign finance laws by commissioning the so-called Steele Dossier. The Clinton campaign was fined $8,000, while the Democratic National Committee paid $105,000.
"I look at it from this perspective: We live in America and it should be equal justice. This was personal money," McCarthy said.
McCarthy argued that the statute of limitations for Trump's case has passed, given it's been more than five years since the payment, echoing a point made by the former president himself.
Three leading GOP members wrote to Bragg on Monday, warning the prosecutor that a possible indictment would "will erode confidence in the evenhanded application of justice and unalterably interfere in the course of the 2024 presidential election."
Trump declared his candidacy for president in November, shortly after the midterm elections.
The former president predicted this weekend he would be arrested Tuesday and urged his supporters to take to the streets and "TAKE OUR NATION BACK." McCarthy said Sunday that Americans shouldn't take to the streets over a possible Trump indictment.
"I don't think people should protest this, no," McCarthy said. "We want calmness out there."
Major cities across the U.S. have been stepping up their security to prepare for possible arrest, but a rally by Trump supporters outside the Manhattan DA's office Monday only drew a small number of attendees.