Kevin McCarthy Issues Strong Warning to Republicans
Kevin McCarthy on Tuesday issued a warning to House Republicans threatening to oust him as speaker.
McCarthy, who saw a historically troubled ascendance to the speakership in January, has been at odds with the further-right flanks of his caucus in recent months, with MAGA-aligned members expressing discontent with his leadership. The reactions were typified by Representative Matt Gaetz of Florida, who threatened to begin holding daily votes to oust McCarthy from position as speaker if certain demands were not met.
"I rise today to serve notice: Mr. Speaker, you are out of compliance with the agreement that allowed you to assume this role," Gaetz said, later adding: "So we're either going to get compliance or we're going to start having votes on motions to vacate, and we're gonna have them regularly. I don't anticipate them passing immediately. But I think that, you know, if we have to begin every single day in Congress with the prayer, the pledge and the motion to vacate, so be it."
Among the demands Gaetz has mentioned are the release of January 6, 2021, Capitol riot security footage, votes on term limits, subpoenas issued for Hunter Biden, and a more expedient impeachment process against President Joe Biden. McCarthy, looking to wrangle support from his fractured caucus, recently announced his endorsement of a Biden impeachment inquiry, which Gaetz dismissed as a "baby step."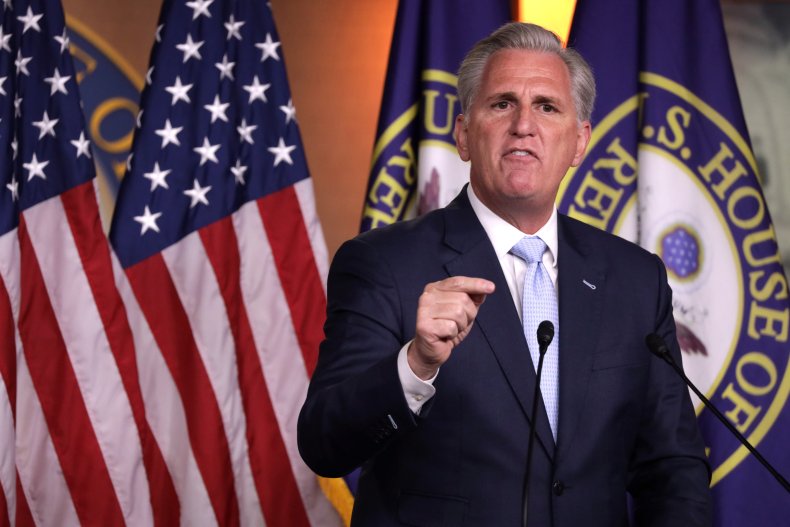 On Tuesday, Manu Raju, chief congressional correspondent for CNN, took to X, formerly Twitter, to relay a stern statement from McCarthy in which he warned that he would stick around if Gaetz's attempts to oust him were successful.
"Speaker McCarthy says he's not going to leave if Gaetz's vote to oust succeeds," Raju wrote. "And he denied he's avoiding working [with] Dems on the stop-gap bill to keep government open to save his speakership. Says he's pushing for most conservative outcome. 'I'm not quitting,' he told me."
Newsweek reached out to McCarthy's office via email for comment.
The House is in the midst of working out a spending bill that would keep the government open past the current funding deadline of September 30. If a deal is not reached by then, the government will enter a shutdown.
Several prominent MAGA Republicans have gone back and forth recently over what their demands should be for the bill. A continuing resolution to fund the government was recently put forward by Representative Byron Donalds of Florida, but Gaetz took issue with the fact that it would continue to provide funding to special counsel Jack Smith's investigations of former President Donald Trump, while Representative Marjorie Taylor Greene of Georgia argued that it would also continue allowing for aid to Ukraine.